5 Best Humiliation Cam Sites for Sissy Men
Best Sites For Humiliation Cams
Humiliation is an art form. When you are looking for a cam girl to humiliate and degrade you, you want an experienced dominatrix, the kind of girl that knows how to break a man. These are the top 5 cam sites to watch a proper humiliatrix, instead of just random amateurs that are just willing to try humiliate you.
LiveJasmin.com
LiveJasmin is the best premium cam site in the world. It is more expensive than the competition, but what you get is a serious line up of highly experienced fetish models. The site streams in stellar HD quality, and it's guaranteed that two way audio will work when activated, so the model can hear you whimper back pathetically.
Visit LiveJasmin.com
To find a humiliatrix on LiveJasmin you have two options. You can search through the Category – Fetish list or you can look through the Willingness – Dominant list. We recommend to choose rooms based on the model name and the gear seen in pictures. Models who call themselves goddess, domme, and mistress are usually highly versed at humiliation play.
On LiveJasmin you can actually take part in the free chat before you've even signed up. Completing the free registration will create your account and will make models take you more seriously than a guest user. The free chat rooms don't contain much action, they are about discussing your expectations with models prior to a show.
Private shows are where the models give a proper performance. These shows average at around $2.40 a minute, with more experienced dommes charging more. Cam2cam and 2 way audio are usually separate charges, each usually costing an additional $1.20 a minute. While relatively expensive, LiveJasmin is the only site on this list capable of cam2cam on your phone.
---
FetishGalaxy.com
FetishGalaxy is an exclusively fetish based cam site. Everywhere you look, you will encounter fetish gear and dommes. The site is divided between the dommes and the subs, the latter of which you can ignore. FetishGalaxy has a rewards loyalty program. As you climb up the tiers you will get more free credits with each purchase.
Visit FetishGalaxy.com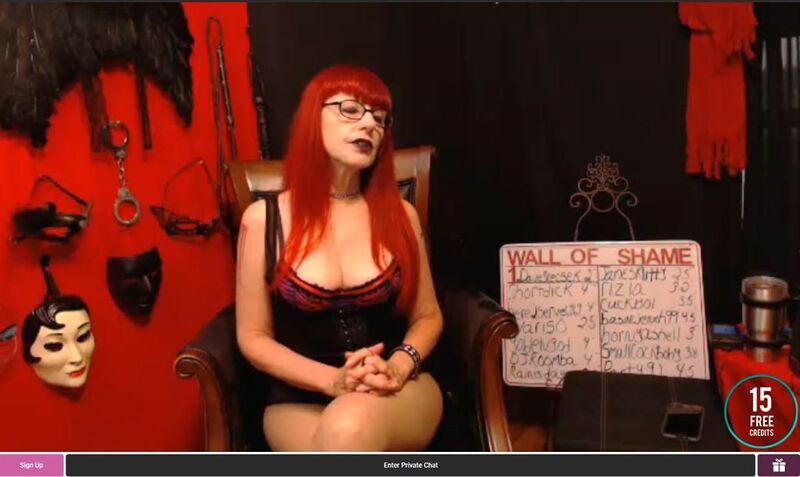 As a truly fetish site, FetishGalaxy is the only cam site with a dedicated Humiliation category page. This page will contain both doms and subs. The doms are generally more suited for the task, but you will find that the subs on FetishGalaxy are used to putting up with abuse and are more than decent at dishing it back.
To take part in the free chat rooms on FetishGalaxy you will need to complete the free registration. This will enable you to talk to the women you are watching as well as give you the option to explore all the site's features. The free chat rooms as a whole are rather tame. The babes take their jobs seriously, and only play when you're alone.
A private show will range anywhere between $1.98 and $3.00 a minute. This price is inclusive of cam2cam and 2 way audio. As you rise up the loyalty tiers, the price will continue to drop as credits become cheaper.
---
Streamate.com
Unlike most cam sites, on Streamate you don't need to purchase tokens. You leave your payment method on file behind the site's secure server and pay as you go. You can choose to set a daily spending limit for yourself or you can leave it open to be the true pay piggy that you know you are.
Visit Streamate.com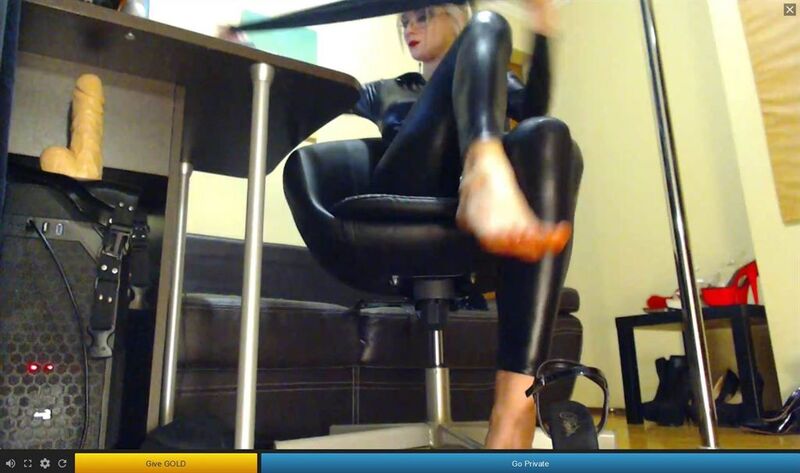 Finding a domme on Streamate can prove to be somewhat difficult. You will need to use humiliation based keywords in the search bar. Searching for humiliation directly doesn't seem to work too well, but humil, dom, and fetish yield relevant results. From there, you will need to ask around manually in the chat rooms.
Registration on Streamate is free, but you will need to put a payment method on file to create your account. You will only be able to chat in the rooms once your account has been created. There is limited nudity in the free rooms, but you will occasionally catch a glimpse of some action. That being said, most of the cam girls prefer to give private shows rather than public ones.
Private shows on Streamate have a huge variety of prices. Models set a price in their currency, which is then converted to yours. You should be able to find a show at around $3.00 a minute, but the more experienced girls can charge up to $12.00 a minute. Cam2cam may be included, but it depends on the model.
---
Chaturbate.com
Chaturbate has more sex cam models than any other site. There is a huge selection of cam girl that are willing to humiliate you. Cam2Cam is a little more difficult to set up on Chaturbate, which has it's pluses and minuses. On the plus, you can invite other users to come watch you as the model humiliates you.
Visit Chaturbate.com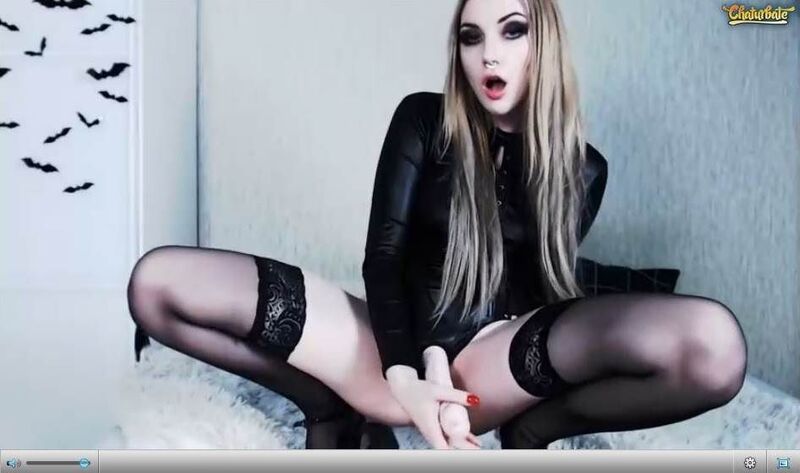 Chaturbate always has a number of #humiliation tagged cam girls. #Femdom and #Mistress will also usually yield relevant results. While the site is filled with many amateurs, there are also quite a few babes in full fetish gear. Some cam girls tag themselves randomly though, so make sure to confirm before committing to any show.
Unregistered users are muted in virtually all rooms, with very few exceptions. You can register on Chaturbate for free, but you will continue to be muted in most rooms. Once you have purchased tokens you will be able to talk in nearly all rooms, except those that require a tip to chat. There is a ton of nudity on Chaturbate and you can tip for requests such as cam2cam.
Private shows on Chaturbate start for as low as $0.54 a minute and can include a free recording of the show. However, cam2cam is not included in the show and you need to set yourself up as a broadcaster to do it. As you would expect, the more experienced girls generally charge much higher prices, often of over $5.40 a minute.
---
MyFreeCams.com
MyFreeCams was the original tip based cam site. As MyFreeCams started to grow more popular, many other sites begin to copy it's business model. MyFreeCams still has a great selection of humiliation fetishists. Most of the rooms are more amateur based, and like on Chaturbate you can invite other users to come watch you.
Visit MyFreeCams.com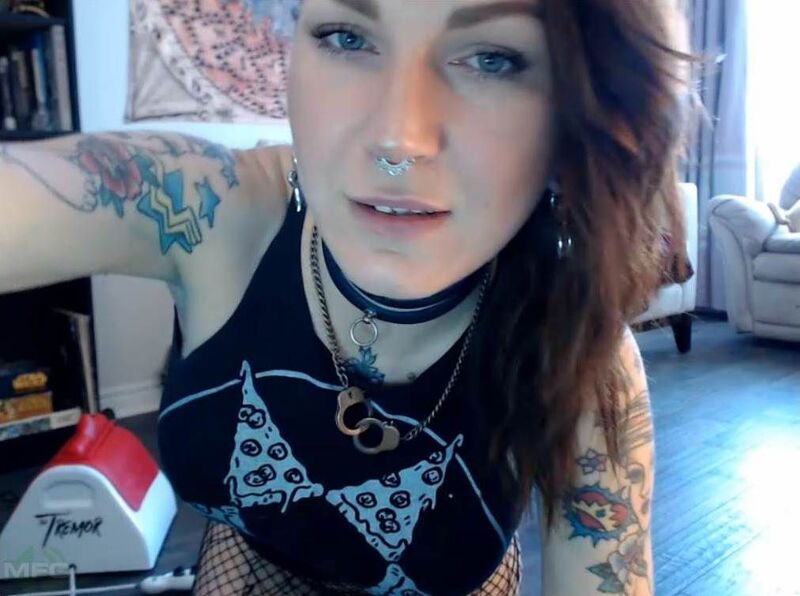 Searching for the word humiliation in the search bar always yields a nice variety of women. Some of the girls you will presented will be in full fetish gear, but many others will look like your standard girl next door. Within the results you will also see girls tagged specifically for small penis humiliation.
You can register for a free membership on MyFreeCams, but you will be muted in all rooms with very few exceptions. Once you have bought tokens just once, you will become a premium member for life and will be able to explore the site as you please. You will be able to tip for requests such as cam2cam in the open chat room. Many users request TeamViewer humiliation shows, where others watch.
Private shows on MyFreeCams have a set price of $4.80 a minute. The more popular models will expect a tip to show your appreciation, to show that you are a serious user. If you don't tip, they won't start the private show and will remain in the free chat instead.
---
Types of Humiliation
Physical Humiliation
Physical humiliation can be hard to achieve on webcam, but can be done through tasks. If you find a reliable domina to be your mistress, you can find that she may assign you tasks that you will need to complete between sessions. These tasks can start out small, such as wearing women's underwear, but can quickly progress to become much more shameful.
Verbal Humiliation
Verbal humiliation is probably the easiest form of humiliation to get on webcam. Just turn on your webcam and the girl you are watching will make fun of and berate you based on your physical appearance. As the show continues, you will probably be made fun of also for how much of a loser you are, but the model won't know that right off the bat.
Small Penis Humiliation
SPH is part and parcel of verbal humiliation, but SPH is an art form of it's own. There are many cam girls that specialize in just small penis humiliation, rather than general humiliation. SPH focuses more on how small your dick is, rather than your shortcomings as a whole, of which there are probably many.
Team Viewer & Other Remote Desktop Software
Generally speaking, it's hard to do online humiliation on webcam, because you are alone in your room with no one else watching. Software such as Team Viewer changes the situation. When you give a hardcore dom control over your computer you can expect to be treated like never before. Your social media profiles will most probably be updated and screenshots from your sessions could end up anywhere.
MyFreeCams in particular is great for users looking for a cam girl with TeamViewer, with the other sites lagging behind.
---
Conclusion
Thankfully, it is easier to find a cam girl to humiliate you than it is in real life. You might not be paraded naked through the streets, but there are still plenty of ways to humiliate you.
In terms of humiliatrix cam girls, the 5 sites above have the most cam girls which would be willing to humiliate you. Finding a humiliation specialist on each site is easy, though each site is a little different.
It becomes a question of what you are looking for. In terms of the roughest humiliation, MyFreeCams would probably be best as you can easily find TeamViewer models. In terms of prices, FetishGalaxy is cheapest both in the short term and the long term. Overall, the best site is LiveJasmin. It has a huge selection at great prices and with great video quality, even if you are cam2caming on your phone.
Visit LiveJasmin.com
---