5 Best Sites to Watch OhMiBod Cams
The 5 Best OhMiBod Webcam Sites
At this point of time, OhMiBod cams refers to any sex cam room in which the model is using an interactive sex toy. This is because the popularity of the vibrating toys has resulted in a sort of generic trademark. The models label themselves as OhMiBod sex chat rooms, regardless of whether they are using an OhMiBod, Lovense, or a knock off of one of the two.
These are the top 5 sites to watch OhMiBod cam girls twitch and moan according to the size of your tip, pun intended.
CamSoda.com
CamSoda is currently our favorite OhMiBod cam site, and there is a good reason for that. CamSoda has an amazing live preview system, which showcases the entire page at once. You can always tell which rooms are exciting, and which are dull. Since many of the girls are already naked, you can quickly spot which type of toy is being used.
Visit CamSoda.com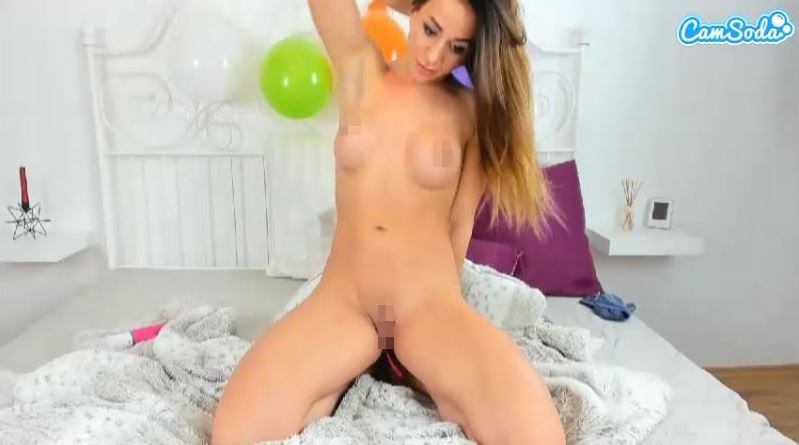 CamSoda doesn't have as large a selection as some other sites, but with just over 400 models online on average, there is still always something to choose from. The site is filled predominantly by females, but there are also a few couples and transgenders. Most of the rooms are free chat rooms, which can be watched by anyone. Buying tokens will enable you to talk and to actually join in on the shows.
You can go into private shows on CamSoda for as low as $0.60 a minute, but the average is closer to $3.00 a minute. The site also has more expensive girls, but everything is clearly labelled so you don't have to worry. Cam2cam and free show recordings are included in most private shows and like with the prices, you can easily tell what is included prior to starting your show.
To find the OhMiBod cam rooms, you can try searching for #ohmibod in the tag menu. That being said, we really recommend just using the live preview feature. It is by far the quickest and easiest way to see which girls are mid-vibration. Many of the rooms have a Control Her feature, where you can take complete control over the model's toy. Each model has a different cost and a different period of control.
Customer support – FAQ, email, live chat for billing issues only.
---
Flirt4Free.com
Flirt4Free might not have the most models, but what they lack in numbers, they make up for in quality. You can easily and quickly find models which are using interactive OhMiBod toys. The chat rooms are labelled with banners stating Tip Controlled or Interactive. Tip controlled means she's using an OhMiBod style toy, interactive means you can hook up your toy to hers.
Visit Flirt4Free.com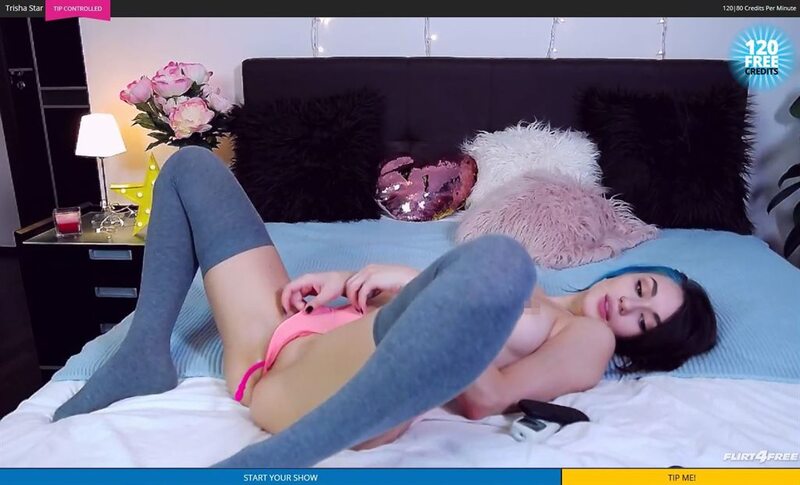 Flirt4Free usually has just about 400 models online, of which half are men. Flirt4Free is filled with free chat rooms, where you can chat for free, even as a guest user. As you can probably imagine, you won't really get much of a response if you don't at least register. Most of the babes only respond to premium members.
While Flirt4Free does have some nudity in the free chat rooms, most of the girls only strip and get playful in one on one and multi-user shows. Multi-user shows start at $0.50 a minute. They include cam2cam if you were the person who initiated the chat, but not if you join the chat someone else started. With one on one shows, you don't have to guess or compete for attention, they start at $3.00 a minute.
The rooms with the banners are the easiest way to spot the models with a vibrating toy. That being said, you shouldn't only rely on the banner. You will find that most of the girls on the site are using the toy, but never bothered to put the banner on. One of Flirt4Free's hottest features for vibratoys is the option to Tip Flood. The site gives you the option to break down large tips into smaller increments sent in pulses.
Customer support – FAQ, email, live chat, phone.
---
Chaturbate.com
No cam site on earth has more models than Chaturbate. Chaturbate is the unmatched king in terms of volume. You will find that the majority of the cam girls on Chaturbate are using an OhMiBod or a Lovense, but there isn't a preview feature to make sure. You will need to check each rooms individually. The girls on Chaturbate are horribly inconsistent with their #tags.
Visit Chaturbate.com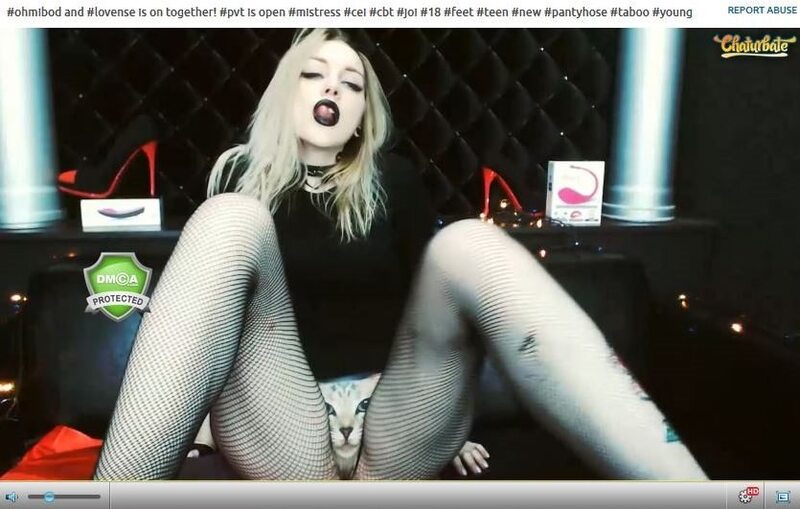 Chaturbate has a couple of thousand models online, of which many are men, couples, and transgenders. All of the categories have models which use OhMiBod on cam. Chaturbate is filled with free live cam rooms which can be viewed by anyone. Free users are usually muted in most, but not all of the rooms. Some rooms prevent talking unless you've tipped.
While private shows might not be the main purpose of Chaturbate, you can still invite the models into one on one shows. These shows start for as low as $0.60 a minute, but you will find that if the cam girl is busy collecting tips through her OhMiBod device, then she may ignore you. Cam2cam is not included during private shows, and is frankly annoying to set up.
As mentioned, using the tagging system isn't too convenient. We recommend just looking at the pretty girls and checking with the ones you are interested in. There is more than 50% chance that she will have the toy. The great thing about Chaturbate, is the huge number of users. When it comes to crowdfunded OhMiBod sex shows, few sites can compete with the tips that gush forth on Chaturbate.
Customer support – FAQ, email.
---
MyFreeCams.com
MyFreeCams was the original free cam site. MyFreeCams is who we have to thank, for all the free ass and titties we get to see today. As you would expect from the site that started the trend, MyFreeCams has many models which are using OhMiBod toys. You can try the search bar narrow your results, but clicking around randomly is just as efficient.
Visit MyFreeCams.com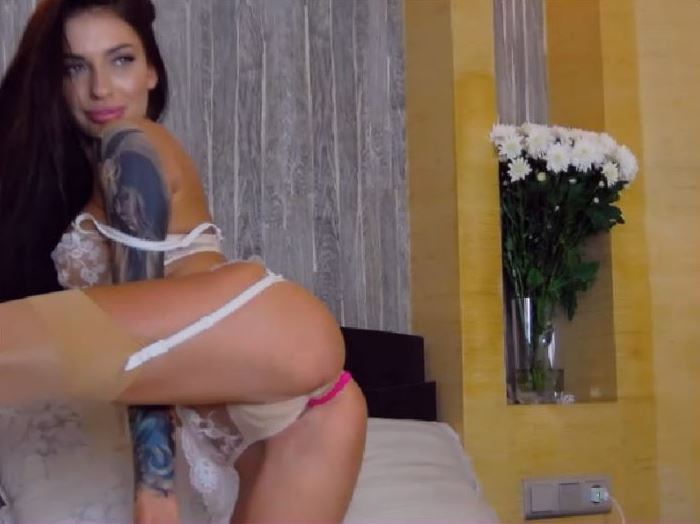 MyFreeCams might not have as many models in total as Chaturbate, but that's only because they are a cam girl only site. Men and transgenders are not allowed to broadcast. They usually have just over a thousand models online, of which most will be in free chat rooms. Most rooms have free users muted, but just one purchase on the site turns you into a premium member forever.
There is no need for guess work when it comes to the prices of private chats on MyFreeCams. The site has a set price of $6.00 a minute for a private show, or $8.00 for a True Private, which is a private show which other users can't spy in on. The site also has group shows which require at least 3 users, but cost just $1.00 a minute.
Like CamSoda, MyFreeCams also has a whole page live preview system, though it doesn't load as quickly or as efficiently. We recommend going with the manual search method, just like on Chaturbate. Searching for OhMiBod in the search engine gives you relevant results, but you are hampering yourself by omitting all the results of models that thought it was just too obvious to tag.
Customer support – FAQ, email.
---
Cams.com
Cams.com was one of the original cam sites to ever hit the internet. You might think that such an old site would be outdated, but Cams.com has done an amazing job of keeping up with the times. In fact, there was a long period of time where Cams.com was the only cam site you could have virtual sex on. Today, you will find most of the babes using an OhMiBod type of toy.
Visit Cams.com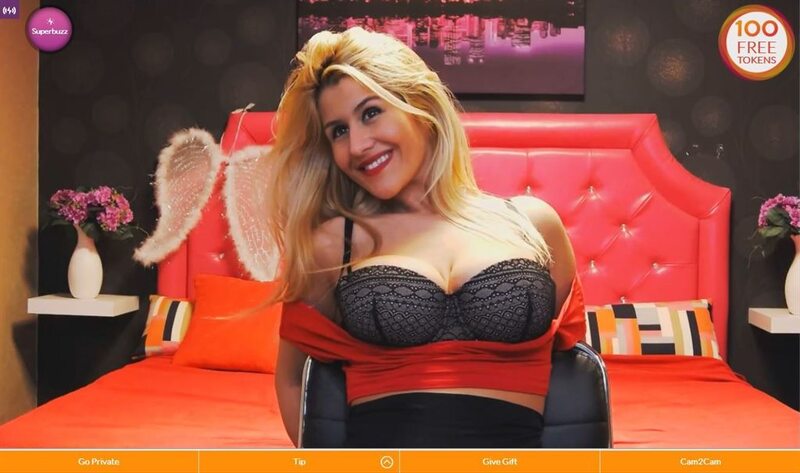 As an older site, Cams.com has had a long time to gather models. There are usually over 500 online, of which most will be female. Cams.com has many free chat rooms that can be accessed by anyone that registers. As long as you have an account, you will be able to chat for as long as you want. That being said, the girls aren't as likely to strip as on other free sites.
Most of the Cams.com models only get naughty when you're alone with them. A private chat has an average cost of $3.00 a minute, which is not inclusive of cam2cam. Turning on your webcam will cost you an additional dollar a minute. If you own a Lovense Max, you can pay extra to connect it to the models toy via Connexion. Joining individual model fan clubs can drastically reduce the price.
You can reach all the OhMiBod webcams by clicking on Buzzmode under the Show Types menu. Cams.com thought long and hard about how to handle interactive cams, and came up with a unique solution. Rather than having to fumble around with your mouse to click the tip button, you just click on the video screen instead, and it auto tips a set amount to the model you are watching. You can also tip normally if you want.
Customer support – FAQ, email, phone for billing issues only.
---
Conclusion
If you enjoy OhMidBod cams, then you are looking for one of two things. Either a free sex show, or a sex show when you can interact with a model beyond just telling her what to do.
In either case, our top recommendation is CamSoda. Their live preview system is really just too amazing to give up. You can always tell where the action is. While the tagging system on the site isn't the greatest, enough of the models use an OhMiBod toy, that you really don't have to do much searching.
Visit CamSoda.com
---