5 Best Webcam Sites for Gay JOI and Jerk Buddies
Best Gay Cam Sites – Jerk Off Instructions for Experienced / Inexperienced Men
It's not as simple as unzipping it, slapping it out and then shaking it up & down until it spits out cum. With the right male role-model to guide you, the art of masturbation & climax control is a skill set which can be taught, practiced, and totally perfected.
We re-inspected our list of top cam sites for men, and picked out the ones that we believe to be the absolute best for gay jerk off instruction. They're all 2-way video chat sites, as you'll not only want to watch, but also want to be seen. Follow on for details on average costs, model & video quality, client services – and the predominance of JOI cams across them all.
CameraBoys.com
CameraBoys is the net's #1 destination to watch men live on cam, and being a premium chat site you'll most likely find that it's better suited to those with cash to flash. The majority of men will dispense jerk off instructions in private shows, but you may need to pony up extra for 2-way video / 2-way sound during these erotic & orgasm-restricted sessions.
Visit CameraBoys.com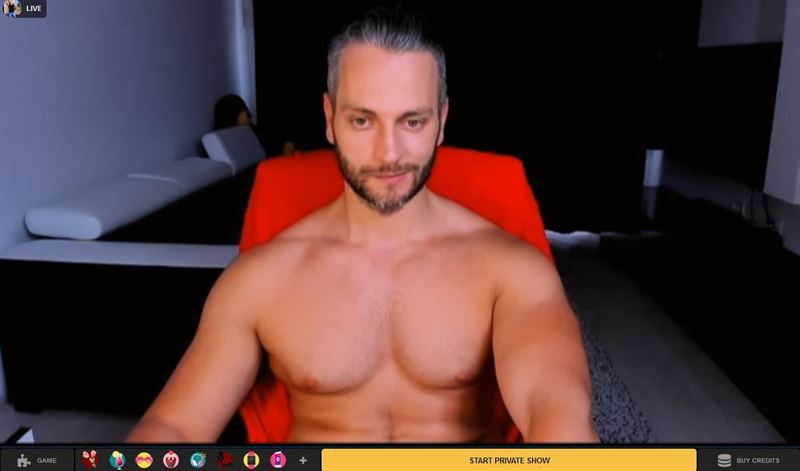 To find a male model ready to participate in a jerk off instruction show will require a little leg-work as the site doesn't provide a JOI category. Our advice would be to head over to the Roleplay rooms, and then to make your intentions known. Very seldom will you come across a real man, who doesn't like taking over the reigns in a JOI encounter.
And don't let these rooms be where your endeavors end, as at CameraBoys there are many other adventurous webcam models likely to be versed in masturbation instruction; and these guys would probably find telling you how to skeet a massive turn on. Expect to pay between $2.00 – $3.00 per minute for a professional male cam model who'll do his very level best in showing you the ropes for stroking to climax. Be advised, both cam2cam & 2-way audio each cost an extra 1 credit per minute.
Fortunately, CamerBoys runs some of the best 2-way video shows in HD, online. So, the add-on services are totally worth it. During 1-on-1 JOI sex chats, not only will you be able to follow as jerk off instructions are metered out – the dominating man will also be able to keep an eye on you, making sure that you're handling your dick precisely as you're being told.
New members can spin the wheel to win up to 100% EXTRA CREDITS on their very first-purchase.
CameraBoys features first-class customer support, with many ways to reach out for assistance which include links to billing support, direct messaging to client services, or even entering into a real-time live chat support with a helpful agent.
---
Flirt4Free.com
While not an obvious choice, Flirt4Free is nonetheless a niche webcam site with a heavy focus on fetish sex cams inclusive of all genders. Once you've changed the viewing gallery to Guys, you can then begin to browse for men who'll teach you the tricks to long-lasting masturbation. You can tip for bite-size lessons in public shows, or pay for the model's undivided attention – and get 1-on-1 JOI tuition in private.
Visit Flirt4Free.com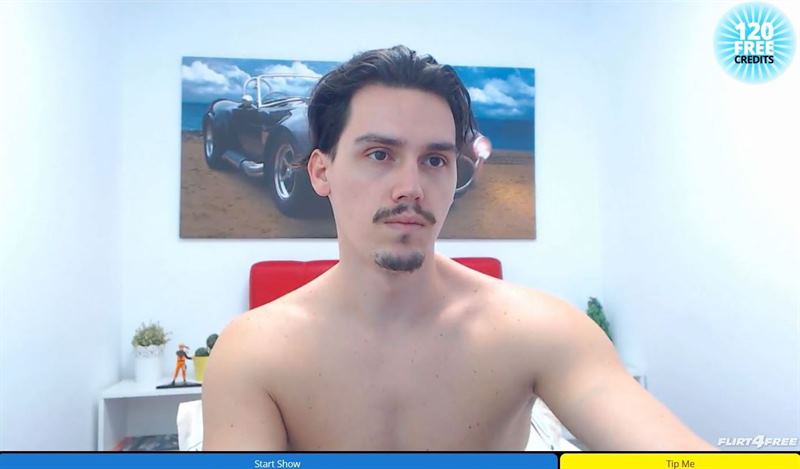 Despite it being a mecca for fetish webcams, Flirt4Free doesn't have a specific tag for gay JOI. However, you'll find that under the Jerk Buddies category, there are plenty of good looking guys on cam more than capable of giving you the motivation & encouragement that you'd need to edge closer to your goals.
In fact, you'll find that Flirt4Free is well equipped with a variety of rooms specifically geared for male cam chat, and you could easily do just as well searching categories like BDSM, Bi-Curious, Fetish, Dungeon, Domination, Roleplay, Guy-Guy & Guys who Top – to have your specific JOI requests fulfilled. At most times, you can expect between 300-400 models online, but then this number is likely to increase during peak times.
Though Flirt4Free does have free sex cams, as its name indicates, it also runs some of the best paid chat services found online. The majority of male models stream with HD video cameras. And the private shows won't necessarily drain you of all your coin. They range from $3.00 – $6.00 per minute & include 2-way video / 2-way sound – which makes it our #1 site for cheap gay video chat. However if you have the cash, Flirt4Free also features more premium live porn webcams that play from $7.00 – $12.00 per minute.
If you're looking for a less expensive option, you can source multi-user shows with cam2cam for as dirt cheap as $0.50 per minute. Be warned though, in this type of format other users can join in and possibly disrupt your dick stroking lessons.
Either which way, all forms of paid video chat include 2-way video & 2-way sound for free.
When it comes to client services, all your concerns are addressed in the Support section (bottom of the homepage). A direct link to the FAQ page, email or telephonic support (international), and live chat are all provided for.
---
SuperMen.com
Supermen is a powerhouse site for meeting a variety of good-looking male chat hosts. And although this gay webcam site is free to join, you'll need to buy credits if you want to fully participate in JOI sessions with naked male role models. What really sets Supermen apart, is its kick-ass customer rewards loyalty program. The higher your status, the more free credits you are awarded with each & every buy-in.
At VIP level, you get some of the cheapest gay 2-way video encounters to be found online. The video feed quality isn't always the greatest, but you can expect maximum choice for men.
Visit SuperMen.com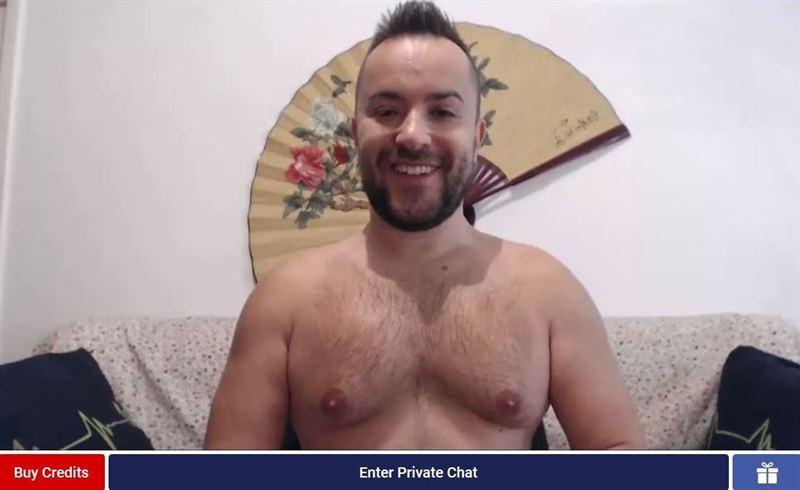 While Supermen's brand of live porn is mostly mainstream, it also caters to users with fetishes & more obscure fascinations like the desire to be told how to jack off. To find the site's masturbator masters, you can start by checking out either of the main Role subcategories – Top, Versatile & Bottom. Or you might want to head direct for the Advanced Search, and then browse the Fetish directory. Cum Play & Humiliation are 2 firm categories that we believe to be rewarding for JOI cam chat.
While most chat rooms are standard definition (SD) playbacks, of late Supermen has also begun featuring high definition (HD) video feeds. You'll notice that some guys are already running 720p webcams – but none of the rooms are specifically tagged for HD.
Private sex chats start at $0.98 per minute, but may be more expensive depending on the model and your particular needs.
Look, the majority of male performers on Supermen are gay, but you'll find some straight ones as well. We didn't find this to be a problem concerning JOI video chat, but if you intend to stray from topic or blur the lines – you might want to just double check which section you're in, as the 'pay-for-gay' guns may not always shoot your way.
All forms of paid video chat include the services of 2-way video / 2-way sound for free, and the first 30 seconds of all private cam2cacm shows are not charged for & totally on the house.
As a new member, you can claim up to 15 BONUS CREDITS on your initial purchase; this is a 1time only offer.
For client services, there's a Customer Support Center link (bottom of the main page), with an entire FAQ section plus an internal messaging system for general queries. You can also send Supermen conventional email.
---
Stripchat.com
Stripchat is another live porn site with a good stock of male models, and will suit users looking for private sex shows with reasonable price tags. Most of the action isn't in HD, but the video quality has been ramped up, making the play-backs look way better than what you'd ever imagine. Stripchat is even geared for 4K video, but only in VR video chat mode.
Visit Stripchat.com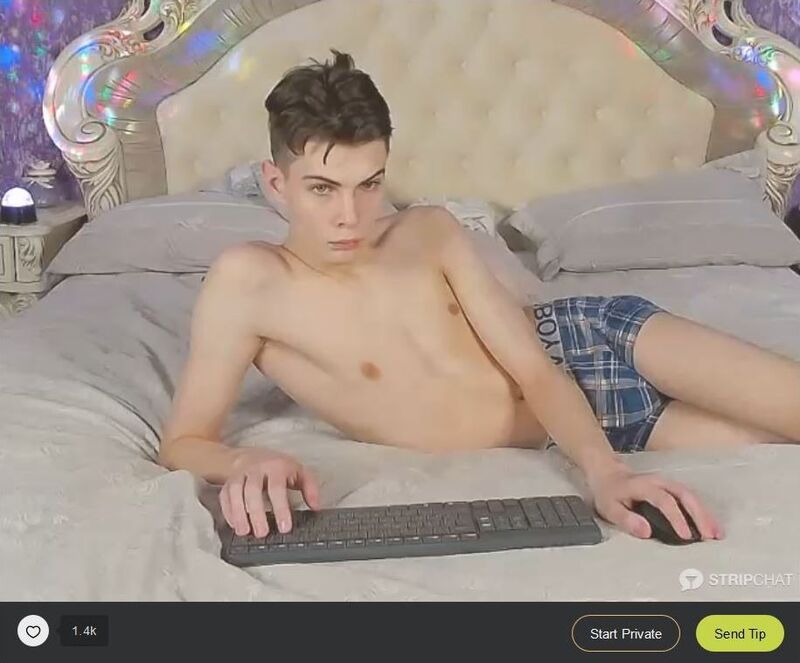 This is a top European cam site to get schooled in JOI by some of the finest bisexual, gay & straight men. Begin by selecting Boys from the main viewing gallery; you can then refine your searches using a selection of sorting & filtration options provided for (left side of the browsing page).
Heads up, you wont find JOI or Jerk Off Instruction as a listed service, so you'll need to spin through the male chat rooms that appeal to you the most, and approach the hunks with your specific private show requests. In the majority Stripchat's studs are very obliging, and usually glad to give a hand towards you reaching your ultimate goal. Click the All Categories+ button to access the complete menu of available men.
You get Free Video Chat, which is totally gratis – but if you've not registered, you will be restricted as to the number of rooms you can have open simultaneously.
For a more intimate experience, choose between Private Chat or Cam2Cam Chat, though only the latter actually includes 2-way video / 2-way sound. Some male models charge a bit more for cam2cam mode, while others charge the same regardless.
When it comes to an effective JOI session, you'll want to have your webcam turned on. This way your instructor can look on, keeping a watchful eye on your progress, while at the same time motivating you with dirty words of encouragement.
And Stripchat remains the only site where you can enjoy a jerk off instruction show in VR (virtual reality).
There is a wide spectrum of pricing, and can range from 8 tokens per minute up to 120 tokens per minute. With the cost of tokens working out more or less $1.00 each – the price is between $0.80 per minute to $12.00 per minute. However, you'll see that most male models offer private service at between $1.60 – $2.40 per minute.
Every hour Stripchat rewards 10 lucky users each with 50 FREE TOKENS.
Customer service is limited to either a FAQ section, or you can submit a request for assistance. Sadly there is no live chat support, like you get on other live porn sites. However, you can contact the billing processors direct, as their individual phone & email details are provided for.
---
Cams.com
Cams is a veteran adult cam site with a tidy selection of willing male models. And despite this site's age, it continues to forge ahead in the arena of video chat with great technological advancements.
Cams.com touts some of the best quality HD webcams found online, and also has its own patented Connexion feature – where you can link your sex toy to the models sex toy, for a totally interactive 2-way camming session.
Visit Cams.com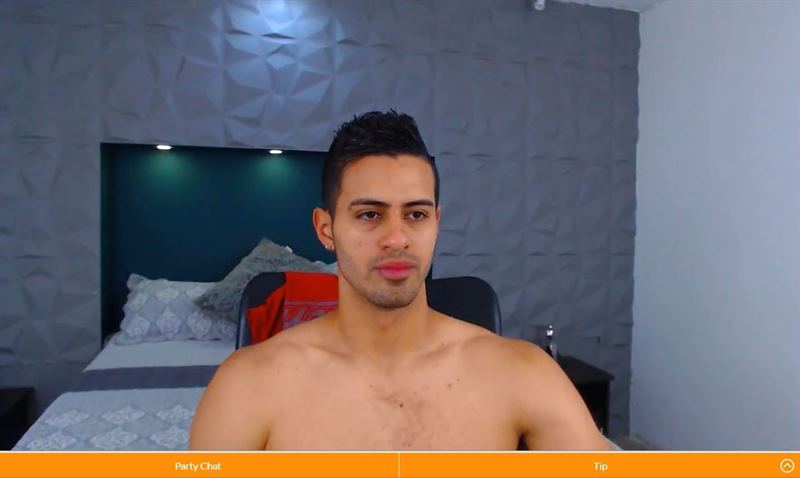 With an intuitive layout, finding the Male chat rooms is a breeze. And then you can further tailor your search for your masturbator instructor using the handy menu (left hand side of the main browsing page). Aside from white guys, Cams also has Latinos, and a number of men who identify as Mixed.
In the majority, they hang out in the Free>Tip chat rooms sometimes semi-naked, and you can chat them up and watch without spending. But if you want, you can tip to have specific sexual requests fulfilled; we concluded that the best JOI encounters with gay webcam models occur in 1-on-1 private sex shows.
Cams offers one of the most attractive sign up incentives giving members 100 FREE TOKENS per card. So if you own multiple credit cards, you can sign up with them – and get 100s of free tokens.
Take care with this site, as it's dead easy to blow through your cash quick. An average private chat with a hunk will set you back in the region of $2.50 per minute. But when you add cam2cam, as well as Connexion mode, plus tipping for gratuity – the rate more than doubles. Also, clicking on the play-back screen automatically tips the model.
As for customer support, under the Help / Contact section (bottom of the homepage) you'll find the FAQ page, which is pretty extensive and covers most user queries. There are also separate details for Billing Support (email address & phone number).
---
How Much Private JOI Cam Shows Cost
Below is a table indicating the average price per minute for private jerk off instruction sessions on each of the above websites. The prices that you see may vary slightly by geographic region.
| | | | | | |
| --- | --- | --- | --- | --- | --- |
| Site | Cheapest Rooms | Average Price | C2C Included | 2 Way Audio Included | HD |
| CameraBoys | $1.04 | $2.14 | Extra Fee | Extra Fee | ✓ |
| Flirt4Free | $0.55 | $4.40 | ✓ | ✓ | ✓ |
| Supermen | $0.98 | $1.98 | ✓ | ✓ | ✓ |
| Stripchat | $0.80 | $2.20 | Extra Fee | Included with Cam2Cam | ✓ |
| Cams | $2.40 | $3.60 | Extra Fee | Included with Cam2Cam | ✓ |
---
Conclusion
Ok, let's just break this one down in a bit more detail and face the facts. Gay JOI sex cams rank pretty extreme as far as fetish is concerned, and therefore appeals to a niche clientele.
That said, and with so called barriers to socially accepted norms easily broken down online, no matter whether you're gay, bi or straight – more and more people are flocking to the internet in search of new & unexplored sexual experiences; pushing their own preset limits in pursuit of pure carnal satisfaction.
The net is filled with chat sites setup for males, but these 5 are the best geared for gay JOI and jerk buddy encounters. As none of these sites charge for signup, our sound advice is to register on them all, and to try them out for yourself. This way, you can decide which site works the best for you, before committing to buy credits or tokens.
But if you want our #1 recommendation for masturbation mentors, head directly for CameraBoys. This top males only site is a must, if you love watching gorgeous men perform in Full HD. And besides for being our favorite choice for gay JOI video chat, you'll also find BDSM cams, cumshot cams, twinks on cam & footjob chat rooms.
Visit CameraBoys.com
---