Best Mobile Sex Chat Sites for Your Phone [Android & iPhone]
Best Adult Mobile Cam Sites [Android, iPhone & Tablet]
Watching anything on your computer is pretty passe. Nowadays, most users prefer to do everything on their phone. Hell, a ton of smartphones and cases today are waterproof, so you can take them into the shower and watch porn on them. We took a look at all the best webcam sites and determined which of them work best on the mobile device. We've provided screenshots in both landscape and portrait.
These are the 11 best mobile cam sites to use on your phone, regardless if it's an Android, iPhone, or tablet. Only LiveJasmin and CamSoda offer cam2cam.
CamSoda.com
CamSoda is an up and coming live porn site that is heavily investing into itself technologically. If you aren't already familiar with them, they previously experimented with VR cams and Holographic cams. CamSoda always has a ton of babes streaming already naked. So what makes CamSoda exceptional? It was the first site to introduce cam2cam on phones and tablets as a feature.
Visit CamSoda.com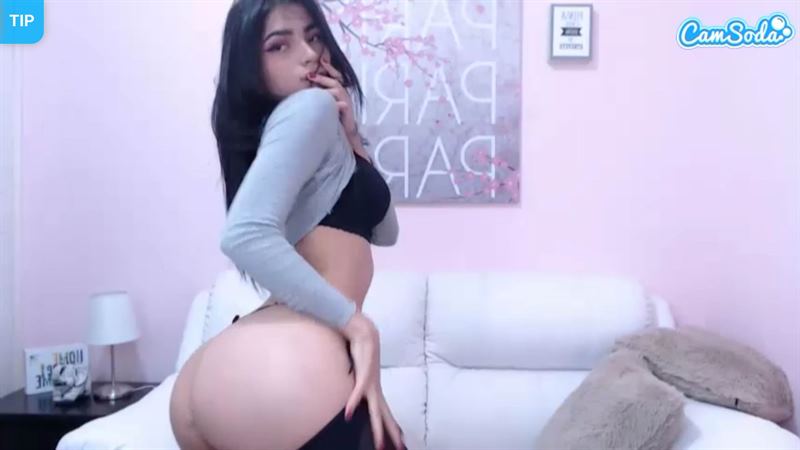 CamSoda's mobile sex chat rooms have been well optimized for mobile viewing. Horizontally, some space is cut off from the bottom of the screen, but you can resolve the issue but clicking to go full screen. When held upright, CamSoda gives you easy access to all the sites features, including cam2cam.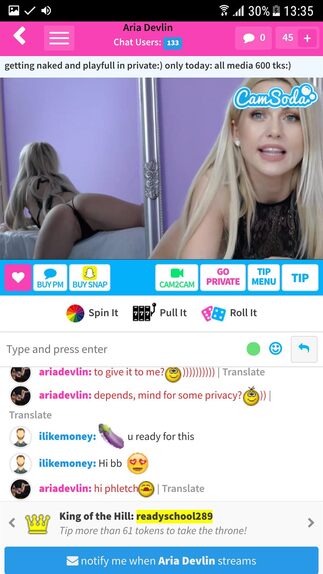 You can't flick left or right on CamSoda to switch between rooms. You'll have to press the back arrow to choose a new room. It is a precaution, to help prevent you from accidentally flicking out of a private show.
Not all of the webcam models on CamSoda offer cam2cam shows. That being said, some have automatically recorded shows, meaning you will automatically get a copy added to your collection. On CamSoda, you can rewatch all your recorded shows for free.
When in a private show on CamSoda, both cam2cam and 2 way audio are completely free.
---
LiveJasmin.com
It shouldn't be surprising that the best out of all cam2cam sites also has one of the best mobile cam sites. LiveJasmin has the hottest webcam models the internet has to offer and they all broadcast in the highest video quality possible. When you flick between the mobile sex chat rooms on LiveJasmin, you will notice that all the babes have HD cams. That's because LiveJasmin has standards way above the competition.
Visit LiveJasmin.com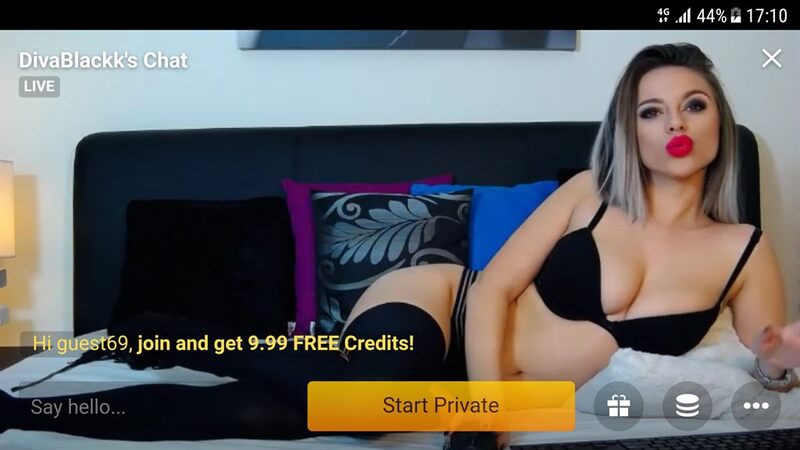 Above you will can see how the landscape view looks on LiveJasmin, whereas below you can see the portrait view. When viewed upright, the closeness of the camera creates a sense of intimacy that can't be attained with the traditional sideways view. That being said, sometimes you have to turn your phone to get that full show experience.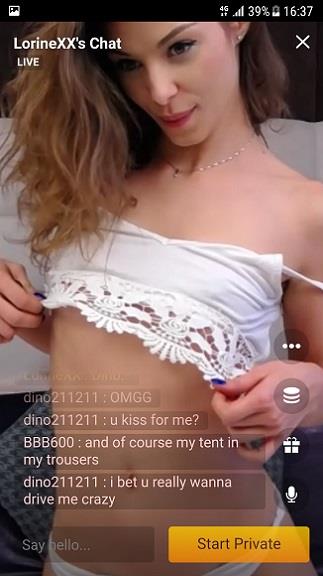 Chatting with webcam models while using your phone works well in portrait, but not as well in landscape. In both cases, a part of the screen is covered by the keyboard, but not to the point where you can't see anything.
You can cam2cam on mobile devices during private shows on LiveJasmin. Cam2cam and 2 way audio are not included in the original price. Each costs an additional 1-2 credits per minute.
Mobile Phone Commands
To zoom out – Double tap
To activate Tilt View – Press and hold
To switch between models – Swipe left or right
To minimize the model – Swipe down
---
Flirt4Free.com
Our favorite free chat site, Flirt4Free is an adult webcam site where the girls strip, even in the free chat. Flirt4Free has a ton of webcam babes and many of them have high quality cameras. Flirt4Free has very exciting opportunities. You can filter the rooms by price to find cheap rooms. Some of the girls have offer the opportunity to Strike an Offer, you suggest a price for a certain length of private time.
Visit Flirt4Free.com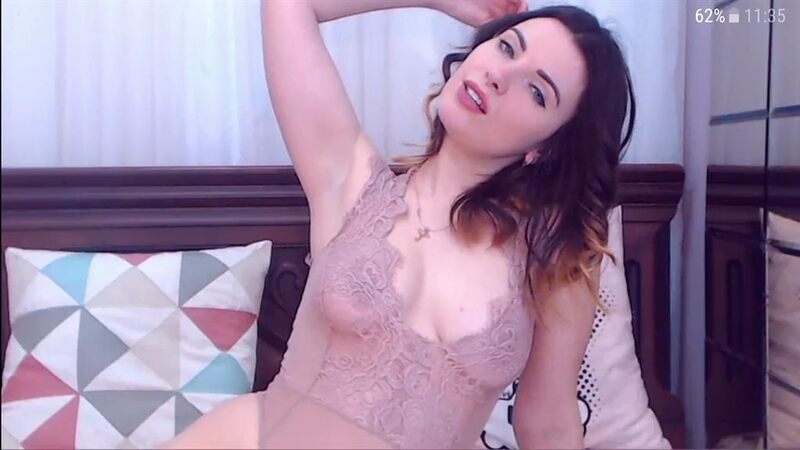 .
When Flirt4Free's mobile sex cams are viewed sideways, the screen automatically turns to full screen. Flirt4Free is the only site where the black bar at the top is faded out and incorporated into the screen. If you want to chat, you will have to switch the view and keep your phone upright. Chatting can get a little cluttered, but its not so uncomfortable as to make it impossible.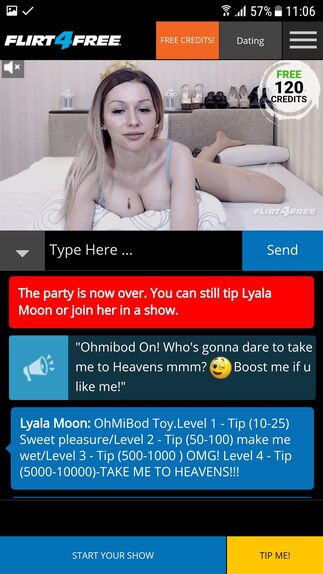 When using Flirt4Free on the mobile, you can actually rewind the show to rewatch your favorite part over and over again. We aren't sure if this is intentional or if it is a bug, either way, it's awesome.
Flirt4Free is a multi-optional cam2cam site as it allows you to open your cam not only on your PC but also on your mobile device and, therefore, engage in bidirectional video chats on the go.
Flirt4Free Mobile Features
To switch between rooms – flick left or right
Rewind the video – hit pause and press back on the timeline
---
ImLive.com
A leader in cheap sex cams, ImLive might not have the highest quality, but what they do have is affordable private chat rooms and great customer support. If you are surfing in an area with a bad internet connection or just have a shitty mobile plan, ImLive's standard quality chat rooms can be a blessing in disguise. ImLive is a mobile sex chat site that will not destroy your data plan.
Visit ImLive.com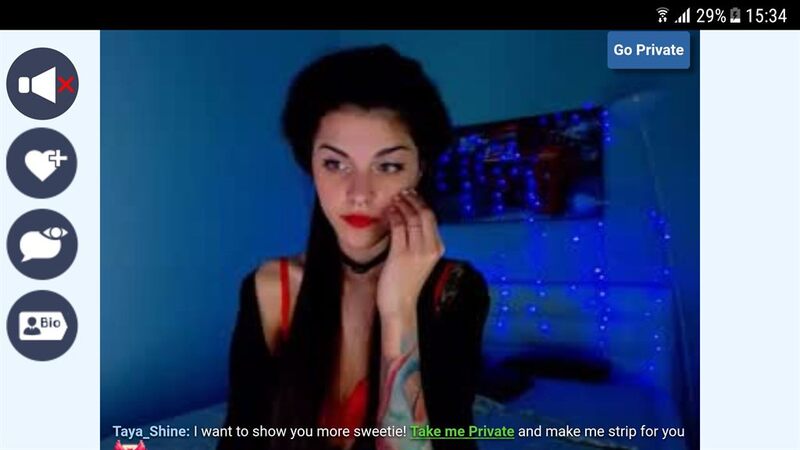 If you are holding your mobile device sideways, you will get an image like you see above. You can turn the text on or off, to get an undisturbed video experience. ImLive has arguably the best typing experience while on a mobile device. When the phone is upright, you can watch the entire video and type without missing out on anything. We recommend watching in portrait, as it has nice looking video.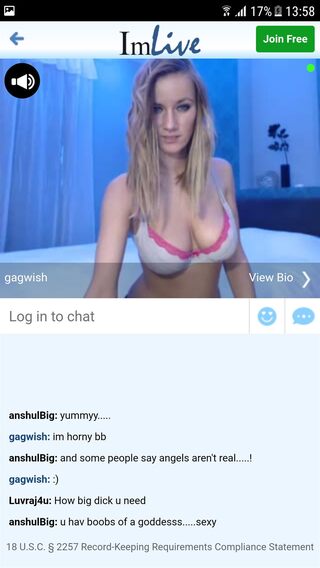 That being said, while actually chatting works fine, the site lacks other mobile friendly features. To switch between cam rooms you will have to click on the back arrow. There's no swiping commands to flick between chat rooms.
Currently, the only two features that don't work on the mobile cam site are the Multi-Viewer and the cam2cam. We aren't going to make any guesses with regards to the Multi-Viewer, but we have no doubt that ImLive is looking into a solution so that you can turn on your camera as well.
---
LivePrivates.com
A world leader in quality, LivePrivates is a premium adult chat site that has gone to lengths to optimize their sex cams for mobile devices. Every mobile sex chat room you encounter will have 720 HD as a minimum, just like you would see on their desktop site. Some of the newer girls have lower quality cameras, but that's just because they haven't gotten the chance to buy a new camera yet.
Visit LivePrivates.com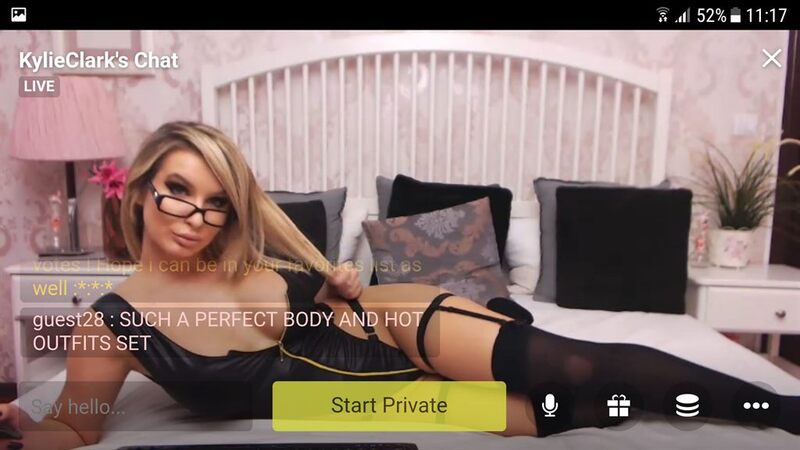 You get to choose between a widescreen landscape and a close up vertical shot while watching LivePrivates on your phone. As many of the webcam models are lying down, you will find that you will have to adjust the position of your phone often while choosing a room. Once you've chosen and have gone into private, the girls know you are using a mobile device and will adjust themselves accordingly to stay on your screen.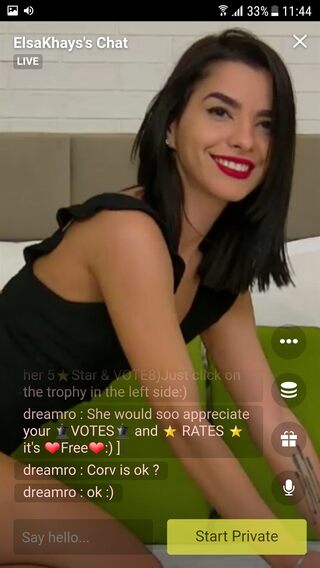 Typing messages to the models on LivePrivates works most effectively in the portrait position. If you try doing it horizontally, you will notice that the keyboard dominates the majority of your screen. We recommend typing out what you expect in the show before you start the private, just to save you some time and money.
Tricks on LivePrivates Mobile Cam Site
To zoom out – Tap the screen twice
To switch the camera angle – Press and hold, then physically tilt your phone left and right
To switch between webcam rooms- Swipe left/right
To minimize the webcam room- Swipe down
---
Sexier.com
Sexier is another low cost mobile sex chat site. They have actually been in the game since 1996, giving them over 20 years of experience in the world of porn. As you would expect of any respectable porn company, Sexier has continued to invest in innovation to maintain it's position in the market. Sexier might not have HD cams, but it does have a huge selection of rooms to choose from.
Visit Sexier.com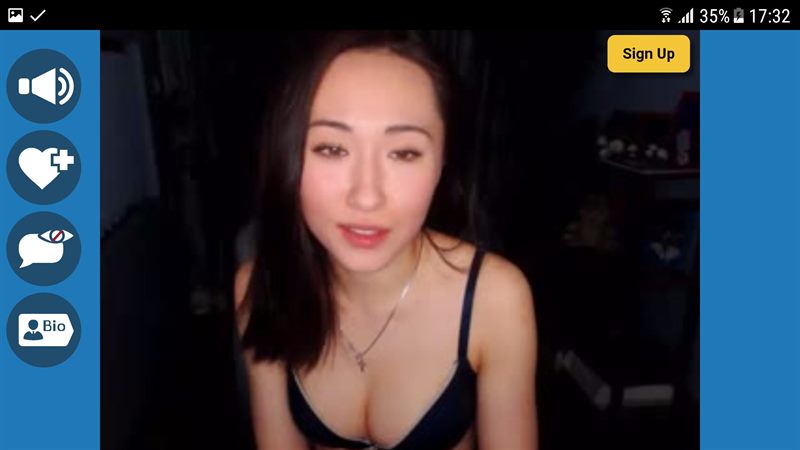 It is arguable that Sexier looks better on the mobile cam site than it does on a computer. That's because the SD screens aren't blown up into huge screen sizes causing pixelization. Both portrait and landscape views look better than on a desktop, with the portrait view giving the overall best experience. Sexier devoted a lot of thought to users who want to actually message the models rather than just watch.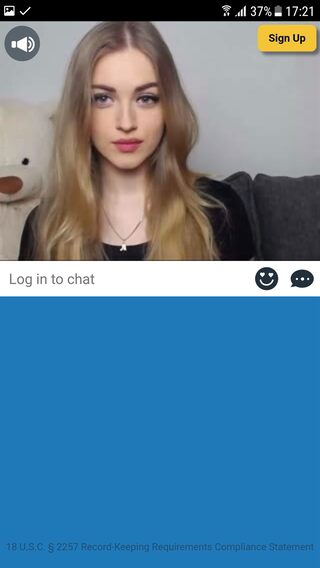 Sexier currently lacks mobile friendly shortcuts. While the video feeds were well optimized for viewing on the phone, you can't quickly navigate through the rooms as would be intuitive to any mobile user.
Sexier does not offer cam2cam while using your mobile device/tablet. You'll have to hop onto your desktop or laptop for that.
---
121SexCams.com
While all the sex cam sites on this list expect you to buy credits or tokens, 121SexCams has a different approach. You leave your payment information on file, and are charged for exactly what you spend. You never have left over credits to worry about. 121 Sex Cams has set up daily spending limits, which you can change at will. It can prevent you from overspending on any given day.
Visit 121SexCams.com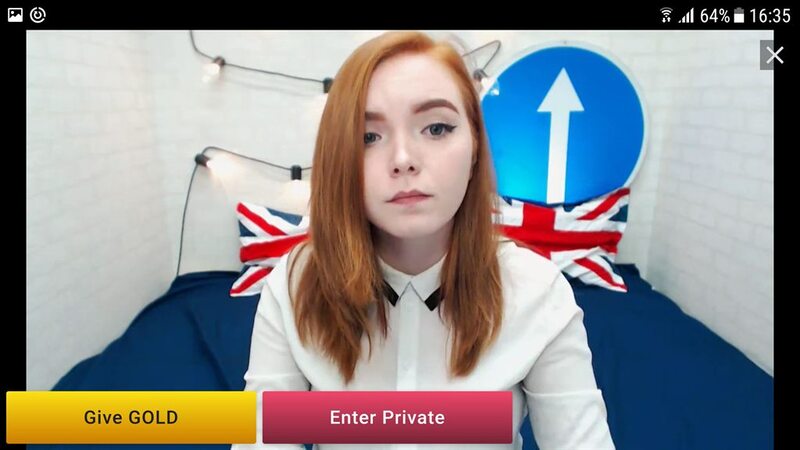 While held in the portrait position, 121SexCams mobile chat rooms don't give you an opportunity to actually chat. You can tip by giving GOLD, or you can start a private show. To talk to the model you are watching, you are going to have to hold your phone upright. A large section of the screen will be dedicated to the chat window and your keyboard.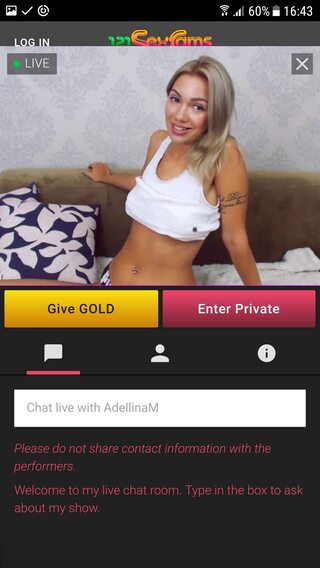 Chatting on 121SexCams mobile site is not very ideal. You will notice that when you click to start typing, half of the video screen gets covered. That's why, it is highly recommended to work out what you want in a show, prior to starting a private show on mobile. Otherwise, you might find yourself missing out on the action when trying to give instructions.
---
Cams.com
Cams.com was one of the very first adult chat sites to appear on the internet. Since then, thousands of webcam models have registered onto the site. Cams.com used to be focused on private shows, but the site is now slowly adopting more of a free based model. Some of the girls get naked for everyone to see, while others are waiting for you to take them into a private session.
Visit Cams.com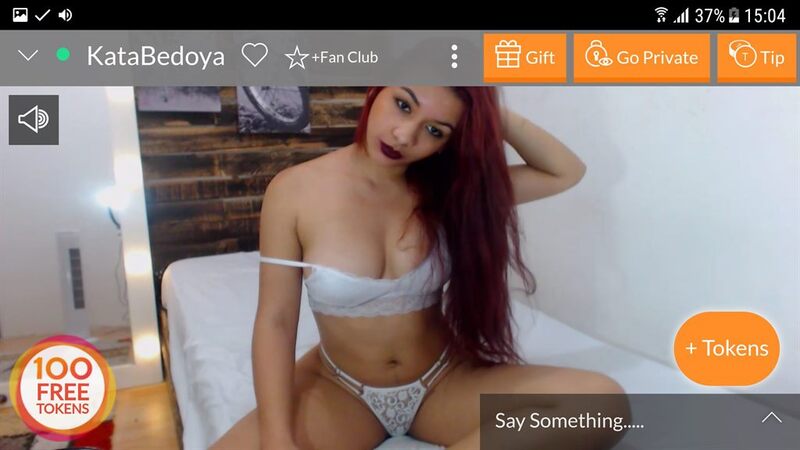 Even in the landscape mode, you can easily access the features of Cams.com. You can tip, gift, and even type out whatever messages you want. You'll notice that some space is cut off at the top. If you do want to actually talk to the model, we recommend doing so in the portrait mode. It gives you more space for the keyboard, so you don't miss out on the show.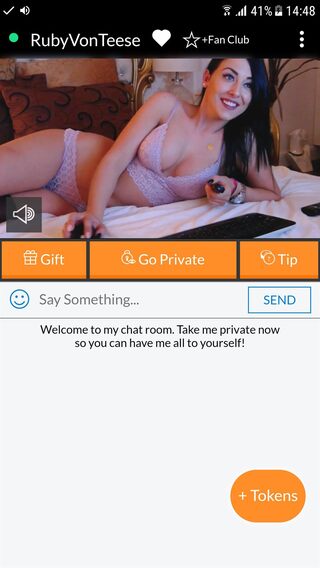 Cams.com has many high quality high definition webcam rooms. Their quality remains high when you watch them on your phone. Not every chat room is HD, but that's the same for most sites (other than LiveJasmin).
At the moment, cam2cam is not yet available on Cams.com. It appears that the Connexion feature isn't available either, which is a shame.
Cams.com Warning!
Clicking on the video feed automatically tips the model.
You cannot flick left or right on the video feed. Be careful where you press.
---
Chaturbate.com
Chaturbate is arguably the most popular freemium chat site in the world. Many chat rooms have thousands of people watching. As you browse through the mobile sex chat rooms, you will see that there are literally thousands of rooms to choose from. Chaturbate has more than just female webcam models, they also have men, couples, and even transgenders. Many of the webcam rooms have HD cams, going up to the full 1080.
Visit Chaturbate.com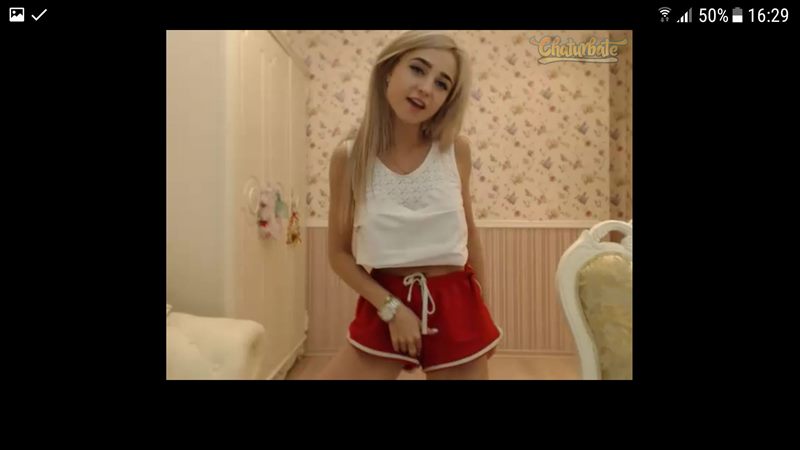 When using Chaturbate in the sideways position on your mobile device, you will notice that a lot of the screen space is wasted. There is no option to go into a true full screen. Chaturbate has one of the best user interfaces for chatting. While your phone is upright you can type out whatever you want without the keyboard covering up any part of the screen.
Despite how well optimized Chaturbate is as a mobile cam site, for some reason you can't swipe left or right between chat rooms. It's super strange that you can't, especially when you can use the keyboard do to the exact same thing on the desktop.
Chaturbate doesn't offer cam2cam at all. Not in the traditional sense anyway. You have to sign up as a broadcaster and you can set your profile to private if you want so no one else to see.
---
BongaCams.com
BongaCams is a leading European sex chat site filled with European webcam babes operating with HD feeds. BongaCams has a ton of exclusive models that can't be found anywhere else. BongaCams currently has a mobile sign up bonus. You get up to 100 free tokens on your first purchase when you buy and spend the tokens while browsing the mobile site on your phone.
Visit BongaCams.com
BongaCams thought hard about what to do when you turn your phone sideways and came up with a great solution. You get the full video feed and the bar to chat on one screen. That being said, while typing in the sideways position is comfortable, you'll have to switch to the portrait view to watch and talk at the same time. In portrait, you can see the chat history beyond the last line.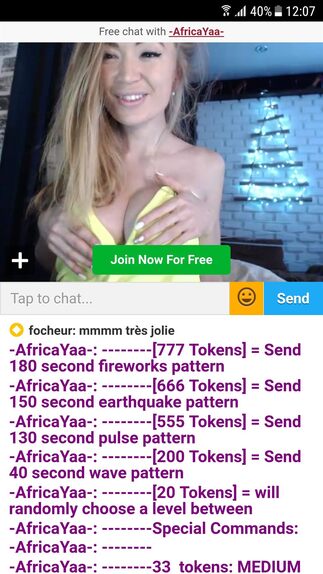 Flicking left and right switches between the live chat rooms on BongaCams. You can press on the white + to open up more options. It's where you'll need to click if you want to tip or start a private chat.
Cam2cam is not available on BongaCam's mobile site. Even on the desktop, not all the girls are down to cam2cam.
---
MyFreeCams.com
The first genuine free sex chat the internet ever knew, MyFreeCams was once a live porn powerhouse. But, times have changed. MyFreeCams is still a great site with a ton of models. So why is it not as popular today? The desktop site is terribly cluttered and impossible to navigate and the site has only women broadcasters. Luckily, while the traditional site isn't he greatest, the MyFreeCams mobile cam site looks and feels great.
Visit MyFreeCams.com
When you turn your phone/tablet sideways on MyFreeCams, you will get a good quality image, but notice that there is some left over space on the sides of the screen. MyFreeCams doesn't try to force an image to fit by stretching it. In the upright view, you have an opportunity to chat, PM or even start a slide show.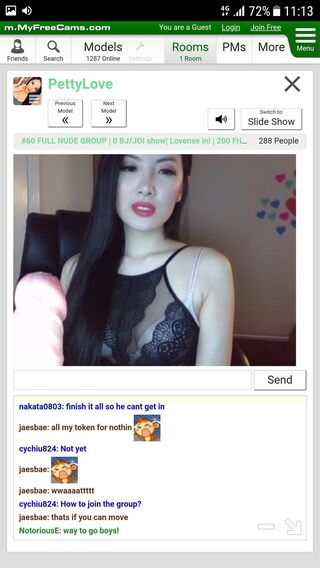 All private chats on MyFreeCams have a set price of 60 tokens a minute. You can't switch between the rooms by flicking, but you do have an option for previous model/next model with the directional arrow keys under the models name.
As with every other site on this list other than CamSoda, MyFreeCams does not currently offer cam2cam while using the sex cam site on the phone.
---
Conclusion
The best mobile sex chat site is CamSoda. It is the only site with the cam2cam on the mobile phone. You can cam2cam on any mobile device, so long as your software is up to date.
CamSoda is filled with hundreds of irresistible women who are eager for your attention. There are cam girls who do private shows for as low as $0.60 a minute.
Get ready to start cam2caming from anywhere using your phone.
Visit CamSoda.com
---