How to Cam 2 Cam on Chaturbate – Full Guide with Pictures
How to Go Cam2Cam on Chaturbate
We're just going to start off by saying that Chaturbate doesn't technically have cam2cam. Therefore, Chaturbate is not on our list of recommended cam2cam sites. On most sites, you start a private show, then click on a button to activate your webcam. That isn't the case on Chaturbate.
If you want to cam2cam on Chaturbate, you will need to set yourself up as a broadcaster. You can set it up so that other people other than the girl you are chatting with can't see you. Prepare for a step by step guide to creating your very own password protected broadcast room.
You will have to invite the webcam model you are watching to join your c2c chat room. When you are in each other's chat rooms, that's the Chaturbate cam2cam experience.
Visit Chaturbate.com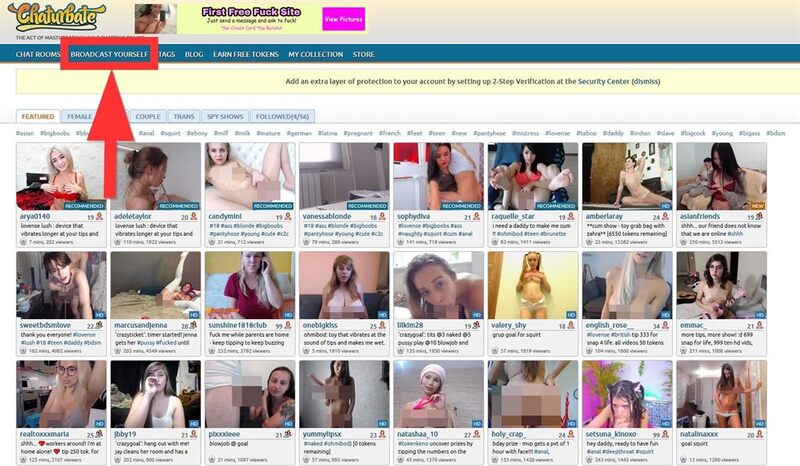 Upon clicking to broadcast yourself on Chaturbate, you will be prompted to verify that you are indeed 18 or above. You will not need to submit an ID at this point, but you will need to send in your ID if you intend to try and earn tokens as a broadcaster.
All you need to do is click the orange button to confirm that you are of legal age.

Upon confirmation, you will be redirected to your very own personal broadcast room.
You can turn on your webcam by updating your browser permissions, so that Chaturbate can detect your webcam. The box for Adobe Flash Player Settings will usually automatically pop up. This is what the box will look like. You will need to click the green Allow button.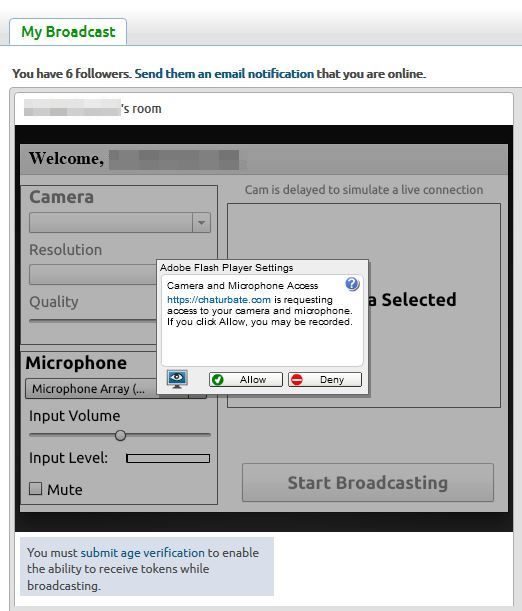 If you don't give Adobe Flash Player the permissions it requires, you won't be able to c2c on Chaturbate.
But, before activating your webcam, you might want to scroll to the bottom of the page to your privacy settings. Here, you will be able to control who can enter your chat room.
On the first half of the screen you will have to select your notification settings. Choose if you want to be listed on the front page, which genders you are visible to, and which countries/states can see your webcam feed.
Most importantly, this is the section where you can select a password. It is very important to select a password if you want to have a private cam2cam session on Chaturbate. If you don't set up a password, any user would be able to come in and watch what you do. If you're super unlucky, you might even get recorded.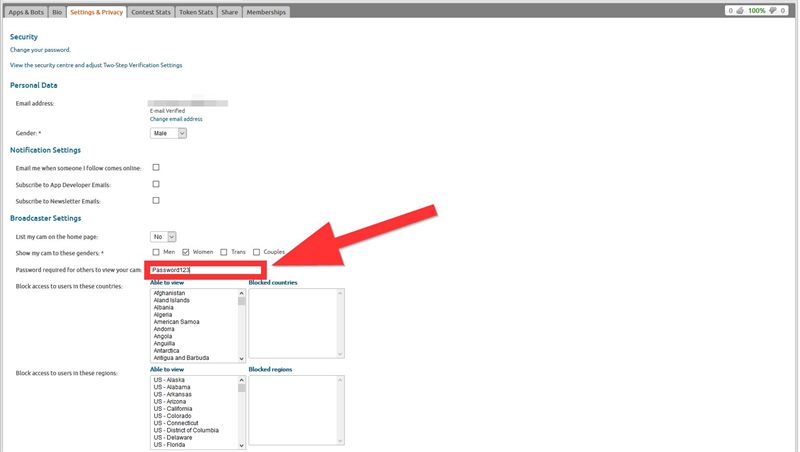 If you don't intend to become a money earning broadcaster, there is no reason for you to fill in the details beyond the countries/regions you want to block access to. You can scroll all the way to the bottom and click the orange Update Settings button.
You are now done with the boring part.
This is what your page will look like. You must keep your room open in one tab, while searching in another. If you close your room, you will need to reopen it and reactivate your camera.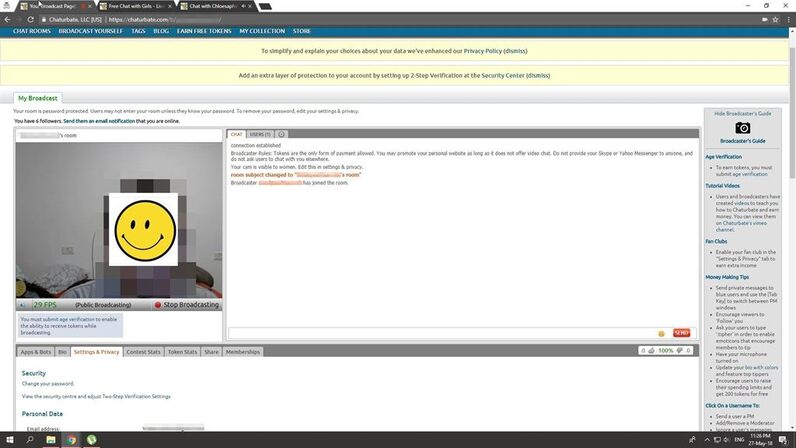 You can go cam2cam with any Chaturbate model that does cam2cam.
Find a girl, and find out her cam2cam policy. If she does cam2cam in private shows, invite her to a private show. If she'll open your cam for a tip, then go ahead and tip.
Send her your password in a tip note/in a private message.
Once she joins your chat room, this is what it will look like in your room. It's pretty lackluster, you just get a line that says that a person has joined your room.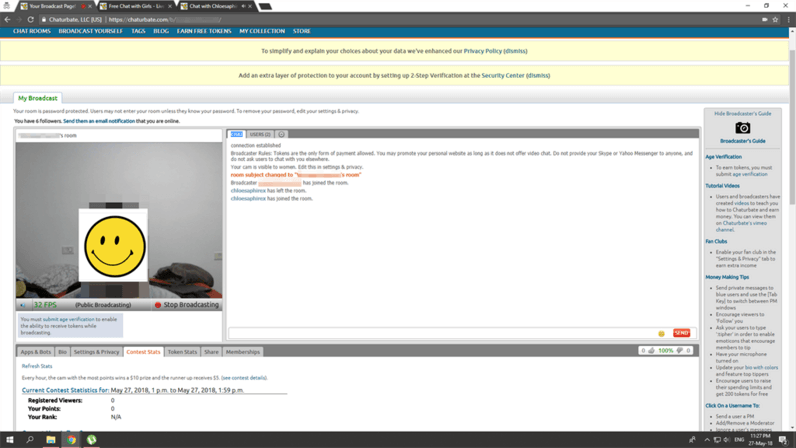 When the webcam model is in your room, it is a matter of trust. Since Chaturbate doesn't have real cam2cam, it is up to you to trust that they are actually watching you.
Most cam girls will talk to you while in their rooms.
They are watching you on one screen, but responding on another.
Unless you also have two screens, it is difficult to open a window to see what you are doing, while watching her.
Not all of the webcam models on Chaturbate are open to two way video chatting. You can look for c2c listed in the room menu description or in the tip menu. If you don't see any options for cam2cam, you can try asking the model if she's down or not.
Some of the cam models will only open your webcam in a private chat, while others will open your webcam for a tip.
The private chat rooms on Chaturbate start at 6 tokens per minute, but can get much more expensive. Most girls will ask for extra to watch you while you watch them.
At present, you can't cam2cam on mobile devices on Chaturbate. There are only a few cam site where you can cam2cam on your mobile device. None of them have as of a selection as Chaturbate, but they make it much easier to cam2cam.
That being said, you won't necessarily find the same girls on these sites. Some girls broadcast on multiple sites, while others don't. If there is a model on Chaturbate that you are absolutely in love with, and she only broadcasts there, then you are stuck with Chaturbate.
Visit Chaturbate.com
---