How to Cam 2 Cam on LiveJasmin – Full Guide with Pictures
How to Go Cam2Cam on LiveJasmin
LiveJasmin is our most highly recommended cam site for cam2cam. As a premium site orientated around c2c, LiveJasmin does a fantastic job at making cam2cam easy. Unlike sites like Chaturbate and MyFreeCams, you can cam2cam on LiveJasmin at the click of a button without setting yourself as a broadcaster. This guide explains how to do it on mobile devices and computers.
The first step you will need to take, is to register an account and buy some credits, if you haven't already.
Visit LiveJasmin.com
On Computers
To cam2cam on a computer you will need to enter one of the chat rooms. Hover your mouse over the video screen, and you will see a bunch of icons open up on the left hand side. One of these icons is of a webcam. Clicking it will display the price of a private show per minute. Accept and your show with c2c will start.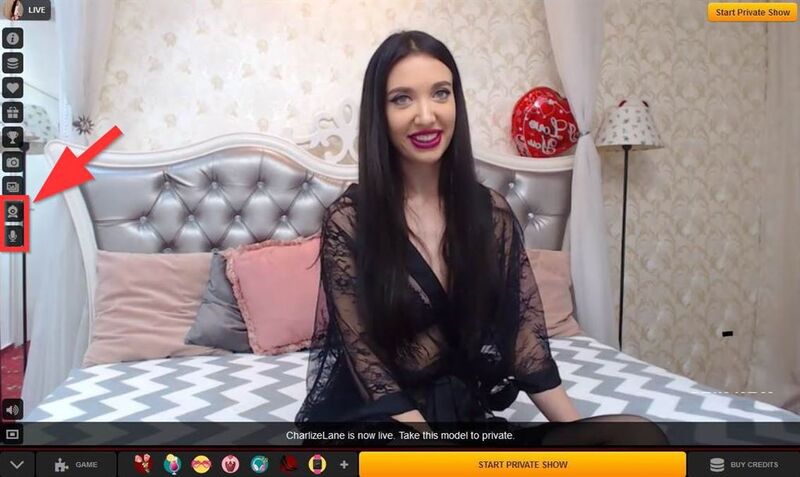 On computers, cam2cam is included in every private show for free, but if 2 way audio is available, then it may come with an additional charge. You can turn on your microphone too, by clicking on the microphone icon which is directly below the webcam icon.
The icons remain while in a private show, so you can choose to turn on your microphone or webcam even after the start of the show.
On Mobile Devices
Cam2caming on LiveJasmin while on a mobile device is a little more complicated, but not by much. You will have to tap on one additional button. Tapping on your screen will reveal the icons, this time on the right side. Tapping on the three dots icon will pull up additional icons.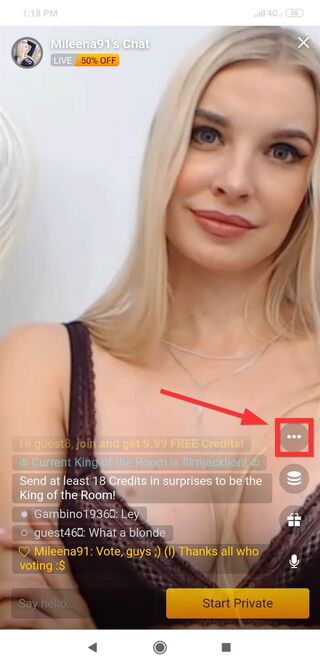 The new icons which are displayed include the webcam icon. Tapping on the webcam icon will open up the private confirmation window, just like on a computer. If you tap to accept, your show will start with cam2cam already activated.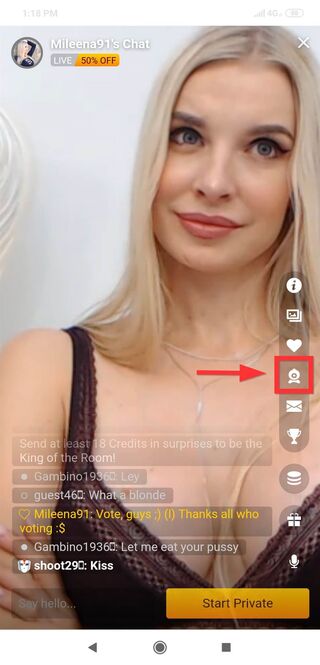 Unlike on computers, c2c on LiveJasmin while on a mobile device costs extra. You will have to spend an extra credit a minute. 2 way audio is not included with this one credit fee, usually costing an extra credit per minute as well. Like on computers, you can tap to turn on the c2c feature even after the show starts.
---
LiveJasmin Compared to Other Sites
While on a computer, LiveJasmin provides by far the best cam2cam experience. The site has the hottest webcam models and while the site might not be the cheapest, it is also far from being the most expensive. The site has a great assortment to choose from and amazing customer support to back it all up.
On mobile devices, LiveJasmin is one of the only 3 cam sites with cam2cam on your phone. However, LiveJasmin is the only one of the three that charges extra for cam2cam on mobile. The other two sites are much cheaper for cam2cam on your phone, though the quality of the shows will still be better on LiveJasmin. If you can afford it, we recommend LiveJasmin, otherwise CamSoda is a good alternative.
Conclusion
LiveJasmin is a great sex chat site with a lot to offer. There's great video quality, amazing babes, and cam2caming is really easy. If you are on a computer, you just click on the webcam icon. If you are on a phone, tap the three dots icon, then on the webcam icon that is revealed.
If you can't get it to work, we recommend upgrading your browser and confirming to see that your camera actually works.
Visit LiveJasmin.com
---