LiveJasmin Daily Challenges – Win Free Credits on LiveJasmin
Daily Challenges on LiveJasmin
LiveJasmin is currently not running any Daily Challenges. This page will be updated the next time LiveJasmin decide to run this promotion again. As a new user you can win up to 100% extra tokens with your first purchase. You can also verify your credit card information to claim 9.99 free credits.
LiveJasmin's Daily Challenges were popular enough that the site decided to continue with them past the original seven days. Unlike before where you had to complete challenges to enter a draw, now everyone can be a winner. The way it works, is that you need to complete the Daily Challenges every day, without skipping any days. You will receive 25 credits on the 5th consecutive day, 50 credits on the 10th consecutive day, 250 credits on the 20th consecutive day, and 1000 credits on the 28th consecutive day. In total, you can win up to 1325 credits.
The challenges are different from day to day, with the challenges only being revealed a day in advance.
Visit LiveJasmin.com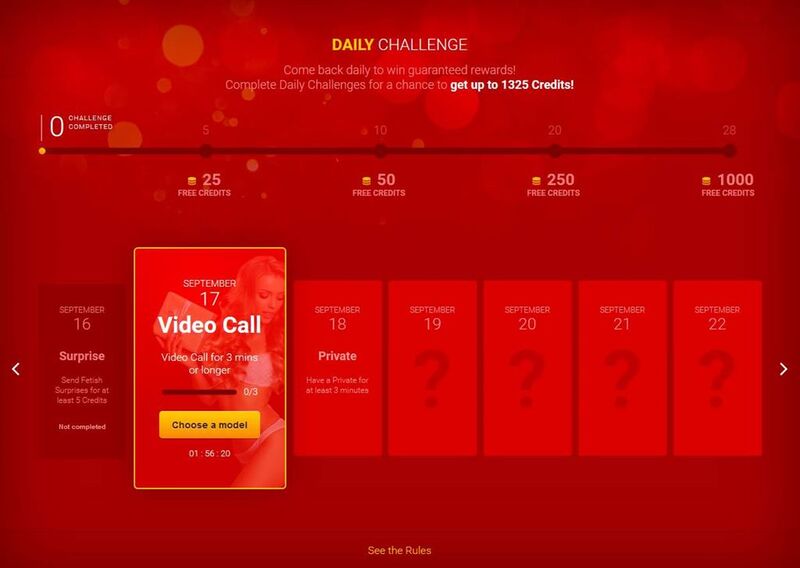 These are some of the challenges which have already happened –
September 2nd – Surprise – Send Fetish Surprises for at least 5 credits

September 3rd – My Content – Unlock at least 5 Premium Albums

September 4th – My Story – Subscribe to at least 5 premium stories

September 5th – Video Call – Do a video call for 3 or more minutes

September 6th – Private – Do a private show at at least 3 minutes

September 7th – Surprise – Send at least 5 credits as surprises

September 8th – Endorse – Spend at least 30 credits on your favorites.
As you can probably tell, they all cost money to participate in. Some days are cheaper than others, but you will need to spend on all the days if you want to claim your free credits. A 'day' is defined as the 24 hour period between 12:00 and 11:59 CEST. Skipping out on a day will reset your counter back to zero, at which point you will need to start over.
The promotion are a part of the latest changes on LiveJasmin. The site first introduced the LiveJasmin Elite program and now the Daily Challenges. It seems that they are trying to spice things up, to gather new users and to entice old users back onto the site.
It's really nice to see how LiveJasmin has stepped things up recently, giving more consistent discounts and more freebies. As a whole, LiveJasmin has very fair prices. Taking in all the recent discounts, LiveJasmin can easily compete as one of the cheapest cam sites online today.
Visit LiveJasmin.com
---