Review of Cam4.com at Best Webcam Sites
Cam4 Review – An Amateur Webcam Model Paradise
Is Cam4 Good?
Cam4 is a feature rich adult chat site, filled with gratuitous nudity. As you browse through the site, you will encounter a wide range of gorgeous women and hunky men. You can easily filter down your results, and even create and save custom filters. Cam4 displays ads quite prominently, but you can upgrade to Gold to get rid of them or just click our exclusive link.
Cam4 is largely a freemium cam site. What that means is that users tip in the free chat, and the models strip and play with themselves. The models aren't as hot as they are on sites like LiveJasmin, but you are more likely to see the models naked without having spent a cent.
Visit Cam4.com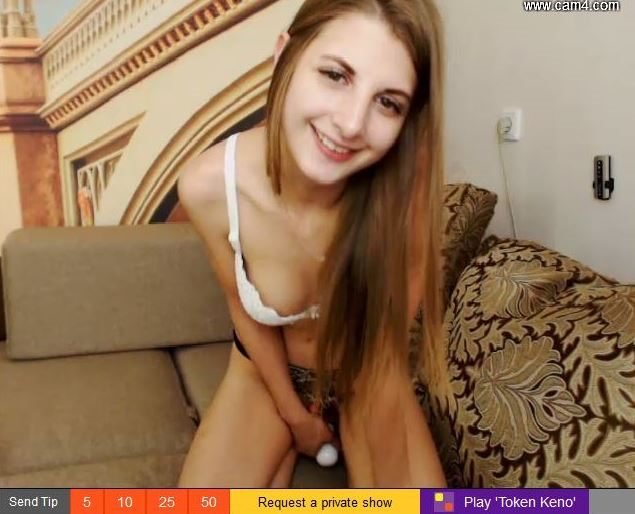 While you can browse in the free chat rooms for as long as you want, you will find that taking a model into a private show is usually quite expensive.
Overview
Cam4 has been around since 2007. Since then, they have acquired a huge number of amateur webcam models. Most of the models work straight out of their own bedrooms, with very few of them who actually work out of studios.
Cam4 has won a couple of awards, from both XBIZ Awards to AdultWebcamAwards.
Cam4's claim to fame is their huge variety of webcam hosts and their social networking platform. Many of the users on Cam4 add each other as friends. Users often go to Cam4 to chat to people, and not just to masturbate.
There are no recorded videos of any type on Cam4. The site maintains an 'always live, always now' policy.
Strengths & Weaknesses
Strengths
HD chat rooms
Big variety of webcam feeds
Great social aspect
Mostly amateur webcam models
You can save custom filters
Weaknesses
Many ads (which can be avoided by clicking our exclusive link)
Small video screens
Private chats are very expensive
Most rooms aren't very active
The Webcam Models
The Girls
Cam4 is host to a large number of female amateur webcam models. As you browse through the female category, you will find several hundred online, no matter the time of day. What you will notice, is that as the day progresses, new cam girls from different regions of the world will log on.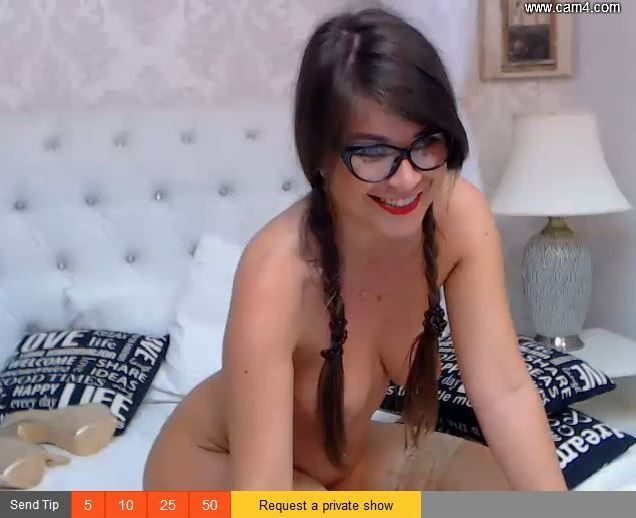 While Cam4 has extensive filters available, you always seem to get a few men and couples, while browsing through the women only selection.
Generally speaking, there are many pretty cam girls, but they aren't as hot as the higher ranked sites on our list.
Most of the girls seem to be sitting around. Users on Cam4 don't seem to be big tippers. If you tip anything at all, the girls always get super excited.
The Guys
Cam4 actually has more male performers than female. That's because many of the users on Cam4 like to sign up as broadcasters. You have thousands of male amateur webcam hosts who sit around and jack off on cam, while watching their favorite cam girl perform.
Some of the guys on Cam4 are in it for the money, but most just want the cam girl they are watching to give them a free cam2cam session. There are better alternatives if you are looking for professional gay chat hosts.
If you intend to broadcast on Cam4, be aware that most of the people who watch you will be men.
The Couples
There are quite a few couples on Cam4, but searching for them can be a bit of a pain. There is no separate tag to view couples. The couples are listed under both the male and female gender filters. It's not very convenient, but that's what's available on Cam4.
The Transgenders
Cam4 has a surprisingly large amount of amateur tranny webcam hosts. They are all listed directly under the Transgender gender filter. They will not appear under the male or female tags. There seems to be an average of just under 100 trannies online at any given time. It's predominantly Asian ladyboys, but there are trannies from all areas of the world.
Model Profiles
The model profiles on Cam4 are not very extensive. To reach them, you will simply need to scroll down while in a model's cam room. You will find the basic generic information on the left hand side. Included is the gender, sexual orientation, relationship status, and location. It is up to the models to fill up all the information, so some profiles are more barren than others.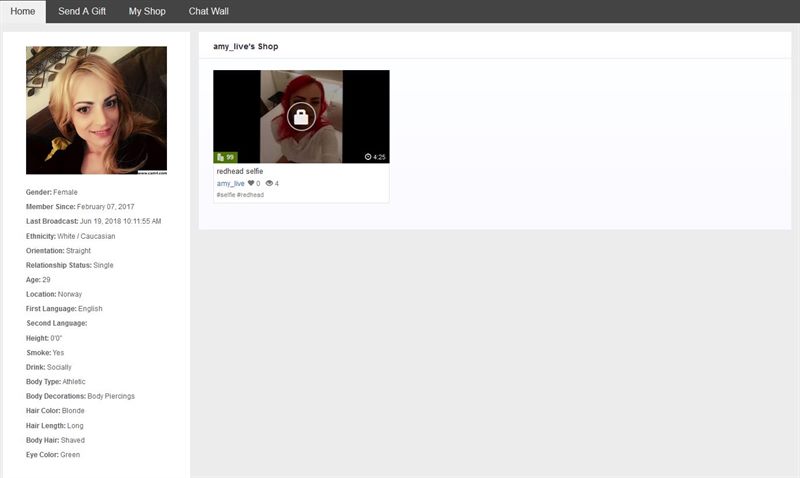 In the center Shop section, you can find all the uploaded content that the model you are watching has put on her page. Some models have free galleries to look through, but generally speaking, it's mostly for the girls to try and sell you their videos.
You can send the girls virtual life gifts through the Cam4 platform. There's also a chat wall where you can leave mini reviews about why you are a fan of that cam girl.
Chat Options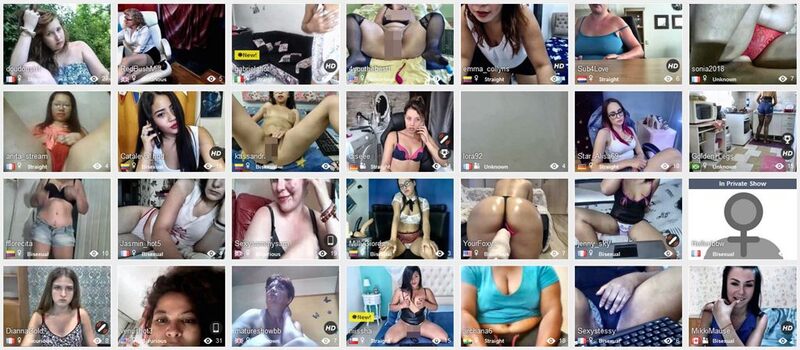 Free Video Chat

Most of the webcam rooms on Cam4 are free video chat. What this means is that the girls sit around and wait for requests and to reach goals. There is often nudity in these shows, but everything depends on the tips.The webcam models on Cam4 are heavily reliant on the Lovense and OhMiBod toys. The hashtag # livetouch is among the most popular on the site. When you give a tip, you are "touching" the model.

The other most popular tag in the free chat is the option to #rollthedice. You tip and win random prizes from a list.

As a rule of thumb, the more attractive cam girls seem to waiting around for private sessions, rather than the free chat. When you tip them for a flash, it really goes by in a flash.

Private Chat

The bar to request a private show on Cam4 takes a moment to load up, but once it does you will be able to invite a model to a private show. You'll be able to turn on cam2cam for free. Most of the rooms have a per minute price, but others will offer you to book preset selections of time.

The rooms start off for as low as 6 tokens a minute, but can be much more expensive. Many girls try charging over 50 credits a minute.

There is no option to sort the rooms by price. You will need to manually check the rooms one by one, to check out the price per minute.

Overall, most of the amateur webcam models charge very reasonable prices.

VR Show

Cam4 tried doing VR shows, but it doesn't really look like that panned out. It's still available as a feature on the site, but you aren't going to see many VR shows happening. In time, as VR technology continues, it may come back – but for now it's pretty dead.
Video Quality
Cam4 has a mix of HD and SD chat rooms. You can filter the list down, to view only the HD chat rooms. Most of the chat rooms on the site are in SD, but you can find some very high quality rooms.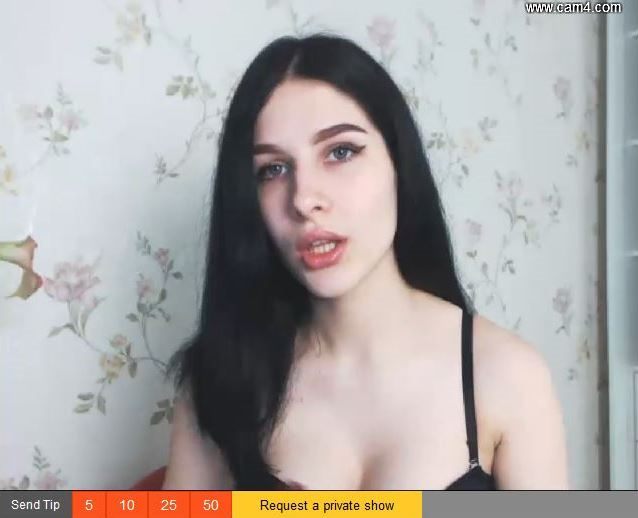 You can't control the video quality on Cam4. You are stuck with the default.
If a room is lagging, it will remain in HD. You won't be able to lower the quality to improve performance.
On the plus side the high quality of the video remains the same, even when you stretch out the frame to make it bigger.
Cam4's Mobile Site
Overall, Cam4's mobile site is pretty good. The quality of the video chat rooms remains as high as on the desktop, and navigating between rooms remains simple.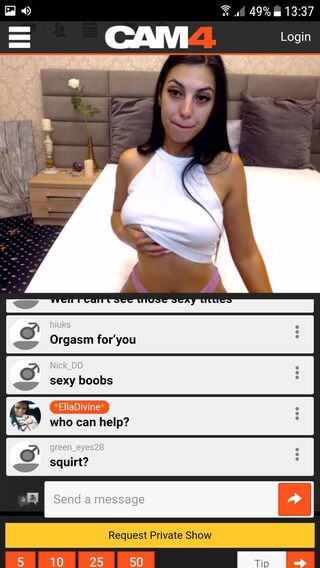 It's harder to filter down your results than on the desktop site, but that remains a problem among all cam sites.
Typing message on Cam4's mobile site will shift the screen down, so it's very hard to watch and type at the same time.
If you download the Cam4 app, you can actually broadcast as a performer on Cam4 through your phone. Currently, you can't cam2cam on the mobile phone, only CamSoda has mobile cam2cam.
Additional Media
You can purchase additional media in the profile sections of each of the models.
Some models have their own fan clubs. The fan clubs have different prices, depending on the model. The prices range between 20 and 150 tokens a month and renew automatically.
What joining a Cam4 model's fan club will give you is access to an exclusive image gallery, unlimited private messages, and the ability to spy on all private shows for free. You also get a special chat badge, making you stand out while in her room.
Registration on Cam4
Registering on Cam4 takes just a few moments. All you need to do is enter a username, a password, and en email address. Once you have clicked the Join CAM4 now button, a verification email will be sent to the address you provided.
You will need to click on the link in the email you receive to activate your account.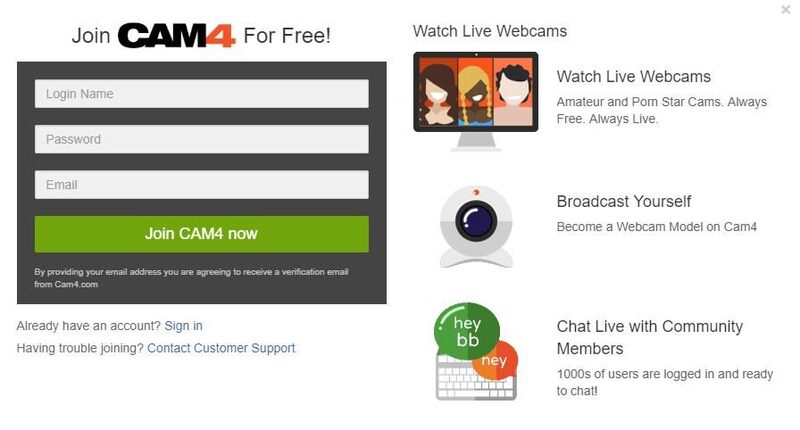 Prices on Cam4
Each token on Cam4 will cost you between $0.13 and $0.20, depending on the package you select.
If you are looking for a private show, the cheapest price you can get is $0.78 a minute in the 6 tokens a minute rooms. But as mentioned previously, those rooms are rare and hard to find, since there is no price filter option.
The average price of a private chat seems to sit closer to $4.00 a minute.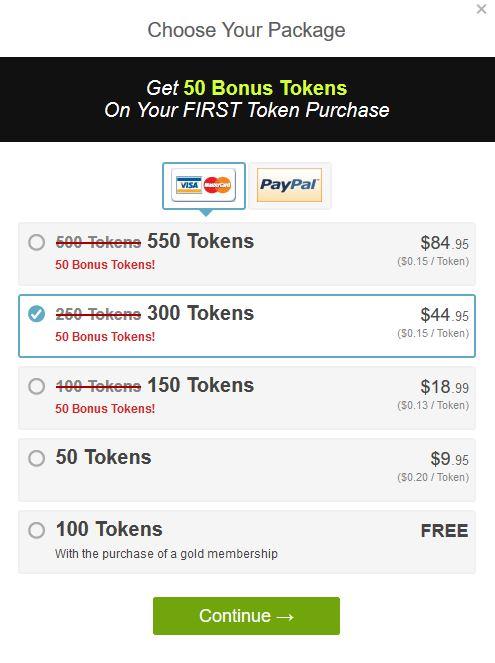 If you are going to be using Cam4 as a tip based site, you will find that the prices differ from room to room. Some girls will want 15 tokens for a flash, while others will want 200.
Models on Cam4 often set goals for the room, but there is rarely an indicator for what will happen when you reach the goal.
Payment Methods
Visa
MasterCard
Maestrocard
Diners Club
JCB
PayPal
Customer Support
Cam4 has a Contact Us form, but it appears the customer support itself is mostly reliant on the FAQ section. The FAQ is very extensive and covers most topics.
If you are having issues with billing, they provide you with contact information for each of the payment processors you may have used. You will need to make sure to contact the same processor you paid with.
If all else fails and you are unable to find your answer, you can write to Cam4 on their Twitter account.
Live chat support is only available to users you who upgrade to Gold membership.
Satisfaction Guarantee
Cam4 does not have any satisfaction guarantee. It's a buyers beware kind of site. Be careful with who you tip, overall you will find that you are usually satisfied.
Customer Loyalty Program
Cam4 does not have a customer loyalty program. You get 50 free tokens on your first purchase. You also get a one time gift of 100 free tokens when you upgrade to Gold membership. Other than that, that is pretty much as far as the freebies go.
VIP Program (Gold Membership)
Cam4's VIP Gold Membership program gives you 20 additional features for 20 dollars a month.
You can choose if you want to pay one month at a time, or if you would rather bundle your payments to save money. Paying for 3 months at a time saves you $10.00, while paying for 12 months at a time, saves you $120.00.
These are the features you will get:
Watch multiple cams on one screen
No more ads
Live chat support
Gold exclusive shows
Golden user name
Trumpets when you enter rooms
Vote on new features
Send 1 Golden Star each month
Early Access to features
Online notifications
Full screen
Unlimited custom filters
Anonymous tipping
Watch shows anonymously
PM any model while they are live
Spotlight mail
Super shows
Emoticons
Private cam mode
The Bottom Line
Overall, Cam4 is a fantastic site if you are looking for amateur webcam models. It has tons of people broadcasting, at any given time of the day. Unlike other sites which focus mainly on female performers, Cam4 actually has a ton of male amateur models as well.
Cam4 has formed an entire social network where horny and like minded individuals tip and talk to each other as a community.
Cam4 is always trying to convince new members to join up as new performers. They even give weekly coaching classes to the models on the site, to help them improve at their craft.
As far as freemium cam sites are concerned, Cam4 has a lot to offer. The only real downside is that despite its huge number of cam models, its overall attractiveness is not as high as other sites. The girls on any of our top sites are actually hotter.
Visit Cam4.com
---