Review of Flirt4Free.com at Best Webcam Sites
Flirt4Free Review – The Perfect Balance Between Premium and Freemium
Is Flirt4Free Good?
Flirt4Free has hot webcam babes and an amazing VIP program, and is not a website you'll easily walk away from. In the world of online porn, cam shows are the new frontier. And, in this frontier, Flirt4Free is a pioneer. It encourages you to get to know the model before you spend money on her, and it rewards you when you do so. This cam site puts its emphasis on you and your enjoyment.
Visit Flirt4Free.com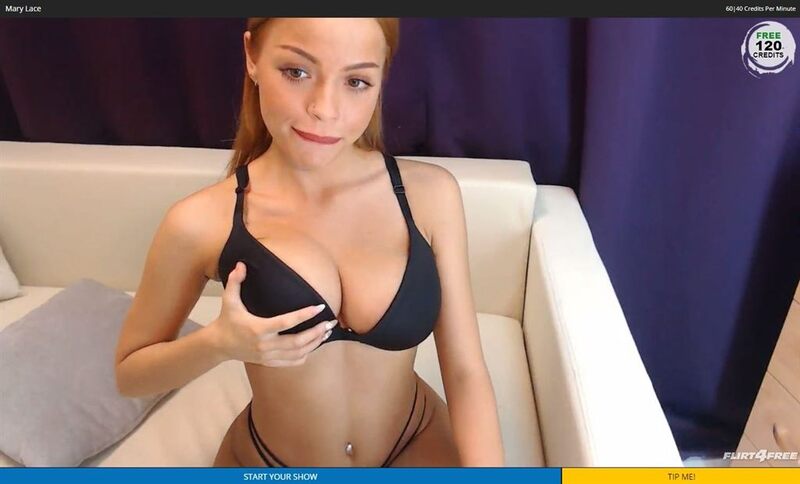 In this Flirt4Free review, we will detail all the features that this cam site gives to its members, what it does unlike other online porn cam sites and how it competes with the best in the business. We'll also give you tips on how to get more and spend less, so read on if you'd like to enjoy this great site for cheap.
Overview
Flirt4Free puts a strong emphasis on user experience, and aims to give its members exactly what they're looking for. Its categorization system allows you to find whatever you are looking for with ease, whether it's a specific fetish, ethnicity, price range or even the language spoken by the model. It empowers you to get the experience you want, and when most other cam sites prefer to specialize, it's greatly appreciated.
This is further aided by the live webcam sex site's intuitive interface. You'll rarely have any trouble finding anything on it, whether you thoroughly read this Flirt4Free review or just skim it. Unfortunately, Flirt4Free's search engine is anything but useful. While it does find what you're looking for, it won't prioritize showing you any active rooms and you can't filter for them yourself. You're just stuck looking at an enticing list of offline chat rooms, which is less effective than just browsing through a relevant category.
Ultimately though, the whole site feels cutting edge and is very convenient to use. It has almost no ads on it, although if you've yet to put in valid payment details it will badger you a bit to do so. To be fair though, if you're completely unwilling to do that, this cam site is probably not for you anyway.
You may be free to flirt, but at its core, Flirt4Free is a premium cam site. You get what you pay for, and if your answer to that is "nothing," don't expect to get anything more than that in return.
Strengths & Weaknesses
Strengths
VIP program is amazing
Overall great video quality
Good variety of show types
Categorization features make for a slick experience
Cam2cam with two-way audio included in every private sex chat
Cam2cam chat can take place over a mobile device
Audio and bio preview of rooms is very welcome
A great number of fantastic gay cams
Weaknesses
Search engine is pretty much useless
Couples are great, but there are very few of them
Small number of cam girls compared to other sites
Point system can be disappointing to more casual members
The Webcam Models
The Girls
Aside from being generally gorgeous, the girls on Flirt4Free tend to be very attentive and engaging. They are also varied enough to ensure that you'll always find some that fit your taste. The downside here is that the cam site doesn't have many of them.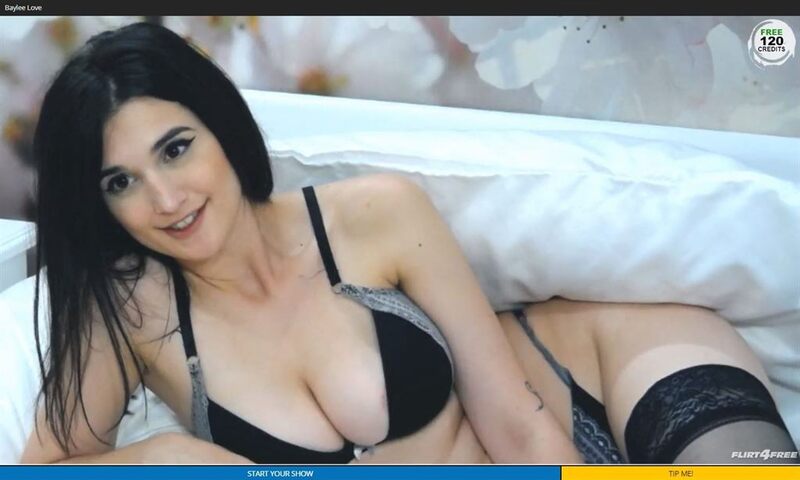 Still, when writing this Flirt4Free review, it never felt like there was a lack of cam girls, no matter which category we chose to explore.
The Guys
Flirt4Free is one of our favorite gay webcam sites. Its selection of guys nearly surpasses its collection of cam girls. It also rivals it in terms of model quality, which says a lot. The men here are charming and confident, and are up for whatever you might be fantasizing about.
As for variety, Flirt4Free excels here as well. Hunks, twinks, bears, cubs… You name it, this site has it. If men are your preference, or you just like enjoy some gender variety every now and then, this site will suit that need perfectly.
The Couples
This is not really Flirt4Free's forte. You'll see about ten couples online at any given moment here, and they will mostly be straight couples. The ones you will find are likely to be absolutely adorable or smoking hot, but it does make you wish there were more of them.
The Transgenders
Flirt4Free focuses mainly on its guys and gals, and not really on those in-between. On average, you'll see about a dozen of them online, and its rare to see any tranny couple online.
Model Profiles
The cam models of Flirt4Free have highly detailed profile pages that enable you to learn everything you might want to know about them:
Age, birthday and zodiac sign
Spoken languages
Last time the model was online
Appearance: Ethnicity, build, hair color, eye color, physical measurements and sexual preference
Likes and dislikes
Photos and recorded videos
Live cam show schedule
Offered deals for their private video chat room
Social network accounts
User reviews
Awards
You can also boost them to help their rankings and send gifts
You can easily access this information by clicking the head icon at the right of the chat inside the model's room. Hovering over their room will give you a nice, shortened version of this to wet your appetite.
Chat Options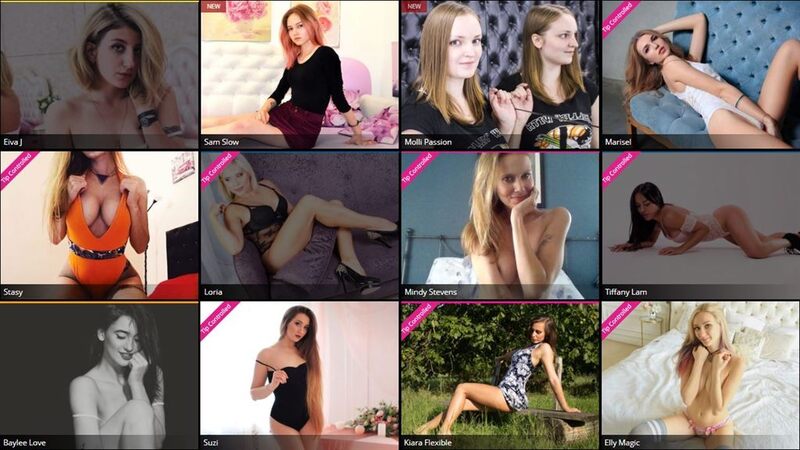 Open Video Chat

As mentioned above, Flirt4Free is true to its name. You are always free to flirt with the cam babes as long as you're respectful to their rules. You'll never be blocked from chatting just because you don't have credits in your account.
Open Shows are therefore a great way to get to know the model better and chat her up a bit prior to taking her to a Private Show. Take our advice and use what you've been given — it's always good to get to know the model before spending any money on her.
Private Chat

When you're in the mood for online porn, cam sites are there if you're looking for a more intimate experience. Flirt4Free took that to heart, and enabled cam2cam and two-way audio in all private chats free of charge. That means that you can enjoy watching the model while she watches you for as low as 5 credits (around 50 US cents) a minute.
This is the only live webcam sex site to have this option at such a cheap price, and it really does make you feel like your enjoyment comes first.
There are the usual Tip Controlled shows, which enable you to tip to activate a model's Lovenese or OhMiBod remote controlled vibrating sex toy. Some private shows go even further. These shows are tagged as Interactive, allowing you to use a Feel Connect app to let the model control your interactive sex toy. There are handy and easy-to-follow instructions included that'll help you set up your device. After that, you're done, and can just sit back as you're being teased and pleasured by the cam babe.
Here's a breakdown of Flirt4Free's different interactive options, each marked with a different colored banner:

Each of these interactive options also have a dedicated category, so you can easily find them.
Party Chat

Party Chat is a tip-based multi-user sex chat. It costs nothing to enter, but the show will end if users aren''t tipping, so tipping the performer is encouraged and rewarded. Party Chat is indicated by a pink banner above the models face on the main page. Note: during party chat, private paid shows are disabled, and the Start Your Show and Tip Me buttons available in public chat are replaced by a Send Party Tip button.

Group Shows

Flirt4Free's Group Shows are reminiscent of the open chat rooms in free cam sites. Often at times there will be tits in your face from the moment you enter one, and models in these rooms pull no punches flirting with whoever is interested.
It works similarly to ImLive's Candy Shows: Performers set their credit goal, a length of time for the countdown period and they choose the duration of the show they will perform if the goal is met. All customers who pledge credits towards the goal will be able to watch the show once the goal is met. You only need to pledge the minimum to secure a place at the show, but you may pledge as much and as many times as you wish. Meanwhile, in the countdown period, the cam models will do their best to seduce their viewers into tipping.
It's a nice break from the usual private shows and is generally much cheaper, though on average there are only about ten of these shows live at a time.
Multi-User Shows

A Multi-User Show functions similarly to private chat, except that the per-minute rate is typically lower, and other users may enter and participate at the same lower rate. If other users enter a multi-user chat, they can interact with the model in the same way you can.
When a model offers Multi-User shows, the rate will appear at the top right corner of their feed, next to their Private Show Rate. Note that only the user who initiated the Multi-User show can cam2cam. Every user that joins after the first can watch and type, but can't be seen by the model.
Spy/Voyeur Shows

You can spy on ongoing private shows at a paltry cost of 5 credits per minute. Some shows don't have this option since the model or the member in it (usually a VIP member) has disabled it, but most do.
As the price is fixed, this is a great way to get acquainted with some of the more expensive models on the site.
Live Cams Mansion

This is the "behind the scenes" of a mansion in which live several of Flirt4Free's top cam girls. This gives you a "fly on the wall" type of vantage point from which you can spy on the models while their working, showering or just living their daily lives. It costs just 25 credits per day and is completely free for VIP members.
Between this and the spy shows, the voyeurs among you are going to love this cam site.
Anything Else?
Flirt4Free makes efforts to create the most convenient environment for its users. Aside from the handy bio preview, when you hover over one of the site's many live webcam sex chats, you will also hear what's going on in the room. This audio preview can be easily muted or not and can give you some insight into how engaged the model is, how she talks and sounds and whether or not that suits you.
This online porn cam site is also available in languages aside from English: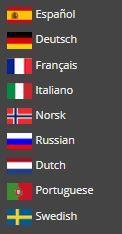 There's also the Calendar, which notes when Scheduled Shows (special time slots planned by the Flirt4Free's top cam models) take place. You can even set up notifications that'll notify you when a certain show starts, so you'll never miss out.
Video Quality
Flirt4Free puts a strong emphasis on high video quality. As soon as you'll open any of the chat rooms, you'll notice that the window of the show takes up most of the page. This is an online porn cam site that doesn't wish to distract you from the show in any way, and it really helps that the vast majority of live webcam sex shows on it are in HD.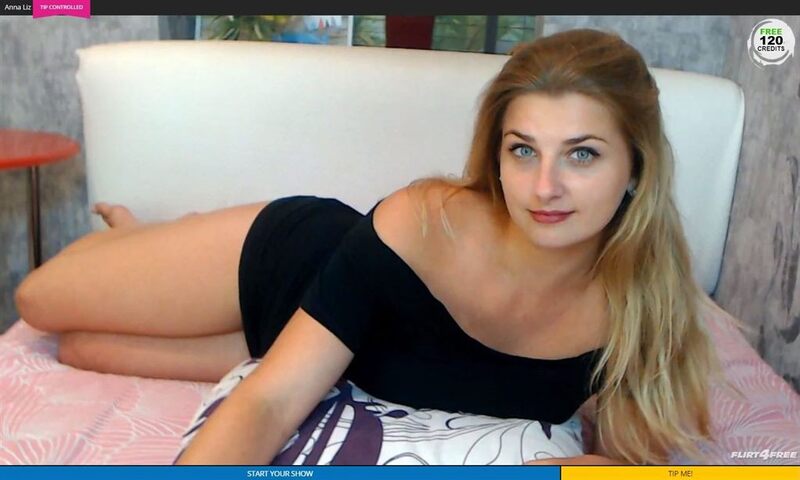 You will be hard-pressed to find a cam room that is not in high definition, and even when you do you'll know it beforehand through the summary window in the room's preview. The streams are also fluid and rarely stutter or have any frame rate issue.
Flirt4Free's
Mobile Site

Flirt4Free's mobile site works as well as you can hope. It's very user friendly and loads even faster than the primary site.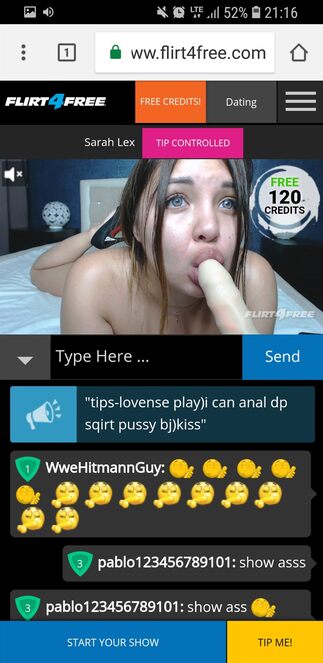 There is a slight issue with writing in the chat: when you open the dialog box, it obscures the screen, which is a strange oversight.
Mobile Cam to Cam
Flirt4Free is one of the very few sites on which you can open your cam on mobile and, thus, enjoy interactive video chats on the go without being confined to your stationary PC.
Additional Media
Besides the live adult shows on cam, there are other ways for members to spend their credits on the site. Videos are one such option. Recorded shows are taken during private chat sessions and can be viewed at a reduced cost to a live show. That being said however, some of the adult webcam videos are free for all members, even those on a guest account. This is a rather unique offering from the site and serves a great purpose, to show off the quality on offer and to get more people to sign up.
Flirt4Free also has a blog where the site's top models and shows are showcased, along with announcements on upcoming events.
Finally, FlirtSMS and FlirtPhone are two options the site offers for those who want to keep in touch with their favorite babes by phone. These cost about the same as private shows and are a much more flirty experience, so be forewarned.
Registration on Flirt4Free
Creating your own free user account on Flirt4Free is as easy as it can get. Choose a username, a password, and enter a valid email address.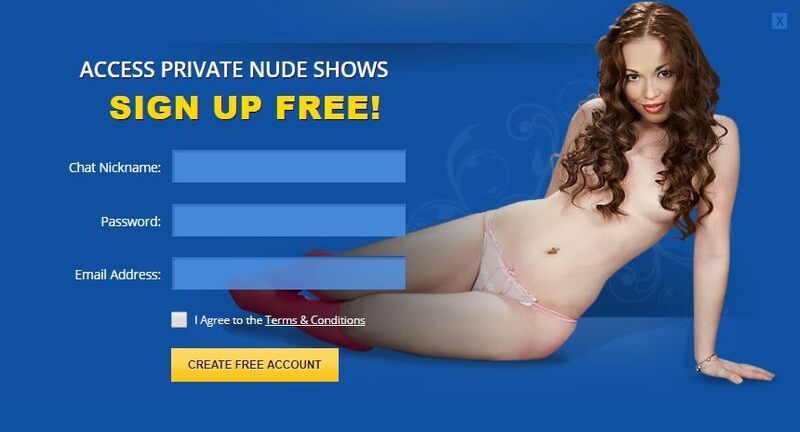 After that, you only need to verify your email address by clicking a link you receive by mail, and you're good to go. It's worth noting that Flirt4Free has a friendly sense of humor regarding anyone who tries to use a fake email address. After filling out the above form, you get a small message asking if you might have used a fake email address and that it's ok by them as long as you enter your real email address at this stage.
After this, you should seriously consider putting in valid payment details. You'll be getting 120 credits (with a value of about $12) for free and the site will no longer "remind" you to do so. And in case you're wondering, no, you won't be charged for anything.
Prices on Flirt4Free
Instead of claiming 120 free credits, you can purchase a credit package to get even more credits for free. This is only available as your first purchase (or free redeeming), so if you've decided that Flirt4Free is for you than we recommend you go with one of the bigger packages.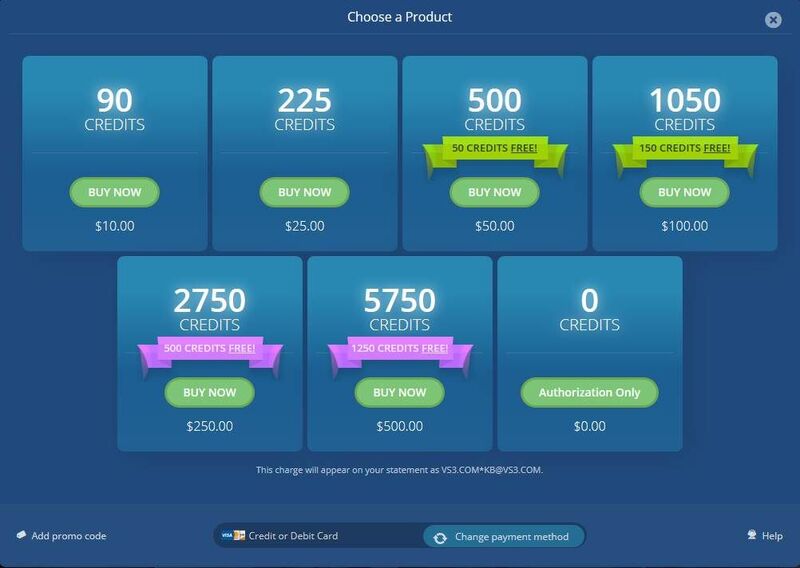 After that introductory package, prices on Flirt4Free become very streamlined, with every package giving you about 10 credits per US dollar. There are, though, many ways in which you can save money on Flirt4Free or get coupons that help you do just that. Flirt4Free really is a cheap cam site if you know your way around it.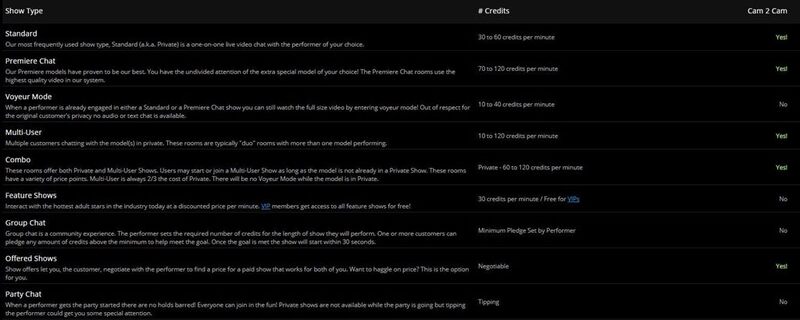 Check the above links and the below section on the site's loyalty program if you want to save some cash.
Payment Methods

Credits can be paid for by using most major payment options, and several others:
Visa
Mastercard
Mastercard Maestro
Diners Club
Discover
JCB
PayPal
Bitcoin
Pay Garden (gift card)
Pay by Mail (mailed checks)
Customer Support
Aside from it's giant FAQ page, Flirt4Free's customer support is first rate. It can be contacted in a number of ways:
Email
Phone (US and non-US)
Postal (snail mail)
Live chat
Billing support is available for each billing method
Twitter (for general announcements on site downtime and special offers)
In any case, before contacting the site, you should look up your query at the FAQ section. It will most likely have a solution to your issue.
Customer Loyalty Program
Flirt4Free employs a system that allows you to redeem points for discounts on credit packages, premium video access passes and gifts for your favorite models. You can earn points in a slew of different ways, from spending credits to using the site's many features.
While earning points is easy, you have to spend a large amount of them to get anything worthwhile. For this reason, the points system may be less relevant for casual members of the site, but if Flirt4Free is high on your bookmark list then you should check it out.
As you spend more and more credits, you'll also receive higher membership status, which will indicate to the cam models how much of a baller you are. Enter a show with a high enough status number and you'll probably notice an increase in attention that you'll receive.
VIP Membership
Flirt4Free treats its VIP members like royalty. Unlike its points program, this is something every member of the site will appreciate. Take a look at the many things you get from being a VIP member on Flirt4Free: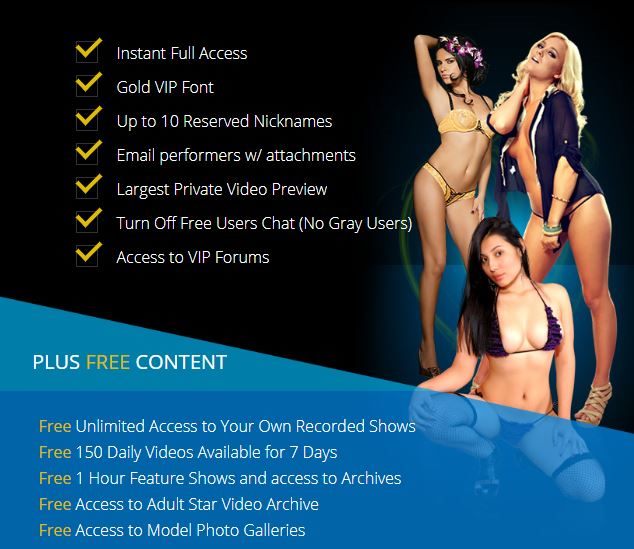 The 150 daily videos you'll get access to and the unlimited access to your own recorded shows — which cost 75 credits or a large number of points each — is worth the monthly $39.95 alone. The rest is just gravy. Note that this is a recurring payment, so keep that in mind in case you no longer use the site for whatever reason.
One thing not mentioned in the above picture is that VIP members can set their private shows so no one can spy on them. If total privacy is a strong concern for you than you should seriously consider this.
The Bottom Line
As a live webcam sex chat site, Flirt4Free is a kind of jack of all trades, but manages to be master of some. It's categorization, pricing and benefits aim at giving you exactly what you're looking for, and as much of it as you'd like. Whether you're looking for premium HD cams, some cheap sex chat or anything in-between, Flirt4Free has it in spades.
So sure, the cam site's search engine leaves a lot to be desired and there aren't as many models here as there are on some other live webcam sex sites, but what writing this Flirt4Free review managed to show us is how little those hiccups will hamper your enjoyment of the site.
Ultimately, the Flirt4Free's strengths heavily outweigh its weaknesses, and the site proved itself to be one of our favorite online porn cam sites.
Visit Flirt4Free.com
---