Review of MyDirtyHobby.com at Best Webcam Sites
MyDirtyHobby Review – a Hardcore Fetish Paradise
Is MyDirtyHobby Good?
MyDirtyHobby, as its name suggests, is a hardcore webcam site that specializes in fetish cam porn. It is one of the best fetish cam sites around and has some of the most lascivious and salacious live fetish shows in the business. It also boasts a mind-boggling trove of recorded cam sessions it offers for members for a reasonable price.
Visit MyDirtyHobby.com
It also prides itself on being 100% safe, secure and discrete. But, as much as this site is great for all us fetishists, it does have its faults. We therefore wrote this MyDirtyHobby review to let you know where this hardcore cam site shines, and where it falters.
Overview
My Dirty Hobby is noticeably different from other sex chat sites. It is as much an adult social network as it is an adult cam site. There's a chat window on the right side of the page that works similarly to the Facebook Messenger. You can see who's online and strike up a conversation with your favorite cam girls. You'll even find that a lot more models are online on the site than there are cam shows. Almost all of the models on the site are German and speak German, though most of them also speak a few other languages, including English. We even consider MyDirtyHobby top be the best cam site for Germans.
This hardcore cam site distinguishes itself with its strong focus on exclusive fetish videos the site's performers produce and the special porn niches they fill, like live golden shower shows and recorded videos, as well as extreme BDSM sessions. MyDirtyHobby goes to extremes that no other cam site does, and if that is what you're looking for then you're going to feel right at home here.
You can sift through the cam rooms easily using MyDirtyHobby's filter system, which lets you choose up to three different filters to limit the selection of rooms you see. Unfortunately, there's no way to filter according to technical properties like prices or video quality, so you'll have to just search manually. Fortunately, every room shows the camera quality the model is using, and if you hover over the room you can see how much the model charges per minute.
Strengths & Weaknesses
Strengths
Great fetish sex cams
Cam models are very responsive
Wide variety of recorded shows
Free cam2cam with audio in open chat
One of the very few cam sites where shows can get truly hardcore
Enticing discount program
Fantastic VIP program
Weaknesses
Open chat isn't free
No video preview for the rooms
Small amount of live cam rooms and low variety
Private chat is costly, and prices aren't available until you pay for open chat
The Webcam Models
The Girls
MyDirtyHobby's cam girls are some of the most kinky, professional and attentive adult models you'll ever come across. On average, you'll find some 200 of them online at any given moment. As mentioned, most of them are German but have no trouble communicating in English.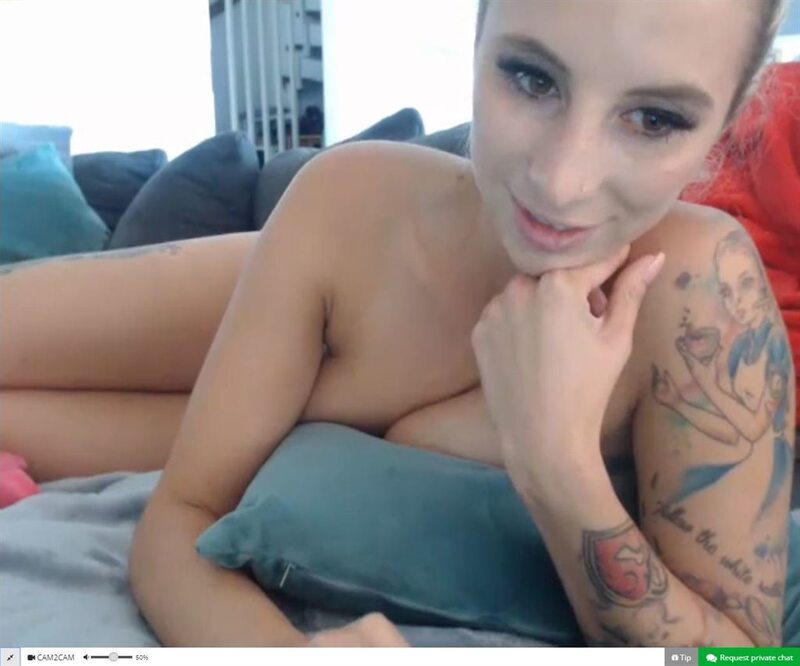 If you're looking for the best of the best, search for the Exclusive models (marked with an 'E'), who are exclusive to MyDirtyHobby, and Ambassador models (marked with an 'A'), who are the site's leading models.
The Guys
MyDirtyHobby's collection of models in general is quite limited, and its selection of anything other than solo cam girls suffers for it. There are about five cam studs live at a time on a good day, and sometimes you won't even find one.
If you're looking for an adult chat site with a bigger selection of hunks, have a gander at our list of best gay cam sites.
The Couples
It's rare to see more than two or three rooms of couples, and most of those you'll come across are dedicated male-female sex chat rooms. They will usually be accompanied by a similar number of solo girls who just falsely tagged themselves as a couple show. There's just no selection of these rooms on My Dirty Hobby.
If you want to see a couple or a group of sexy models pleasure each other, you're better off looking for the best adult chat sites for watching live couples.
The Transgenders
These rooms are arbitrarily separated into two categories: Transsexuals and Shemales, with the former having only one or two rooms online on average, and the latter having none. Luckily, there are pages upon pages of recorded live fetish shows featuring MyDirtyHobby's best tranny models.
If this is your main preference, though, you should consider taking a peek at our list of best tranny cam sites.
Model Profiles
This is where MyDirtyHobby's adult social network approach really comes into full form. Each model's profile page looks more like her Facebook profile than anything else you might have seen on other cam sites. Every model even has her own timeline where you can keep track of any update she makes to her account, whether it be a new blog post she wrote, video she recorded or photo she took.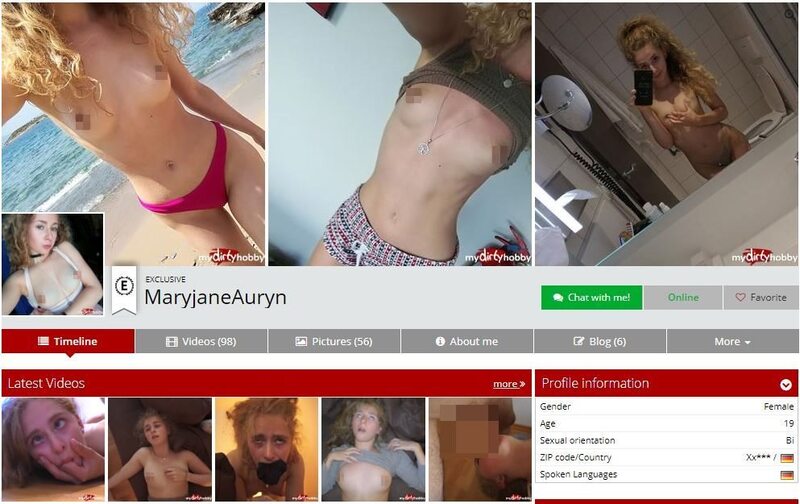 There are also categories for each of those things, letting you purchase any video or photo of your favorite model with ease. Aside from those, there's the usual About Me section, where you can learn about the model and read her bio. There's also a section titled Guestbook, where any member can leave a comment on the talent, making it easy for others to know if she's worth their time.
On top of that, some models on MyDirtyHobby are also prolific writers, publishing some of their Stories and Scripts for you to read for free. These range from fiction to actual recounts of their sexual experiences, and are a great way to see things from a performer's lustful perspective. You can access these by clicking More at the right side of the categories bar.
Chat Options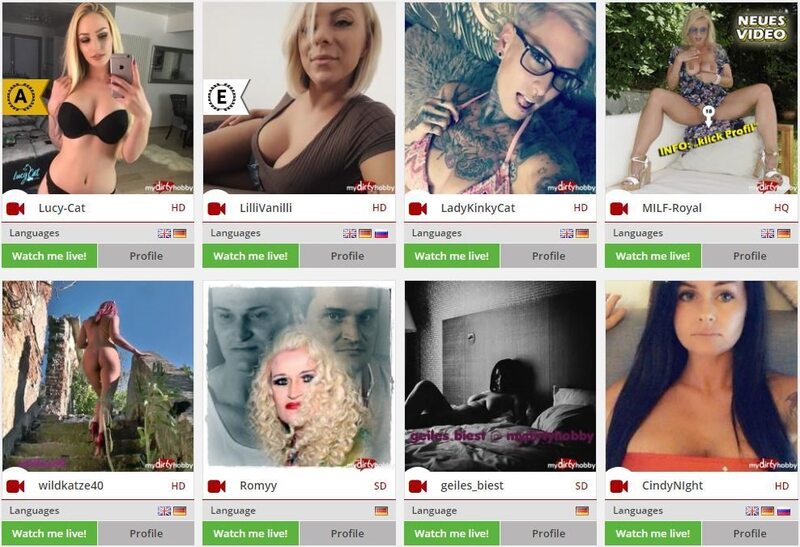 This is where MyDirtyHobby really stands out among the crowd of cam sites. Unlike on other sex chat sites, chatting with the models on MyDirtyHobby is not free. You pay a relatively small fee (around €1.80 per minute), and you're free to chat with the cam babe with the option of enabling cam2cam and two-way audio for free.
Additionally, even though the model can still chat with others, your chat with her is visible only to the two of you. You may request of her whatever you desire, and the fact that you're paying keeps every model you're chatting with attentive and congenial. In this regard, MyDirtyHobby's open chat is a bit like private chat.
This may displease those of you who want to get to know the performer well before shelling out your hard-earned cash on her show. Still, when you take into account how professional these cam girls are and what they're willing and eager to perform, this should hold little weight on your decision whether or not to spend your money here.
If you want the model's undivided attention, you should consider taking her to a private chat. This is pretty much the same as it is on other adult cam sites, but costs more on average than it does on other premium cam sites (around €4.30 per minute).
This is one of MyDirtyHobby's main drawbacks. When writing this MyDirtyHobby review, there were many times where we wanted to take a cam babe private but found out that it's just too prohibitively expensive.
You can spy on any cam girl who's in a private show with another member. This usually costs a bit more than the open chat, but usually less than the private chat, and is a great option for all us voyeurs (around €3.10 per minute).
Video Quality
MyDirtyHobby's cam rooms are divided into three video qualities: SD, HQ and HD, with many of them looking good enough on full screen to satisfy most. While the majority of the rooms are in SD (standard definition), most of the top ones are in HD and are stunning to look at. An observation we made is that the price does not seem to increase in correspondence with video quality. This means you'll be able to enjoy the best video quality, at times, for as little as €1.20 per minute.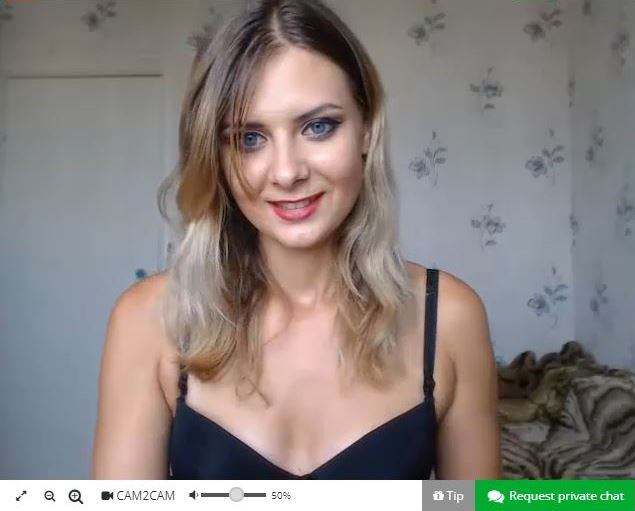 While there's no way to filter by video quality, each room notes its video quality on its preview picture, so if high video quality is important to you than just sift through the rooms and you'll quickly find ones that are up to your standards.
MyDirtyHobby's Mobile Site
MyDirtyHobby's mobile site leaves a lot to be desired. It slow to load, slightly cumbersome and typing anything in chat pulls out a keyboard that obscures the entire screen. There's a reason why it was never even mentioned in our list of the best mobile cam sites.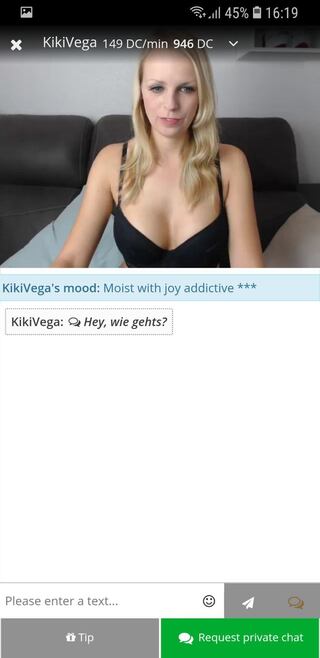 If you're intent on using MyDirtyHobby on the go, you're better off using it for its social platform properties and not its live cam features.
Additional Media
This is where My Dirty Hobby shines. There's a mind boggling amount of erotic pictures and videos of live shows and sexual after-hours activities on this hardcore cam site, and many of them are of some of the most extreme fetishes you can dream off. Want to see a girl moan in carnal pleasure while being whipped red with welts? You have that here. Want to see her enthusiastically enjoying a golden shower, mouth agape and all? You have that here as well.
MyDirtyHobby is one of the cam sites that not only keeps the stereotypes about hardcore German porn alive and well, but proves them right.
Registration on MyDirtyHobby
Registering for MyDirtyHobby is very straightforward. Choose a username, email and password, and you're done.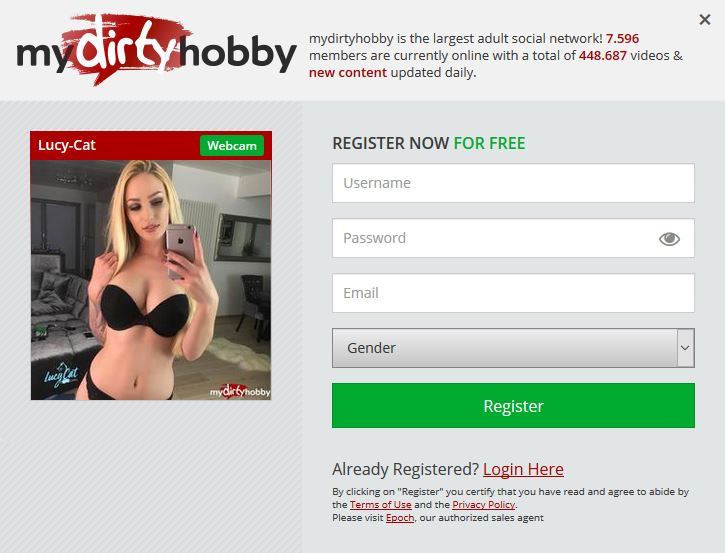 You'll of course be requested to verify your email, but that's more for you're convenience than for anything else. Otherwise, getting updates and support emails from the site might be difficult.
Prices on MyDirtyHobby
MyDirtyHobby runs on a unique in-site currency called DirtyCent (DC). Each DC is worth exactly €0.0125, meaning you get 80 DC per euro you spend, no matter which package you choose to purchase. Frankly, we've found this amount to be a bit arbitrary, making it hard to estimate how much we were spending. You also get no bonus DC for purchasing bigger packages, unlike on some other premium cam sites.
On its surface, this hardcore webcam site is far from being one of the cheapest cam sites around. Although, if we've learned anything from writing this MyDirtyHobby review is that if you know your way around this cam site, you're going to be spending much, much less money on it.
When you buy DC on Sundays you get 30% extra, and when you buy on Fridays you get 40% extra DC. From our experience, that is a huge difference, and we advise anyone who's spending money on the site to wait and purchase on those days, especially on Friday. If it's your first purchase of the day on the site, there is a $40.00 minimum to get that bonus, but that minimum is waved for subsequent purchases on the same day. If you are a VIP, you get 10% more DC on top of the extra you're already getting.

Payment Methods
MyDirtyHobby accepts a myriad of payment options:
SEPA

Credit card (Visa and MasterCard)

Online bank transfer

Paysafecard

Vorkasse

Gutscheincode

Pay by Call

iDeal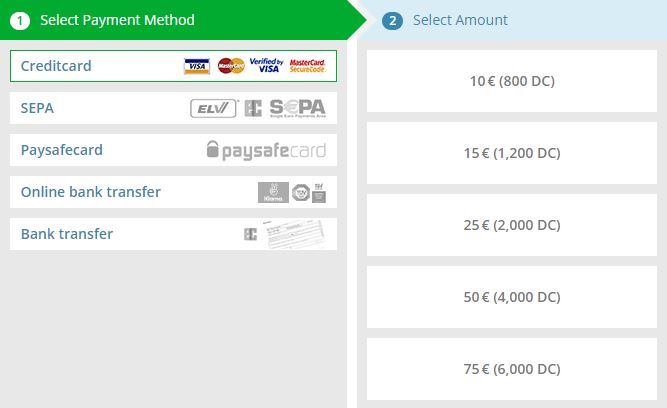 Your personal details are absolutely secure with MyDirtyHobby and will not be passed on to third parties. All payment methods are secured through "https" protocol and "SSL" encryption. Furthermore MyDirtyHobby doesn't show any real names, which also ensures your anonymity.
Customer Support
MyDirtyHobby customer support is pretty middle-of-the-road. It has a section you can access from the bottom of the page, titled FAQ / Contact, where you can find a comprehensive FAQ page divided into different relevancy sections for newcomers, members and the site's models, along with contact details for the site's customer service. You can contact support via email (accessible from the site itself) and phone, though you may be charged if you call their international number.
That's pretty much it. There's no online chat or any other way you can freely contact a representative on the site, even if you're a VIP member.
Customer Loyalty Program
As previously mentioned, My Dirty Hobby is undeniably the best cam site for Germans. Aside from being fluent in German, most of the models on the site live in Germany, which is great for the VIP fans who wish to meet them.
Yes, you read that right: Once you purchase a VIP pass, aside from a plethora of special features, bonuses and discounts you'll gain, you will also be invited to exclusive parties and trade shows. While some of these take place in other countries in Europe and the US on rare occasions, most of them take place in Germany, where prostitution is completely legal. And no, it's not unheard of for a cam model to bed one of her fans. The site truly works towards developing a community of unabashed sexuality.
As for the special features and discounts a VIP gets, here is a list of the main ones:
Bonus Days — get 10% more DC when purchasing them on Sundays and Fridays.
Dedicated VIP support line — phone number dedicated to give customer support to VIP members.
Monthly contests / raffles — The more you use the website and its features, the higher your chances will be to win prizes at the end of the month, like discounts, free videos, special titles, entry tickets to exclusive parties and more.
Free access to exclusive live shows — You'll gain free access to certain special live shows on MyDirtyHobby.
VIP profile badge — Earn a special badge to let all models and members know you're a VIP member, and enjoy the attention that comes with it.
Message priority — MyDirtyHobby's models will always see your messages first in their inbox.
VIP membership costs €19.95 a month, but that cost is reduced to as little as €16.61 if you pay for several months in advance. If you can afford it, you should consider getting it. If you also live in Germany, this shouldn't even be a consideration.
The Bottom Line
If you're a fan of German porn or into the most hardcore of fetishes, you should look no further. MyDirtyHobby is the hardcore webcam site you've been searching for. It's not scared of social stigmas or anything of the sort. It's here to provide a specific service, and it does so candidly.
Nevertheless, aside from being undoubtedly the best cam site for Germans and a haven for fetishists, MyDirtyHobby offers little more to those who are just looking for some nice adult entertainment. So take a moment to consider whether the site caters specifically for you. If not, there are plenty of cam sites out there. But, if it is for you, then just click the link below and enjoy. Just make sure to stay hydrated.
Visit MyDirtyHobby.com
---