Review of SecretFriends.com at Best Webcam Sites
SecretFriends Review – A Choice Selection of Top Models
Is SecretFriends Good?
SecretFriends is a feature rich cam site with a lot of beautiful women. The prices are relatively low and the video quality in most of the rooms is pretty damn good. Premium members automatically have the ability to switch to whispers, so you can talk to the models without anyone else in the room knowing what you are saying or what she is saying back to you.
SecretFriends might seem intimidating at first, because there really is just so much going on on the page. But, once you have familiarized yourself with the site, you will realize that you can just focus on the features that interest you, and ignore those that don't.
Visit SecretFriends.com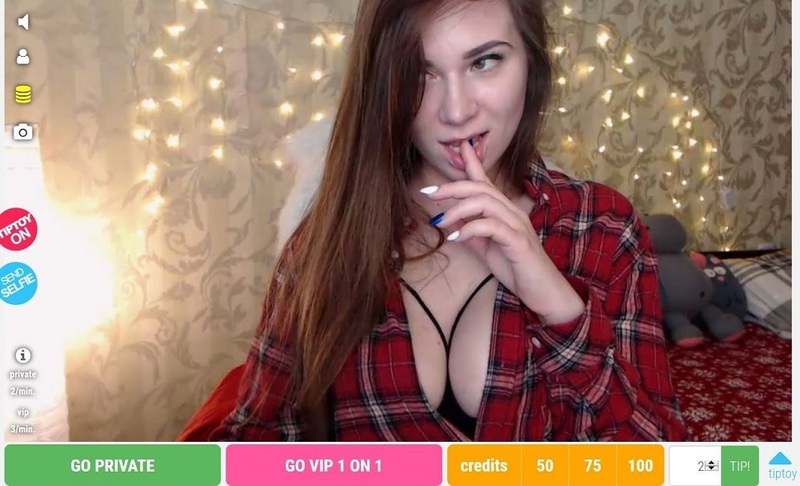 Secret Friends used to focus on paid nude chats only. There were no free chat rooms and there were only a few girls to pick from. Things have changed and the selection available has increased.
The free chat rooms on the site are clearly marked in green, while those in red are in private. All rooms using Lovense/OhMiBod toys are clearly labelled with a Tip Toy banner. The rooms marked with a German flag follow the old format, you will have to pay the moment you enter them.
The site isn't premium or freemium per say, it seems like the models are allowed to strip in the free chat and do so at their own discretion according to the tips they receive.
Overview
SecretFriends is not a new cam site, but it recently restructured. The site increased the number of models they have and introduced a ton of unique features that can't be found on any other site, as well as rare features that can only be found on a few other sites.
At present, the site has nowhere near the model count that sites like Chaturbate has. But, the girls that are there are very attractive and charge highly competitive fees. $2.00 a minute for a private show with cam2cam is the most common rate. Considering that the cam girls on most sites nowadays charge an average of $3.00 a minute, SecretFriends really is on the cheaper end.
A unique feature which you may enjoy, is the games section, where you can to gamble to win more credits.
Strengths & Weaknesses
Strengths
Tons of unique features
Beautiful women
Low price point
1 to 1 exchange rate between credits and dollars
Online casino
Capable of mobile cam2cam
Free credits on large purchases
Loads of events
Weaknesses
Small model selection
Absolutely no tranny models
Few men and couples
Preview icon is a waste of a click
Limited customer support options
The Webcam Models
The Girls
SecretFriends is pretty much composed of only girls. While there are separate sections for couples and men, they are relatively empty and rarely have models online.
The girls section is much nicer. There are rarely over 100 models online, but the women that are there are gorgeous, young, and cordial. Most of the girls seem to be in their early twenties, but there are also a few MILFs, 18 year olds, and 19 year olds.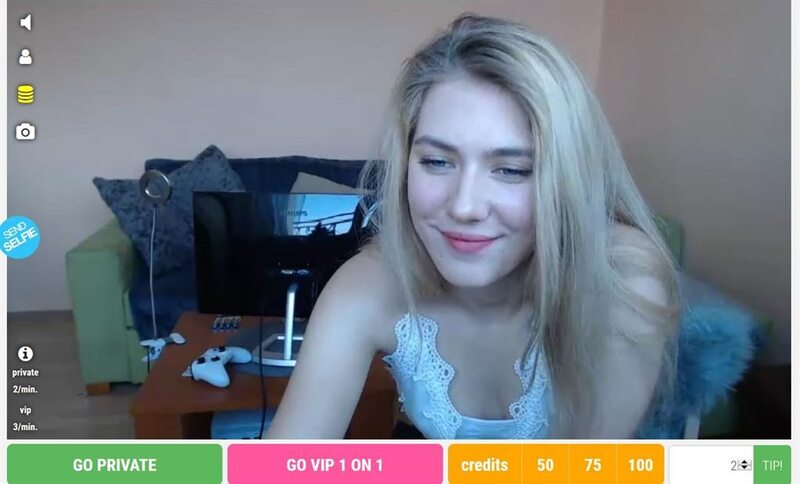 The tags the girls use are relatively basic. You can't really search for any fetish stuff, so you will need to find a girl that interests you, and ask her. There aren't any BDSM dungeon type rooms, but that doesn't mean that the girls are strictly vanilla.
While the selection might seem small at first, we would rather get 50 pretty girls than 500 ugly ones.
The Guys
All in all, the site has less than 50 male models registered in total and that's since the site launched. It's quite rare to have any to choose from, as the rooms are all usually offline. Most of the male models don't really seem to be too good looking either, but that really is a matter of preference.
Since there really isn't much of a selection here, SecretFriends is not on our list of recommended gay cam sites.
The Couples
The couples section is also quite limited, but not as much as the male section. There are usually 2 to 3 online, but sometimes there are none. SecretFriends did not make it onto our list of best sites to watch couples live.
The Transgenders
At present, we were unable to find a single tranny cam model on SecretFriends. There is no category for them and we didn't spot any online on any of our multiple checks. As you can imagine, SecretFriends is not included on our list of recommended tranny cam sites.
Model Profiles
The models' rooms are also their profiles, but you can also open each profile separately by clicking the View Bio icon while scrolling through the rooms. When you use the icon, the room opens up without the video player. It gives you an opportunity to read about the model, without her trying to talk to you at the same time.
In the bios you can find all the basic information you desire, such as the model's age and birthday, the languages she speaks, and where she comes from. Hair color, eye color, bust size, height and weight, are also included.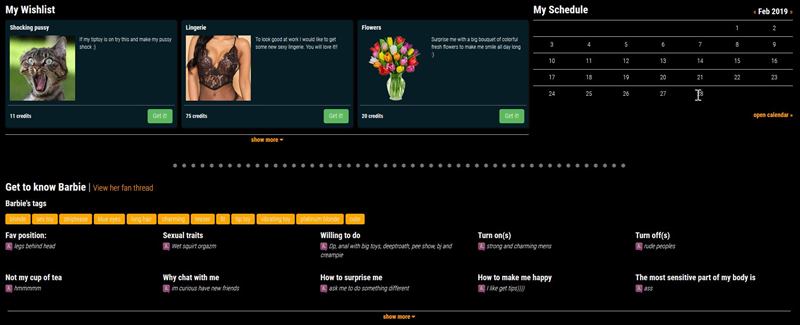 Most of the models have uploaded pictures, a Wishlist, and a schedule that will automatically update according to your time zone. There is also a Q&A section, where you can find more revealing answers about the model, such as her favorite sexual position and turn ons.
Each model has a Editor's note, which seems to have been written by a site admin. These notes are quite descriptive, which goes to show that SecretFriends takes the time to truly get to know each and every one of it's models, which is very rare in the industry.
Some models have recorded shows which you can purchase. If the model you are watching has recorded videos, you will be able to purchase them directly out of her profile page.
At the very bottom of the profile, you will find the badges the model has won as well as messages and comments left by other users of the site.
Chat Options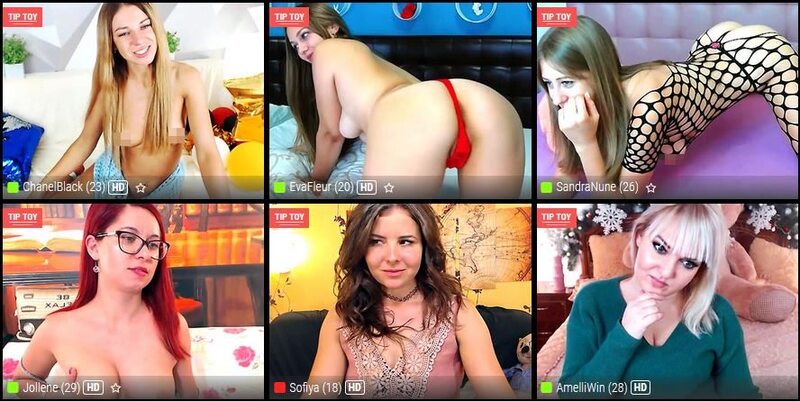 These are the free video chat rooms. When you enter, you can watch the model as you talk to her. You can change your messages to whispers, so that they are essentially PMs.
Some of the girls sometimes do ticket shows in their free chat rooms, but it doesn't seem there is a search option to find these rooms. Instead, you will see a barely visible banner in the top right hand corner, which will state what the ticket show is for. Sometimes these banners make sense and will say something like dance or squirt, and other times they will say something which is way too long to fit in the box, like "I will play with ti". Clicking on the picture will take you into the room and let you purchase a ticket to whatever the show is for.
What's interesting and unique to SecretFriends, is the option to send a selfie for a dollar. If you want the model to rate your appearance or just your dick, you can send her a selfie without going into a full on private session.
Private shows on SecretFriends cost $2.00 or $3.00 a minute, with $2.00 rooms being far more common. Private shows are inclusive of cam2cam, but not 2 way audio. While you are in a normal private show, other users will be able to spy in on your show. They won't see you, just the girl you are watching.
VIP shows add $1.00 a minute to the cost of a private show. These shows are also inclusive of cam2cam, as well as 2 way audio which is not included in the normal privates. You also gain immunity from spying, so other users are unable to watch your shows.
Spy shows are the peeks users can take into other users ongoing private shows. These peeks cost $1.00 a minute and give you full access to see what the model is doing.
There are some rooms that are marked by a German flag, instead of a green or red circle. These rooms aren't free chat rooms. You will have to pay the moment you enter them. The girls are often already nude in them. The chat window looks different to the usual chat window, but serves all the same functions. These rooms charge a flat rate of $2.00 a minute.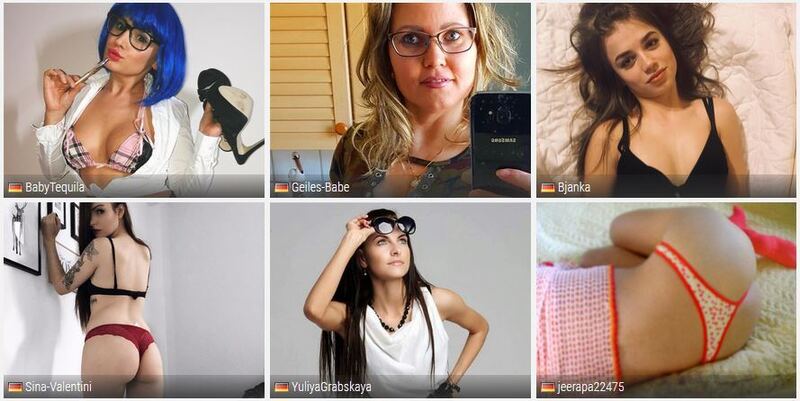 The German rooms will only appear when you click on the Live tab, but not when you click on the Girls tab. You can also reach these rooms by clicking on the German tag at the top of the page.
There is a hangout lounge that can be accessed through the front page. This lounge is constantly playing hardcore porn video 24/7. It doesn't seem that users really hangout in the lounge, but you can see notifications of any time someone won credits or claimed the highest tip of the day. It doesn't show you who won or who tipped, just that it happened.
Anything Else?
SecretFriends really went all out when it comes to the features they offer. Below, you will see both the unique features, and the features only offered by a few other sites.
Games & casino section
Schedule shows
Blind dates
Make it rain
Send a selfie
Forums
Recorded videos
Studio porn section
The most prominent difference between SecretFriends and other cam sites is the boldly displayed games section. There are a couple of free games for fun, but most of the games involve credits. You spend credits and can win credits. There is a slot machine, a scratch card, a wheel of fortune, and secret 5 card poker. As can be seen in the lounge, there are people constantly winning 25 credits, though the jackpot is much rarer, often involving a prize near or over 1000 credits.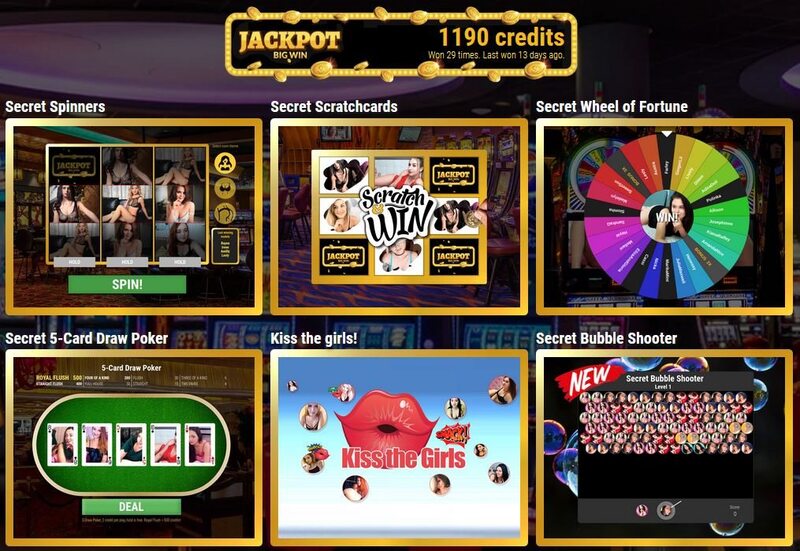 Like on some other sites you can schedule a show if the model you are interested in is busy or offline. What is unique, is the option to go on a blind date. If you just can't decide, you can select an amount of time and the site will randomly select a model to put you in a private show with.
If you aren't looking for a totally random experience, but can't settle on just one girl, you should check out the Make It Rain! function, which lets you view and top 5 tip-toy controlled models at once.
SecretFriends has a forum which seems to be quite popular with users. Most of the posts are just the models' profiles, but there's a Main Chat where you can talk about anything from Music and Finance to Donald Trump. Their words, not ours.
The site also has recorded videos of the models as well as an extensive XXX portal.
Video Quality
Most of the rooms on SecretFriends are in 720 HD, which would be enough for a HD tag on most sites. However, it seems that SecretFriends are more stringent in this regard. When you see a HD tag, it means that the cam room you are looking at is in 1080 HD. There are also a few lower quality rooms, but they are few and far between.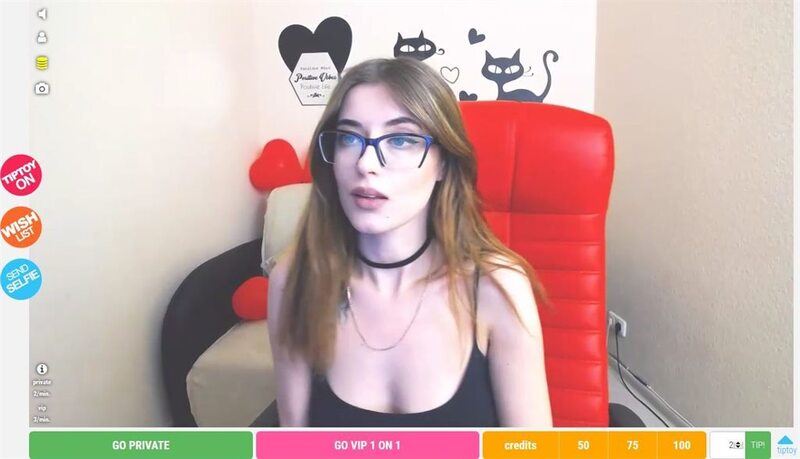 Unfortunately, it seems that there is neither an option to manually adjust the video quality according to your internet speed, nor the options to manually resize the video screen according to your preferences. There are three screen size options: the default, a narrower version, and full screen.
SecretFriends'
Mobile Site

SecretFriends is one of the few sites that actually lets you cam2cam on your mobile device. You can go into a private show from anywhere using your phone. The option is still in beta, but it seems relatively stable.

When you first enter the chat rooms on your phone, they are zoomed in and you can pan around by holding on the screen and shifting your finger left or right. To unzoom and get a more normal looking chat room, you can tap on the minimize icon which can be found on the left hand side.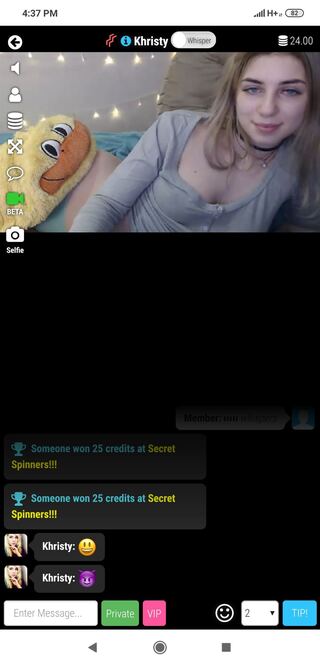 Additional Media
Other than the live cam shows, there are also the recorded shows from the models. They range in price and duration, but can be filtered relatively easily. Sadly, you can't search by kinks or fetishes, which is a major shame. The recorded videos you purchase, as well as the snapshots you take will be added to your Customer User Settings. The recordings can be found in the Bought Recordings, while the snapshots can be found under My Snapshots.
SecretFriends is actually owned by the porn site ClubSeventeen. There porn portal lets you watch videos from all the affiliated sites. At present, there are over 13,000 premium movies and over 10,000 free clips. The free clips are short scenes of about 5 minutes. The longer premium videos are VOD and can be accessed for 1 credit per day, or at discounted rate if you purchase the 7 day or 30 day packages. Paying the premium lets you watch all the videos you want for the day, but you won't be able to download them.
Registration on SecretFriends
Registering on SecretFriends takes less than a minute. All you need is a chat name, a password, and a valid email address. Once you have clicked to register, you will need to check your mailbox to confirm your account.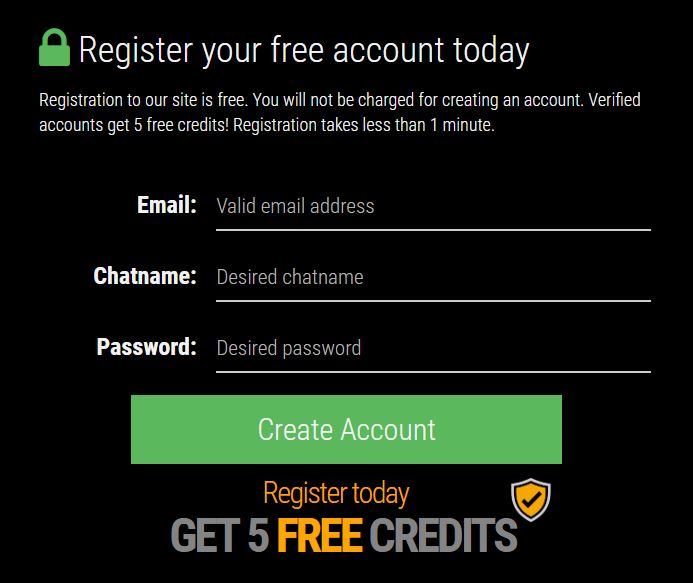 Prices on SecretFriends
SecretFriends has a simple 1 to 1 exchange rate with the US dollar. The packages are valued in increments of $25.00 until you reach $100.00, at which point the increments increase by $50.00. First timer buyers can only purchase packages of up to $200.00, bigger packages are for returning customers only. Buying the larger packages will reward you with free credits.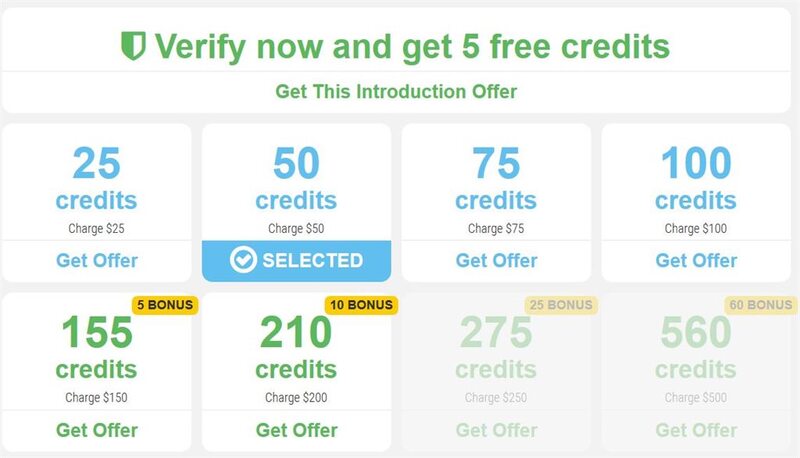 You can claim 5 credits for free by verifying that you have a valid credit or debit card. You will get charged for just 1 cent, as the system verifies that it is an active card.
As mentioned earlier in the review, the private shows have an average cost of $2.00 a minute, though some girls do charge $3.00. Switching to a VIP show that other users can't spy in on, will cost you an additional dollar a minute.
Do take note that you have to spend the credits you buy within 6 months of purchasing them. If you don't, they expire.
Payment Methods
SecretFriends accepts quite a variety of payment methods, all of which are clearly displayed on the payment page.
Visa
Mastercard
Maestro
Discover
Diners Club
JCB
Ukash
iDeal

Sofort

PayPal

Cryptocurrency
Customer Support
The customer support on Secret Friends is clearly not the selling point. While other sites have live chat and phone numbers, SecretFriends is limited mostly to the FAQ section and to the forums. There is also an email address to contact, but you can't talk to anyone in real time.
To reach the email, you will need to scroll to the very bottom of the FAQ page.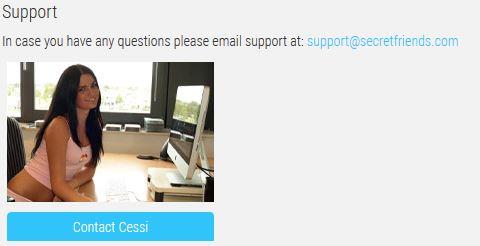 Customer Loyalty Program
It doesn't seem that SecretFriends has any sort of ongoing loyalty program. They have regular sales and promotions, but you aren't guaranteed free credits on every 5th sale like you would on LiveJasmin and you don't climb up any loyalty tiers like you would on ImLive.
The Bottom Line
Overall, SecretFriends is a very exciting cam site with a small but talented selection of models. While some would argue that a cam site should have as many women online as possible, it is clear that SecretFriends prefers vetting each of their models thoroughly, to make sure that the girls they let work on their platform are up to task.
The site has a lot of really cool features, as well as some features that aren't really useful. There are so many things going on, that the site can appear cluttered to new users. It is important to note, that you can ignore all the features that don't interest you, but you can't hide them from your page.
At the end of the day, the biggest benefit that SecretFriends truly has, is their lower price point. While most other sites have webcam models that go up to $14.00 a minute, the highest price you could ever reach on SecretFriends is $4.00 a minute, and that's with the most expensive models and in VIP shows.
There are many beautiful women that you can get to strip and play with themselves for just $2.00 a minute.
Visit SecretFriends.com
---