Review of Stripchat.com at Best Webcam Sites
Stripchat Review – A Big Collection of Free Cams
Is Stripchat Good?
Stripchat is an enjoyable cam site. You have a big selection of webcam models and good prices to watch them at. Most of the webcam rooms on the site are not in HD, but Stripchat scales up the quality of the video feed, so it actually looks much better than you would expect. Stripchat is capable of 4K video, but only in the VR chat rooms.
At any given hour you usually have more than a thousand free chat rooms to explore.
Visit Stripchat.com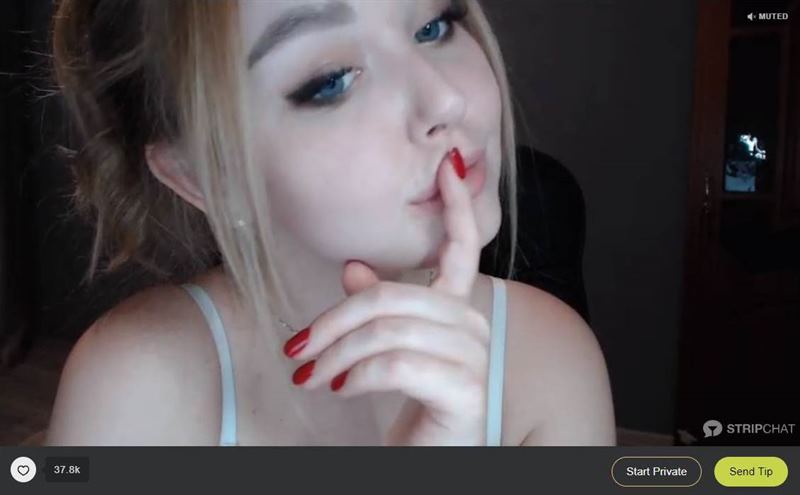 Overall, Stripchat is slightly more expensive than similar free cam sites. But, what you get is a much cleaner interface with a better tagging system. While the site is completely freemium in nature, there is not a single ad, giving the entire site a truly premium feel.
Overview
Stripchat joined the sex cam game pretty late. The site only launched in 2016. Despite the site's young age, it has won a variety of awards from AW-Awards and LALExpo. It's not only the site itself which has won accolades, several of Stripchat's models have been nominated and won in various categories.
Stripchat has managed to accrue a surprisingly large number of hosts considering the short time span it's been around. Looking at everything that Stripchat has managed to achieve, it's easy to see why it can charge slightly higher prices than the competition.
For reference, the cheapest rooms on most other freemium sites cost around $0.60 a minute, while on Stripchat they are $0.80 a minute. The price difference isn't overwhelmingly bigger, but it can add up if you are a heavy user.
Strengths & Weaknesses
Strengths
Only site still doing VR cams
Prices clearly labelled
Big selection
Hourly tokens prizes
Scaled up video quality
Weaknesses
Not many HD rooms
Cam2cam often costs extra
No cam2cam on mobile
Limited customer support options
The Webcam Models
The Girls
The selection of girls on StripChat is big and varied. Many of the models on the site have a small country flag, to let you know where they are from. You aren't limited to girls from any particular part of the world. While you might find a lot of European women, there are also many Asians, and Latinas. You will even find some Arabs, which are very rare on cam sites.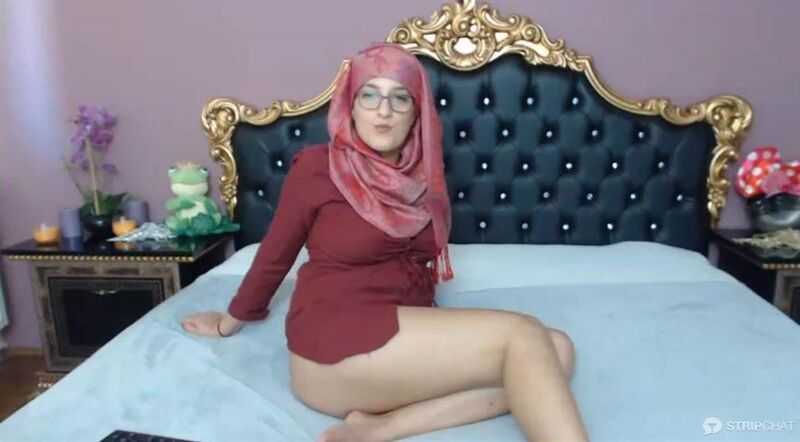 You aren't limited to searching for a cam girl only by ethnicity. You also have the option to search by body type or by age. No matter the selection you choose, you will find a big selection of chat rooms to choose from.
The girls on StripChat will be in various states of undress. As a freemium cam site, the girls strip for requests and for goals. You can join a show where the girl is already naked or you can join a room with a clothed girl and make it your mission to get her to go nude.
The Guys
The Boys section on Stripchat is quite large and is filled with many young twinks. You will find a variety of skinny guys, but not very many muscular ones. While there are some guys tagged for muscles, they aren't very buff.
The majority of the men on the site are white or Latino, though you can also find some black men. The male category on the site also includes some shemales, which can be annoying depending on your preferences.
Stripchat is pretty good in the gay category if you like twinks, but we recommend other sites if you prefer a selection of body types to choose from.
The Couples
The Couples category on Stripchat is relatively big, though you will find that many if not most of the rooms at the top of the page are lesbians, rather than straight couples. This phenomena continues as you scroll down the page. We love lesbians, but if you want to watch a dick ram a pussy, there are better options than Stripchat.
The Transgenders
You have a big selection of trans chat rooms to choose from on Stripchat. You will find many trans model on this page which were not listed on the Boys page. Stripchat's trans section is especially great if you like Latinas, but you will find few tgirls of other ethnicities. If you want to check out girls of all corners of the globe, we recommend checking our list of the best shemale chat sites.
Model Profiles
The model profiles can be found on the same page as the chat room. You will find a Profile tab next to the cam girl's name. The profile will open up on the same page. You can scroll back up to the model whenever you please without ever having exited her cam room.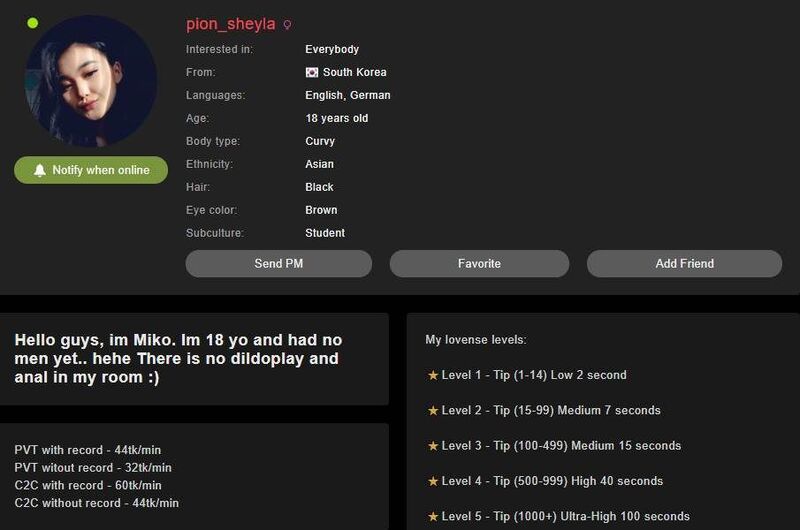 Each model on the site has the same basic profile, but you will find that each of them fills it to a different degree. You have the generic information such as location, languages, and age which all models fill in.
Individual models sell their own photo albums and videos. When available, you can purchase media directly from the models' profiles.
Each girl fills out her About me section differently. Some list the prices for the different show types, some list their work schedule, and some just list things you shouldn't do in their rooms.
Many of the models have a section dedicated to their Knights, which are basically the chat room moderators. If you become one, you can also be added to your favorite girl's profile for all to see.
Chat Options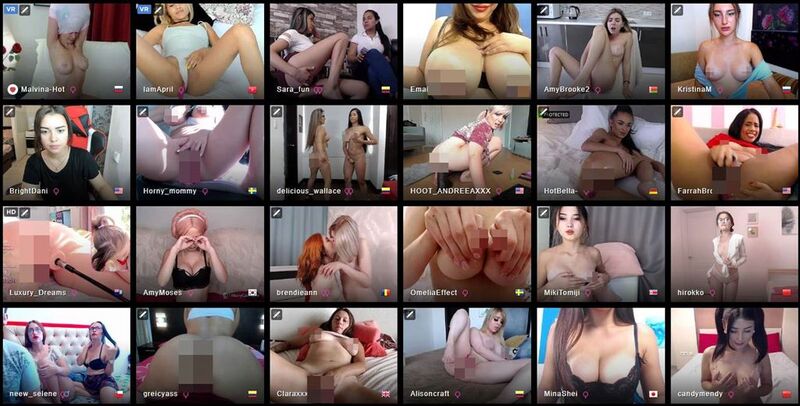 Free Video Chat

The free chat rooms on Stripchat are completely free for all to watch. However, if you haven't registered, you will be limited in terms of the number of rooms you can open at once. The free chat rooms are filled with gratuitous nudity, with tons of girls playin with toys or their fingers. Most of the cam girls use an interactive toy.

The free rooms are exciting for as long as someone is tipping. As the rooms can get quite busy. You usually need to tip if you want the cam girl to give you any attention.

Private Chat

Private shows are your opportunity to take the cam girl away from the crowd, so she can focus on you. While you are in a private show, other users can spy in on the model, but they won't see what you are doing. Do note that private shows on Stripchat are not inclusive of cam2cam. Cam2cam is a separate mode.

Cam2Cam Chat

Cam2Cam chat is a true private show mode where you can turn on your webcam and microphone for cam2cam action. Other users can't spy in on these shows. The price of a cam2cam chat is usually higher than a private chat, but some girls charge the same for both.

VR Chat

Stripchat is now the only cam site still doing VR cam shows. You will generally find between 4 and 20 rooms online. These rooms stream in 4K when you are using VR headset. Most of the cam girls using offering virtual reality charge higher prices. You will need to download and install a program for VR to work.
Video Quality
As mentioned earlier, the site scales up the video quality of the rooms, so everything looks more than decent. However, most of the webcam rooms on the site are no higher than 720 HD. This is a bit of a shame considering there are now cam sites that are capable of streaming in 4K, and not just on VR headsets.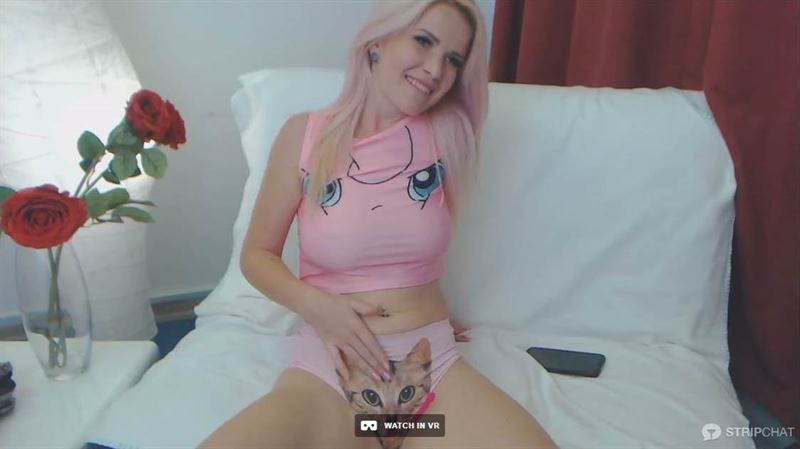 The image above is 720 HD. A good example of the most common resolution you can find on the site. As you can see, the cam girl is hot and it looks more than decent.
You will find that the HD chat rooms are labelled, but it is a tiny label which often gets lost in a sea of nudity. To see just the HD rooms, you are going to have to click to view All Categories+. HD can be founded on the expanded categories list.
That being said, even the non-HD rooms usually look pretty great. The first image in this review is in 480p, but looks damn good.
Stripchat's Mobile Site
Stripchat's mobile site is nice, though a little cluttered. It may take some getting used to compared to the desktop site. You can tap on the video screen, then on the arrow on the bottom right hand corner to flick between the rooms, though you can only flick in one direction.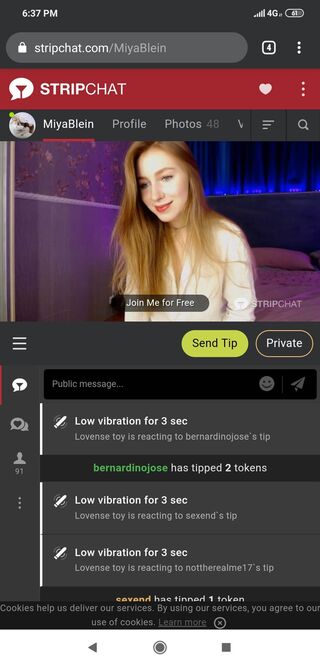 Unfortunately, Stripchat is one of the cam sites where you can't really type and watch the show at the same time. You will find that the keyboard pops up from the bottom, with the top half of the screen disappearing. You can still view what's happening in the room, but only the bottom half will be visible to you.
At present, Stripchat is not one of the cam sites where you can cam2cam on your phone.
Additional Media
The albums, pictures, and videos which you purchase from the model profiles will be added to the My Collection section of the site. You can view your media in the top left hand corner of the homepage.
The amount of additional media you can purchase from each model will depend on the model you are interested in. You will find that some cam girls update new pictures and videos multiple times a week, while others never upload media for you to purchase.
You should remember that if you don't see any media which you want to buy, but are interested in a specific cam girl, you can always ask her about creating a custom video.
Registration on Stripchat
Registering on Stripchat is quick and easy. All you need is an email address and a user name. If you prefer, you can sign in with Google or click to have the site generate a user name for you.
Your user name in a chat room is quite important. While you have the option to have one automatically generated, we recommend trying to think of something yourself.

Prices on Stripchat
The prices on Stripchat range from 8 tokens per minute to 120 tokens per minute. At more or less a dollar per token, the price is between $0.80 a minute and $12.00 a minute.
The more tokens you purchase, the bigger of a discount you will receive. Buying 200 tokens will give you a 10% discount, wheres buying 2255 tokens will give you a 25% discount.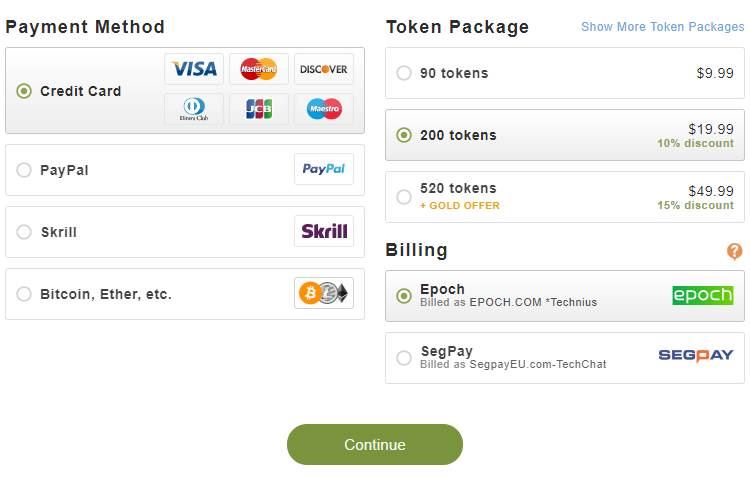 Thankfully, the prices are much more common on the lower end. About 30% of the rooms use the minimum price. Over 50% of the cam girls on the site charge $2.40 a minute and under.
The prices you can search for by are for a private show, not a cam2cam show. You will find that the price difference between a private show and a cam2cam show are different from room to room. Some cam girls charge the same price for both, while others raise the price one price level or more.
Payment Methods
Stripchat has a large number of payment options available. Using different payment methods/processors can change the price slightly.
These are all the payment options which are available. You may see some variation to the list depending on your location.
Paypal
Mastercard
Visa
Discover
JCB
Maestro
Skrill
Bitcoin/Altcoins
Customer Support
The customer support on StripChat is kind of limited. For a site that specializes in live chat rooms, you would expect live chat support. But, at present that isn't what you get. You are limited to an FAQ section or to submitting a help request.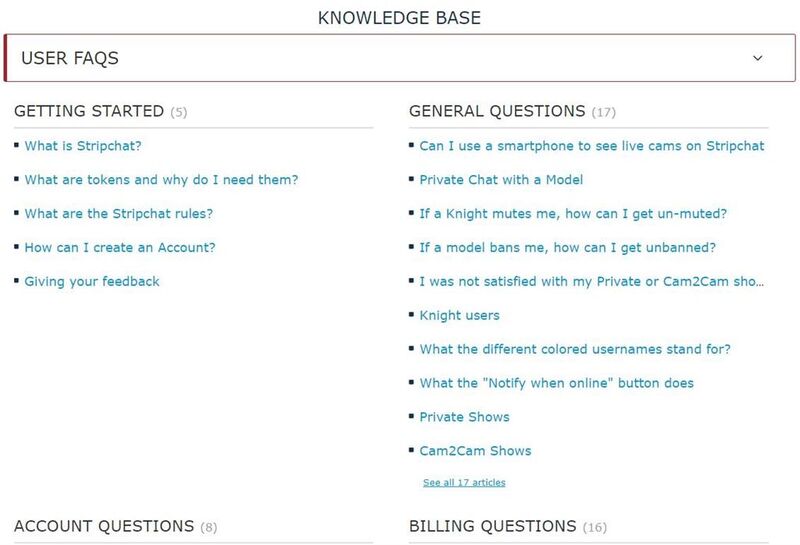 If your issue has to do with billing, you are in luck. You can contact the individual billing processor. Stripchat has all the billers and their contact information listed on one page. Each of the processors has it's own phone number and email address listed.
The Bottom Line
Stripchat has a lot to offer. There are many beautiful cam girls to choose from, and the other gender categories are decent too.
What's nice about Stripchat, is that the site bumps up the video quality, giving you the option to watch beautiful women who simply can't afford a high quality webcam. Since many beautiful women live in Eastern Europe where the internet connection really isn't that good, it's nice to see that we can watch them on Stripchat without too big of a loss in video quality.
It would be nice to see more HD chat rooms on the site and for the video quality to be uncapped from 720 HD, but for now that's just what there is.
At present, Stripchat is the last stronghold on two frontiers. It is the only cam site still doing VR cam shows and is one of the last cam sites to give you a country flag telling you where the model is from. Cam4 and CamSoda gave up on virtual reality back in 2018. The only other site that consistently displays model location is Streamate.
Out of the purely tip based chat sites, Stripchat's prices are slightly higher when looking at only the cheapest rooms. When you are looking at the average price, the price remains in line with the industry standard. A quality cam girl will cost you between $2.40 and $3.00 a minute. There are of course hotter and more expensive cam girls, but you should be able to find someone in that price range, unless you're really picky, that is.
At the end of the day, Stripchat isn't our top recommendation, but it is definitely one of the Best Webcam Sites.
Visit Stripchat.com
---