Review of Visit-X.net on Best Webcam Sites
Visit-X.net Reviewed – Is It the German Sex Cam Site for You?
Visit-X is a leading German sex cam site with a considerable amount of live German porn and prerecorded content. If you have a hankering for some dirty German cam girl action, Visit-X.net is one of your best bets. While Visit-X is predominantly in German, they have worked hard to translate the majority of the site into English, so it can be used even if you don't speak German. Most of the cam girls speak English, you can filter out those that don't.
Registering on Visit-X.net is super easy. You can sign up with an email address, your Google plus account, or even your Facebook account.
Go to Visit-X.net
* Non-German speakers will need to scroll to the bottom of the page to switch the language to English.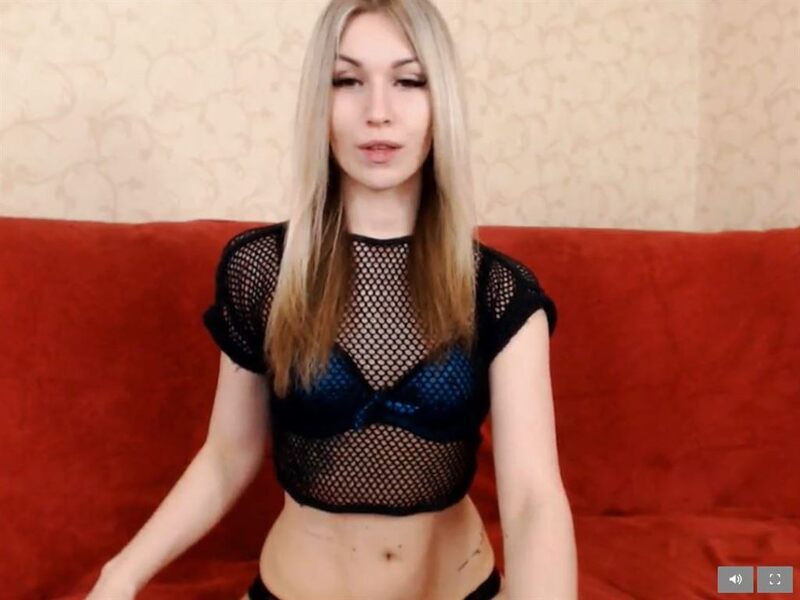 Video Chat Screenshot
There's a Ton to Do on Visit-X.net
Paid live chat rooms
Paid private chats
Free videos
Free pictures
Free livestream (VIP users get much more graphic content)
Free magazine articles (all in German)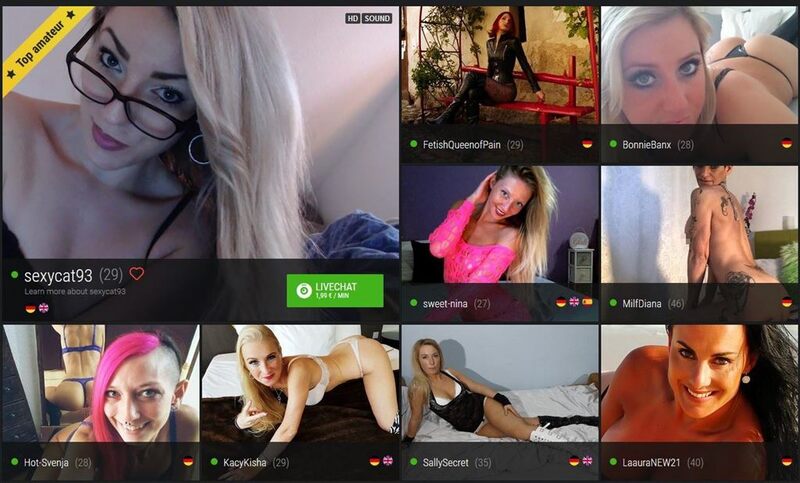 Visit-X.net Home Page
The User Interface is Multilingual
There are currently three languages to choose from on Visit-X. We found that while the majority of the website have been translated, some of the less visited areas, such as the magazine, are not. We honestly didn't come to review their content writing skills, so we don't feel like we missed out too much there. Overall, the most important parts of the site are translated, you can scroll to the bottom of the page to choose from any of these three languages.
As you would expect of a German sex cam site, the default language is German.
Registration is Quick and Easy
Registering on Visit-X.net is so easy it's pretty much a joke. You can go with the old school standard email address and password or you can choose a one click registration through social media.
With a user name, email, and password
Google+ account
Facebook account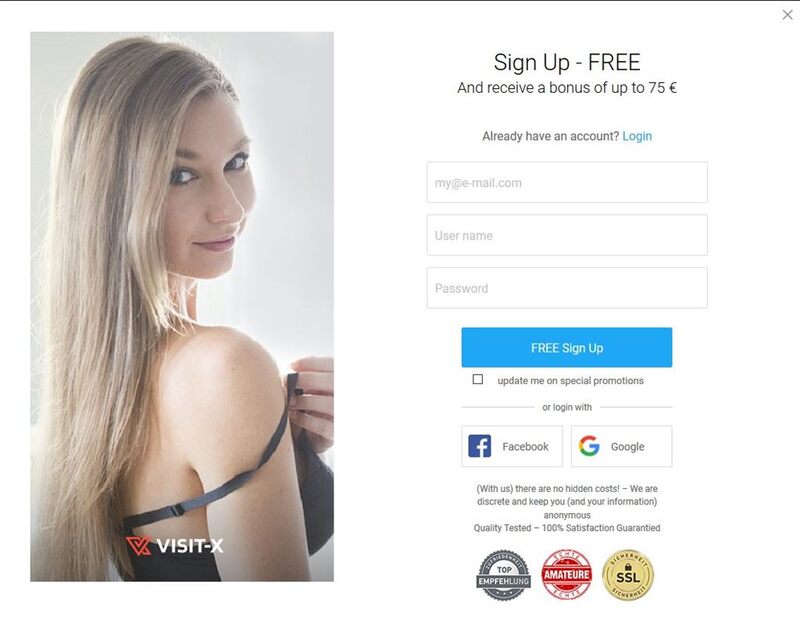 Free Signup Screen
Purchasing Credit Bundles is Super Simple
Credits are sold in bundles and can be purchased using the following payment methods:
Visa/Mastercard
Sofort
Bank transfer
Paysafecard
Giropay
SEPA
eps
Paydirekt
Bitcoin
Instant access (Phone)
You can choose from the following packages, you get a 50% bonus on your first purchase:
€ 29.90
€ 59.90
€ 100.00
€ 150.00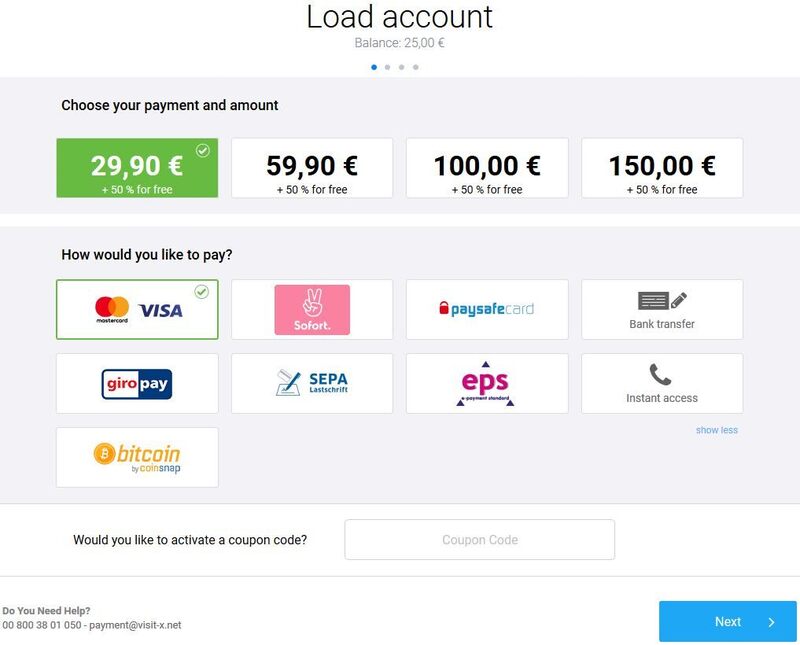 Visit-X.net Payment Page
Quality of the Show
The stereotype of kinky German porn holds true on Visit-X.net. As you browse through the available models, you will notice that many of them are fetish based and are dressed for the part. You will find that the dominatrix and submissive ladies are often wearing leather, latex, or nothing at all.
As you enter each chat room, some of the girls will be dressed, while others will already be naked. If she's already naked, it's likely that someone else is also watching her or that she just finished a show. Don't worry if she's dressed, the girls on Visit-X are horny as hell and usually strip very quickly. Getting requests taken care of took a little bit longer than we would have liked, but that's likely due to the language barrier.
A really awesome thing about Visit-X is that when you open up a chat window, it doesn't open up a huge chat room with a thousand other people in it like Chaturbate does. On Visit-X, each chat you open is an individual chat window between you and the German cam girl you are watching.
You don't see any of that bullshit other users say. You will see only the text you are sending and receiving from the model.
Visit-X has HD webcam chat rooms, but they aren't the best quality HD. When you compare the quality of the rooms to sites like LiveJasmin, you can see the rooms are 720 HD at best, rather than the full 1080. Visit-X does have true T.V. quality HD, but you will only find it in the prerecorded videos and in the livestream section.
Extensive Webcam Model Personal Bio Pages
The webcam models on Visit-X.net have extensive biography pages filled with a whole bunch of fun details. Other than the generic information about body shape, weight, and the like, you can also check each models About Me section. This is where you will be able to find more personal information about the model, such as what she enjoys eating and what her fetishes are.
The model overview on Visit-X contains the following information:
Age
Zipcode
Height
Weight
Cup Size
Gender
Awards won
Uploaded videos and Photos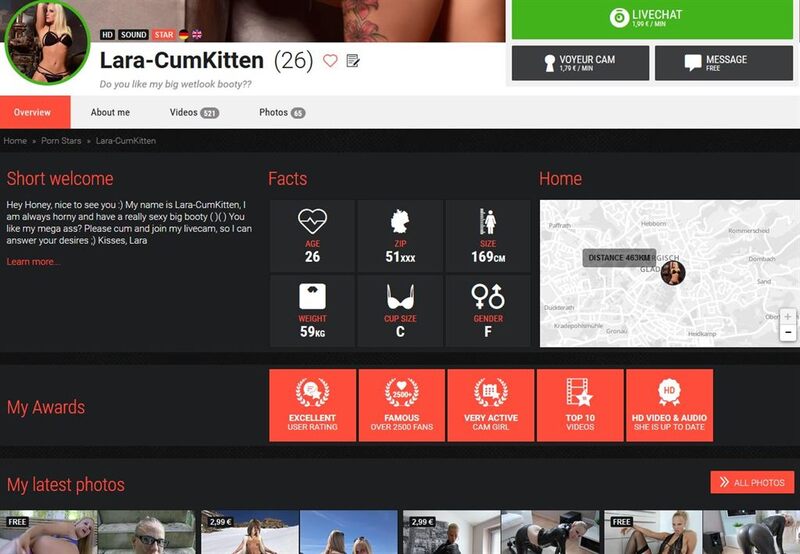 Model Bio Page
VIP Membership Program
Visit-X honestly has one of the best VIP packages out of any adult chat site. Sadly, it is one of the pages that isn't translated yet, but we managed to sleuth out what you get. It costs just €9.95 a month and what you get out of it is huge.
You don't get discounts on the chats and you don't get extras on your purchases, but, what you do get is a ton of content for you to watch at your pleasure.
Many of the German cam girls on Visit-X.net offer previews to their chat rooms. Normal users get a meager 5 second peak, but the VIP members. VIP members get 20 seconds to look in and even to chat with the models. On LiveJasmin, a 20 second sneak peek would cost you a credit, on Visit X, as VIP member it's free.
The best part of the VIP program on Visit-X is the huge amount of free videos you get. You get access to the Premium Stream, which is half an hour shows run by the webcam models. You also get access to any prerecorded content done by the site.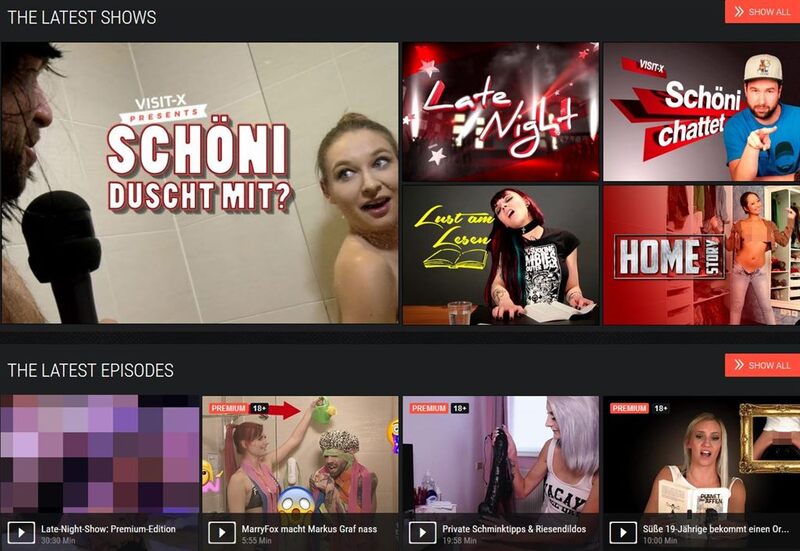 There are currently 26 different shows being done by Visit-X. Normal users get censored copies, VIP members get videos ranging from 5 minutes to half an hour including nudity, showers, and even lesbian sex. The videos are all in German, but that doesn't mean you won't enjoy yourself. There are very enjoyable shows on Visit-X.
We personally recommend Ich Komme!!, Lust am Lesen, and Ograsmus Gesichter. Ich Komme!! is webcam models masturbating till orgasm, Lust am Lesen is German cam girls reading trying to read books while riding a Sybian, and Ograsmus Gesichter is the models masturbating on a bed, but with a focus on their facial expressions.
VIP users also get to watch interviews with the various webcam models on the site, but it's all in German so we mostly left this section alone.
Your User Profile
Visit-X.net recommends filling in your bio information so that the models can learn about you as soon as you enter the room. To try and convince you that this is a good idea, they offer you €10 on your next purchase when you finish filling in all your details.
The details you will need to fill in to get this bonus are a profile picture, a little bit of personal data such as your age and gender, and little bit of information about your kinks and interests.
The models on Visit-X visit the user profiles of the members they chat with in order to get to know them better. Listing whether you prefer dominant or submissive cam girls or any other preference you have, can help them make the show more enjoyable for you.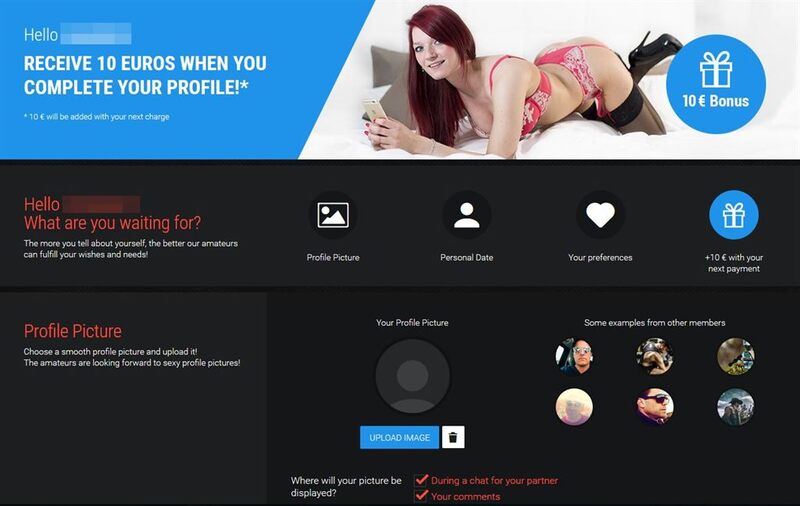 Your Visit X Profile
At Visit-X.net, You Get European Customer Service
Scroll to the bottom of a Visit-X page and you will find the support tab. Clicking on it will open up an FAQ question in another tab. Here, you will find answers to the most commonly asked questions that Visit-X receives. This list is actually quite extensive and covers questions which many other sites choose to ignore. Apparently, you can cam2cam on your phone while on Visit-X, but it will depend on your operating system.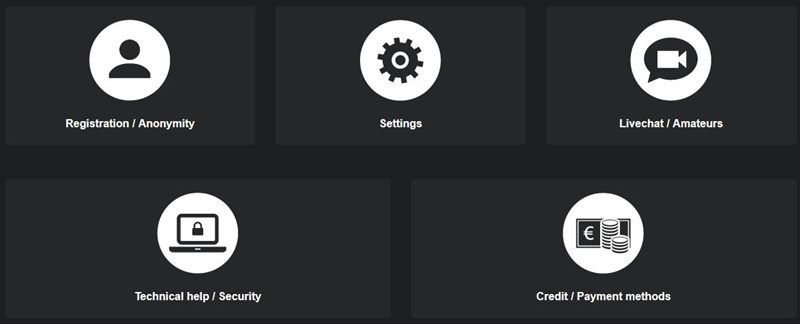 Visit-X FAQ
If the FAQ section doesn't help you out, you can get real life support, rather than searching manually for answers. To talk to a representative, you have three main options. You can send them an email, call them, or talk to them on live chat. Visit-X does NOT offer 24 hour assistance. There are set days and hours during which you can call.
email contact – [email protected]
phone contact number – 00 800 300 000 77
Live chat support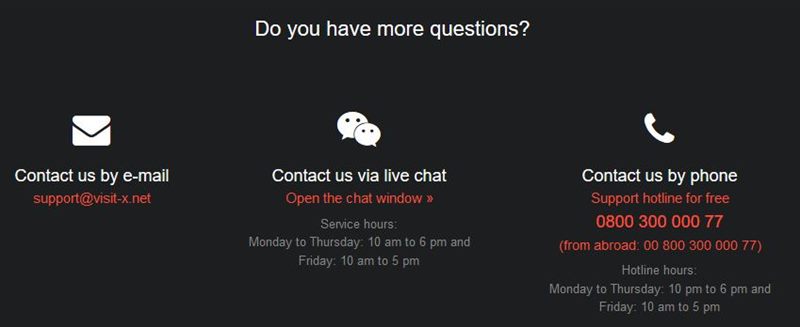 Visit-X Support Options
Benefits and Drawbacks of Visit-X.net
Benefits
Models upload free pictures and videos
The free pictures and videos include full nudity
Free cam2cam during chat and on the phone
Every chat session you open will be between you and the model, only
Easily filter out models that speak English
Users get 5 second sneak peeks into many rooms
VIP users get 20 second sneak peeks into many rooms
VIP users get a ton of free video content
HD webcam chat rooms
Option to join as a voyeur for a lower cost
Television channel – includes nudity for premium users
Magazine Channel
TONS of free content for premium users
Prices are listed directly in Euros rather than tokens/credits
Drawbacks
No free chat
It's a gamble going into a room without a peek
Going from paid chat to private chat costs extra
No option to sort by price
You will always be greeted in German
Some sections of the site haven't been translated to English
There is a limit to the number of peeks you can get each hour
The Bottom Line
Visit-X is one of the leading German sex cam sites and it's easy to see why. They have gorgeous babes and high quality webcams. Overall, our review of Visit-X.net found that it has many features and plenty of content to keep users happy. Visit-X is one of few websites where we can truly recommend the VIP program. The amount of graphic pornographic content you get to watch for free is absolutely astounding.
For just €9.95 a month, you get hundreds, if not thousands of hours worth of free HD porn. These videos are all professionally shot and edited and include the German cam girls that broadcast on the site. There have been plenty of times when we opted to watch one of these videos before choosing the babe we wanted to take into private. It's always nice to know what she's going to look like naked before you start paying for it.
If you're here just for the live German porn, the prices can be a bit higher than sites like LiveJasmin, but lower than other German sex cam sites like MyDirtyHobby. Visit-X has much more vanilla porn than MyDirtyHobby which is known for it's kinky webcam models.
All in all, we highly recommend Visit-X and it's VIP program. The videos on the VIP stream are awesome and since they are speaking German and we can't understand a word it all sounds absolutely filthy.
Go to Visit-X.net
---