Smoking Webcams – 9 Best Cam Sites to Get Smoke in Your Face
Best Sex Cam Sites to Watch Cam Girls Smoke
There is something undeniably arousing about watching a sexy woman smoke. We checked out all the webcam sites we've reviewed, to present the top 9 sites to watch cam girls smoking cigarettes, vapes, or even joints. Smoking fetish webcam rooms are quite common on all sex cam sites. Where possible, our links will take you directly to the smokers on each site.
LiveJasmin.com
LiveJasmin has an entire category dedicated to smokers. Off the bat, you know all of these girls will smoke for you in a private show, without having to ask. You can also ask around on the main page, but you really do have a nice selection as is. What makes LiveJasmin the best is their HD sex chat rooms, which are of the highest quality in the business. 720 HD is the minimum camera quality you will find.
Visit LiveJasmin.com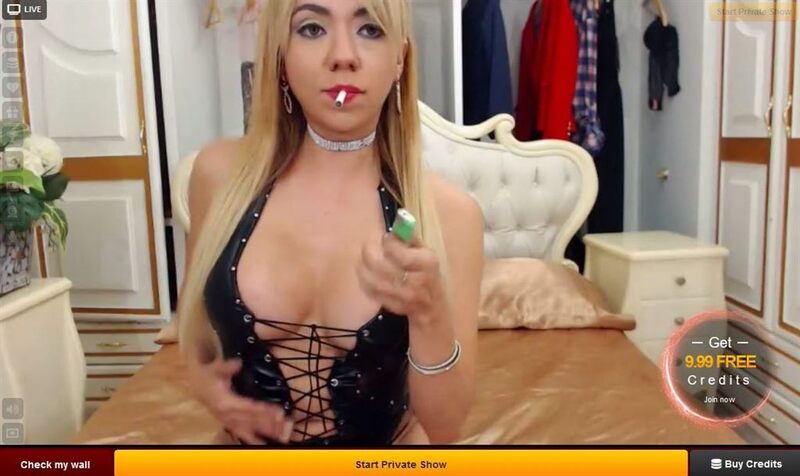 LiveJasmin is the best cam2cam site. If you want the smoking cam girl you are watching to be able to see your facial expression as she blows smoke at you, LiveJasmin is the best site for you.
Private chats are always inclusive of cam2cam. The average price of a chat with a smoker will cost you between 2 and 3 credits a minute. If you are buying the largest credits package, that's about $2.20 to $3.40 a minute.
One area in particular in which LiveJasmin excels at is their customer support. You are treated like a VIP, without having to pay for any sort of VIP package. Live chat assistance is available to all members, regardless of how much they've spent.
---
FetishGalaxy.com
As a fetish based site, FetishGalaxy is filled to the brim with smoking fetish webcam rooms. There is an entire category to help you find all the women who smoke on cam. The video quality on FetishGalaxy is far from the best, but they have an unbeatable collection if you are in the mood for something truly fetishy. There's a ton of doms and subs, each clearly labeled so you know what to expect in a show.
Visit FetishGalaxy.com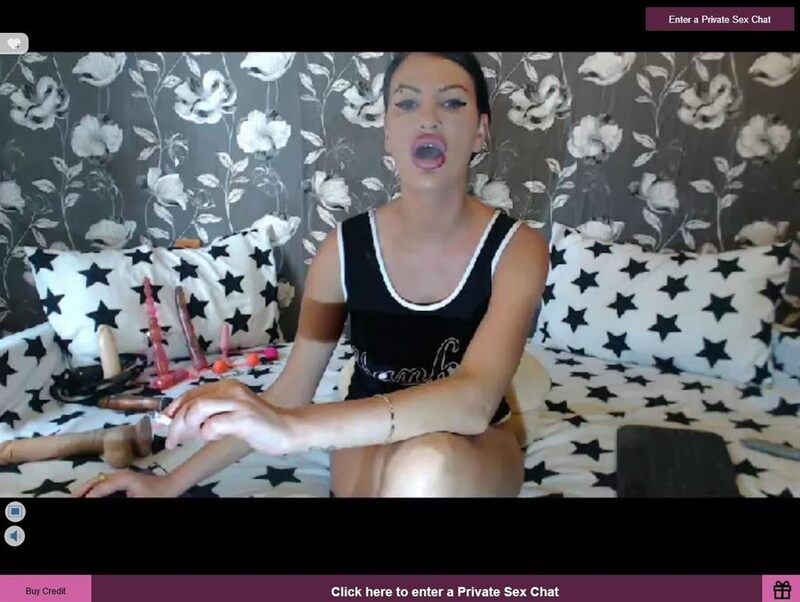 When checking out the smoking rooms on FetishGalaxy, you will notice that the profile pictures of all the models switches to them holding a cigarette. The site wants to give you an idea of what each model looks like with a cigarette in her mouth, before you've even entered the room.
FetishGalaxy is pretty much your top choice if you are looking for a leather dominatrix that chain smokes cigarettes. Private chats on the site include both cam2cam and 2 way audio. The average cost is between €1,98 and €2,50 a minute.
FetishGalaxy has a decent sized FAQ section, where you can find the answers to most of your questions. If you get stuck and are in need of assistance, you can send them a message through a contact form, but that's as good as the customer support gets on the site.
---
Flirt4Free.com
There's no search options for smoking cam girls on Flirt4Free, but it is a site you should check out nonetheless. The camera quality is great in most of the rooms and the girls are very attractive. As a registered member, you can chat in any of the rooms, without actually having any credits in your account. If any girl catches your attention, just ask her if she smokes.
Visit Flirt4Free.com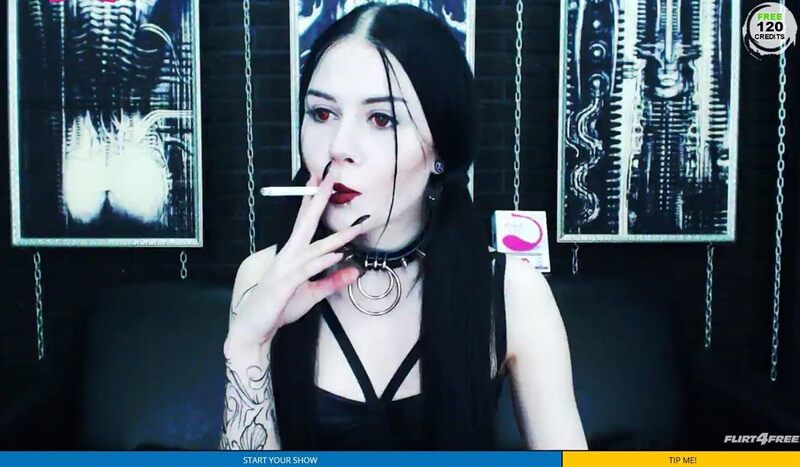 Flirt4Free doesn't have as many cam models as other sites, but they do have quality. Flirt4Free is pretty damn stringent with their model selections. The camera quality is above average and so are the girls.
Flirt4Free actually has the cheapest sex cam rooms on the internet, starting at just 5 credits a minute (that's 50 cents). But, rooms at that price level are rare and the girls aren't usually the most attractive. Generally speaking, a private session with cam2cam and audio with a hot cam girl will cost you $2.50 to $4.50 a minute.
Paying members on Flirt4Free get great customer support. Live chat is available to all users. Members who pay for the monthly VIP package, get even better support.
---
ImLive.com
ImLive doesn't have a category for smoking fetish, but you can find smoking webcam girls easily through the the Multi-Viewer. It lets you view 6 rooms at a time. You can easily flick between the rooms until you find a girl who is in the middle of smoking. If any woman catches your attention before you find one mid smoke, just go in and ask if she can light one up for you. Our link will get you 30 bonus credits with your first purchase.
Visit ImLive.com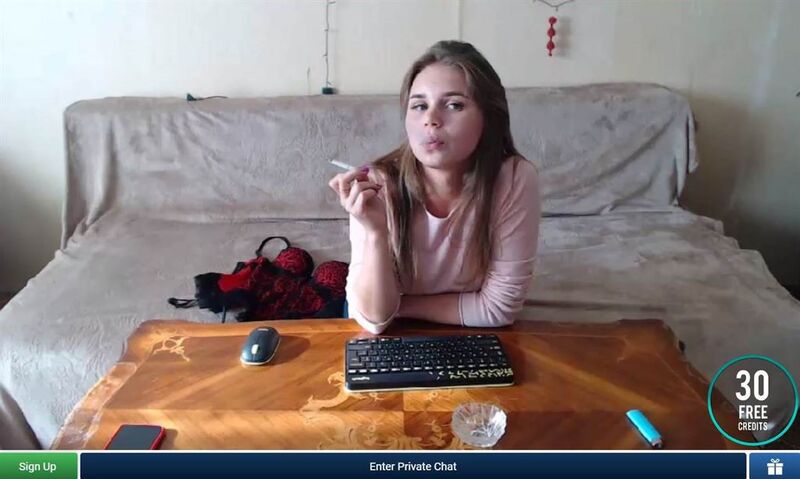 What sets ImLive apart is their amazing customer loyalty program. As you buy and spend credits, you will collect points. These points will boost your loyalty level. At each level, you will receive bigger and bigger benefits.
At the lowest loyalty tier, private shows cost between $1.98 and $2.50 a minute and are inclusive of cam2cam and 2-way audio. As you rise up the levels, you get more and more free credits with each purchase. At the VIP level, ImLive actually has the lowest average priced sex cam rooms out of any site.
Customer support unfortunately isn't ImLive's strongest suit. You are limited to the FAQs and to email assistance. They usually respond within 8 hours, so it isn't too bad.
---
LivePrivates.com
LivePrivates has a section dedicated to Smoking. Here, you will find a huge selection of smoking cam girls. When you enter the chat rooms, they might not all be smoking at that moment, but they will if you tip or go into a private show. Don't be discouraged if you don't find a girl you like in the smoking section, many models on the site smoke, but haven't tagged themselves as such.
Visit LivePrivates.com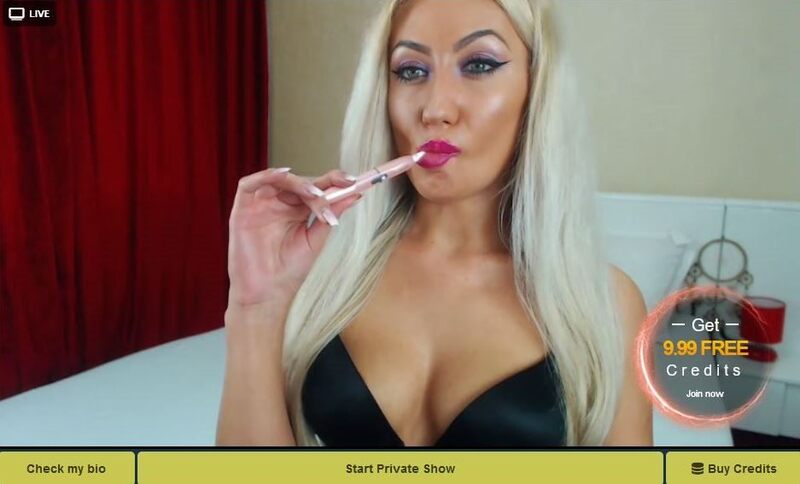 LivePrivates sets itself apart by being more of a glamour site. While other sites let all models register, LivePrivates is more scrutinizing when choosing the models that will go on its site. The models all use classy boudoir photos as their image thumbnails.
Private chat sessions on LivePrivate start at about $1.20 a minute, inclusive of cam2cam. The hotter models charge higher prices, going up to about $6.00 with the hottest girls on the site. Depending on the model, you can sometimes turn on audio, usually for an additional fee.
Customer support is one of the best features on LivePrivates. Their staff is quick to respond and very helpful. 24/7 Live chat support is available to all registered users.
---
CamSoda.com
CamSoda has many smoking cam girls, but searching for them is far from great. Searching for the tags, smoke and smoking, doesn't reveal many results. Thankfully, there is one thing that CamSoda did amazingly well. Instead of getting a live preview of one room, you get previews of all the rooms on the page at once. You can easily pick out exactly which cam girl is smoking on cam at any given moment.
Visit CamSoda.com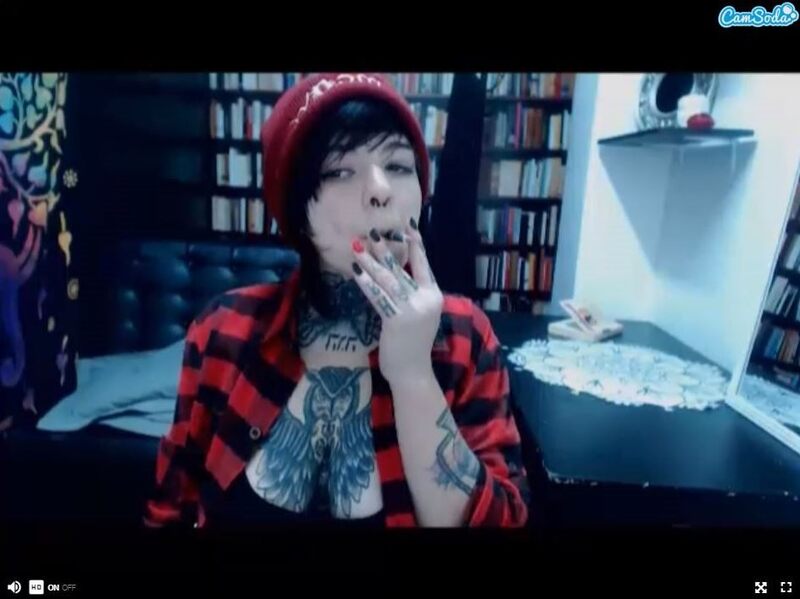 While CamSoda is a newer site, they have been striving to climb ahead. CamSoda invests more into new technology than any other site. CamSoda is currently your best choice for cam2cam on mobile.
The prices and what is offered in private chats on CamSoda changes drastically from model to model. Some models charge as little as $0.60 a minute, while others charge $12.00. Some models include cam2cam and show recordings, but others don't. You will know what is included, from the confirmation window before starting the show.
CamSoda's customer support isn't the greatest. There's a live chat for billing support, or emails for technical support.
---
MyFreeCams.com
MyFreeCams has a ginormous amount of active webcam models. The site's user interface isn't the best, but you will find that the search function is usually capable of grabbing at least a few dozen smoking webcam girls for you to pick from. Most of the girls on the list will smoke for tips, without you having to invite them into a private chat. Many of the girls will already be naked before you even tip them to start.
Visit MyFreeCams.com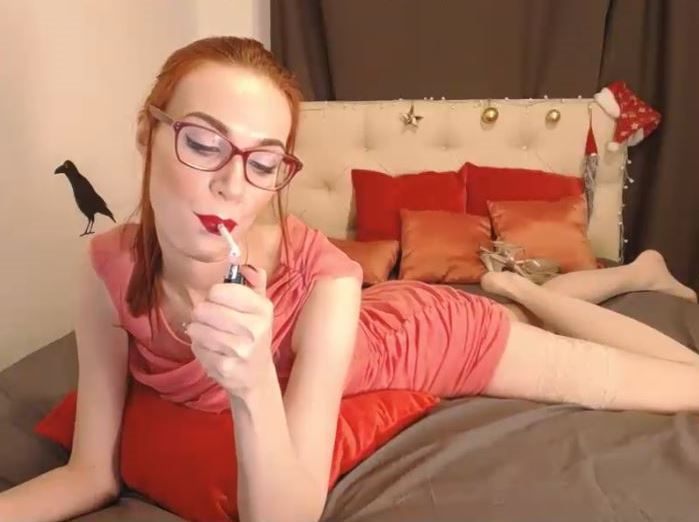 The first out of all free sex cam sites, MyFreeCams broke the mold so many years ago. It was the first site to feature totally naked free sex cam shows, for all the world to watch.
But, while watching the shows in the free chat is free, going into a private show is actually rather expensive. Private shows on MyFreeCams have a set price of $6.00 a minute, or $8.00 if you want it to be exclusive. Thankfully, tipping a girl to smoke in the free chat is usually not too expensive, most girls charge under $5.00.
MyFreeCams has the most extensive FAQs and Wiki out of any cam site. You can contact the site through email or a contact form, but at this time, live chat and phone assistance are not available.
---
Chaturbate.com
Chaturbate has more cam girls online than any other site. As you would expect many of these cam girls smoke. The problem with Chaturbate, is that their search function is borderline unusable. The girls on the site tag themselves for anything and everything but the categories that are actually relevant to them. You will need ask each girl manually if she smokes.
Visit Chaturbate.com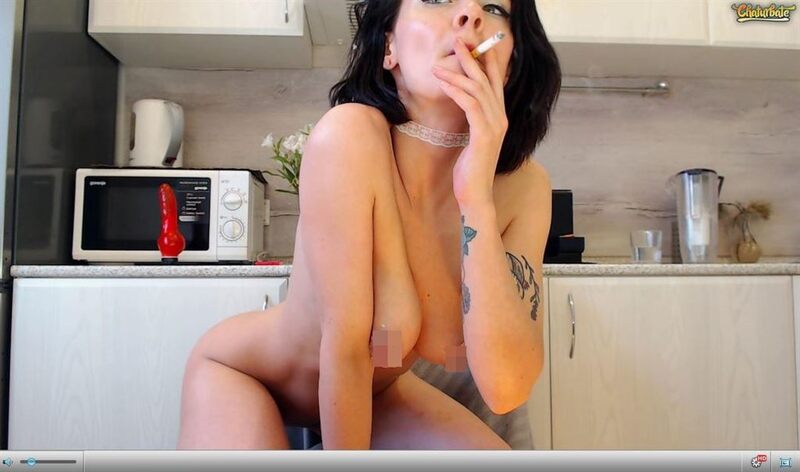 Chaturbate is currently the most popular sex cam site in the world. Every day, it is visited by more daily visitors, than any other cam site. It would be the perfect site, if not for one flaw. Cam2cam on Chaturbate is a serious pain in the ass to set up.
Private chats on Chaturbate are not inclusive of cam2cam. In fact, a big number of models on the site would rather not cam2cam, even if you offer to tip them more. You're better off just tipping to request a model smoke. It might take time to find a model, but it's an overall enjoyable search.
Customer support on Chaturbate is far from perfect. There's a decent FAQ section, and email support. No guarantee is given for how long it will take for them to respond to you.
---
BongaCams.com
BongaCams have clearly understood that viewers want to watch cam girls smoke. You will find that nearly half of the online models have tagged themselves as having a smoking fetish. Smoking is one of the top categories you will find on the site. What's unique about BongaCams, is that you can cam2cam in the free chat. You can tip for the model to watch you, without having to pay for a private chat.
Visit BongaCams.com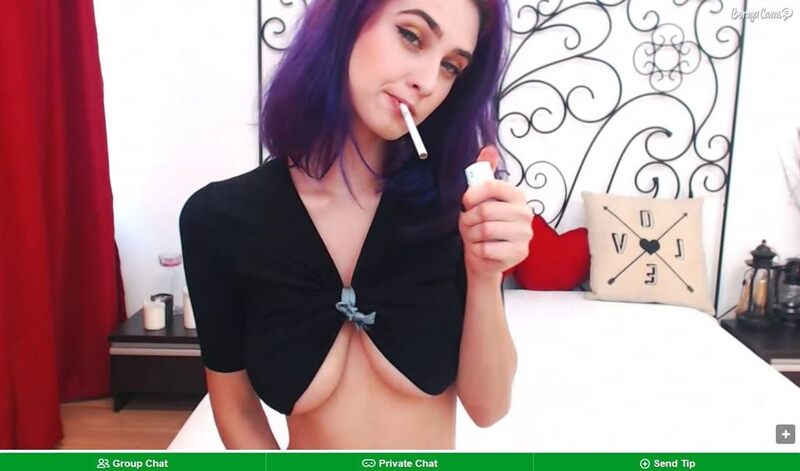 BongaCams is Europe's most popular sex cam site. It is filled with predominantly White Girls, which make up over 90% of the girls on the site. Browsing through the rooms, you will find that most of the cam girls are Russian speakers.
Private chats on BongaCams have a set price of just under €3.00 a minute. An exclusive private chat on the other hand costs €4.50 a minute.
Out of all the free sex cam sites, BongaCams has the best customer support. All paying members have access to their live chat support. Members who have spent over €2,000 on the site get upgraded to VIP support at no additional cost.
---
Conclusion
The top two choices for smoking fetish webcams are LiveJasmin and FetishGalaxy. FetishGalaxy is the recommendation if you are looking for a truly fetishy experience, complete with leather gear and a dominatrix or a sub. LiveJasmin is the recommendation if you are looking for high quality webcam feeds and the best cam2cam experience possible. As you will find out, the smoking cam girls on LiveJasmin are smoking hot.
Visit LiveJasmin.com
---