The Only 6 Cam Sites With Cam2Cam On A Mobile Phone
These Are Your 6 Options for Mobile Cam to Cam Chat
After having completed an entire article on the best adult webcam sites for the mobile phone, we realized that there are only 6 live porn sites where you can currently use cam2cam during private sessions while on your phone. Each of the sites uses a completely unique mobile platform to enable c2c.
Currently a private two-way video chat from your cellular phonecan be carried out on CamSoda, Flirt4Free, LiveJasmin, ImLive, xLoveCam and BongaCams.
CamSoda.com
While CamSoda is a new adult chat site that opened just a few years ago, they have already managed to attract a large number of attractive webcam hosts. CamSoda has hundreds of webcam models, including a few which are exclusive to the site. CamSoda was the first cam site to introduce the cam2cam on mobile phones as a feature.
Visit CamSoda.com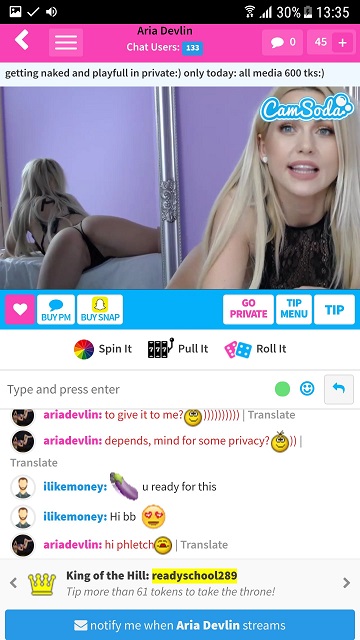 Cam2cam is included for free during most private shows on CamSoda, even while on mobile.
You can only tell which models offer cam2cam by clicking on the Go Private button. It will open up a confirmation window for you which will tell you whether cam2cam and whether you will get a free copy of the show added to your collection at the end of the show.
When you enter a private show, you will see a new green camera icon open up. Clicking it will turn on the front facing camera on your phone.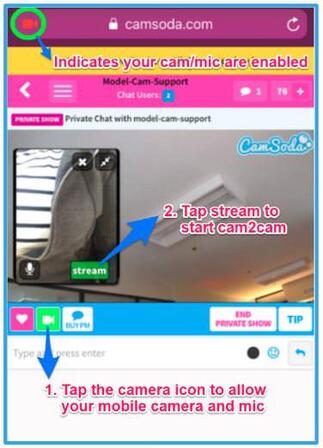 Overall, we were very impressed by the quality and ease of use of the cam2cam mobile chat feature on CamSoda. The rooms load quickly and with goodvideo quality. Cam2cam is easy to set up and typing on the keyboard is non-obstructive to the chat so you can talk with ease even if the model isn't set up with speakers.
While you can't filter by price, you will find that there are many cheap options available. You can find mobile cam2cam chat rooms for as little as $0.60 a minute.
Full guide to cam2cam on CamSoda
Flirt4Free.com
Flirt4Free is a leading premium cam site. It offers you multiple live show options and plenty of features including an extensive Fetish section built for users looking for some kinky online action. At any given moment, you'll find around 600 breathtaking models ready to entertain you. You'll be able to engage with these models in 1on1 hi-def c2c chats carried out from your computer, and as of July 2021, from your mobile device.
Visit Flirt4Free.com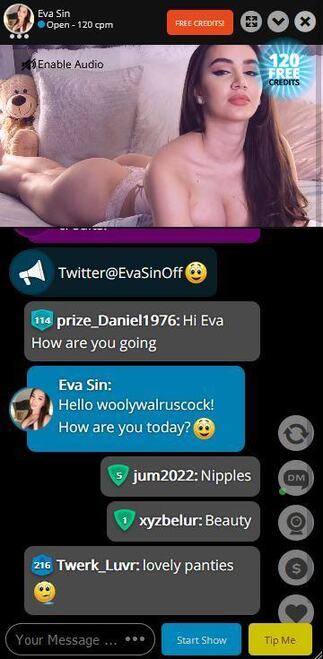 to initiate a mobile cam2cam chat, you'll first have to start a private show by pressing on Start Show below the model's performance window. Then, all you have to do is press on the webcam icon to your right for the cam2cam chat to begin. You won't be charged extra from opening your camera whether you do it from your computer or your smartphone. In addition if you start a Multi-User Show (so as to enjoy cheaper chat rates), you'll also be able to activate your cam and let the model watch you either on your computer or your cell phone. If you're the second, third, fourth and so on, in the chat, you won't be able to do it.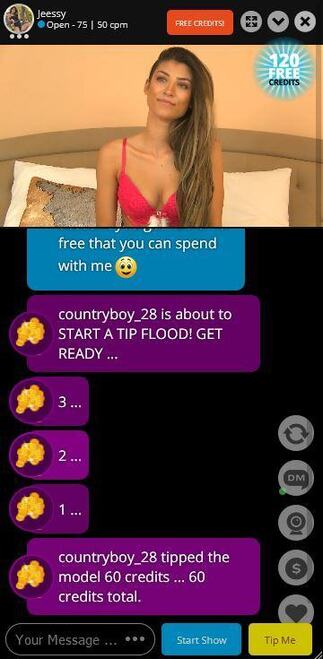 The price you'll have to pay for a 1 minute c2c chat stands at $3.00, on average. If that is too expensive for you, you won't fave a problem finding much cheaper models. The cheapest ones take $0.50 a minute. For a Multi-User Show, you'll usually have to pay around 30% less compared to a private show.
---
LiveJasmin.com
LiveJasmin is the best webcam site in the world for glamour babes. The site has well over a thousand webcam models online on average. They are all beautiful, and stream in the highest video quality. HD isn't a suggestion for the models on this site, it's a requirement. LiveJasmin was the second site to introduce cam2cam on mobile phones.
Visit LiveJasmin.com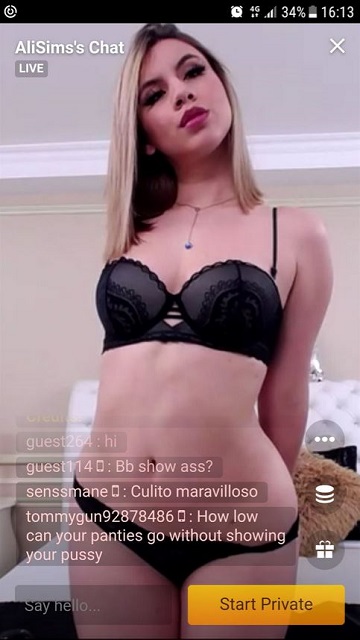 Cam2cam is available during all private shows, with all of the models on the site. To activate your webcam, you will need to pay 1-2 credits more per minute. Activating your microphone will also cost more.
Cam2cam is available in all private shows on LiveJasmin. To activate your camera while on your phone, you will need to click on the 3 dots icon. It's the top most icon which can be found beside the chat window. Clicking this option will open up more icons, including an icon of a webcam. Clicking on this icon is what activates your phone's camera for face to face time.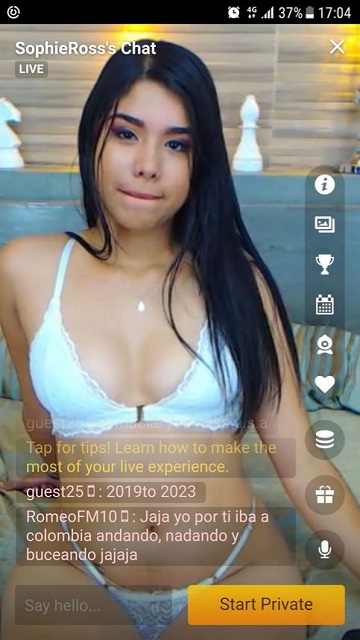 You might notice that the screen is incredibly zoomed in. You can choose to zoom out, by double clicking on your screen. If you don't want to zoom out, but want to pan left or right, hold down on your screen and adjust your phone accordingly.
We like the zoomed in effect during private shows, as it creates a much more intimate experience. It maximizes the screen, to emphasize the woman you are watching, rather than the chat window. While LiveJasmin charges extra for audio, it is the only site that guarantees it will work.
---
ImLive.com
If you're looking for electrifying cam performances at affordable prices enabling you long chat sessions without going broke, ImLive's 800+ constantly active models will be happy to deliver. And as of September 2021, you can interactively video chat with these gorgeous performers on your mobile device with your camera open.
Visit ImLive.com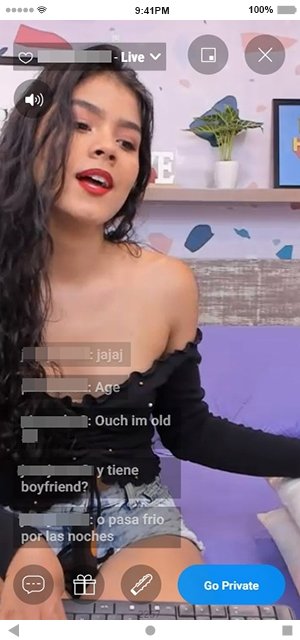 To cam2cam on your smartphone, you'll first have to start a private chat with one of the site's models. Then, you'll need to press on the camera icon at the bottom of the screen. A small box will appear. Inside it, you'll be able to choose whether you want to open your camera and mic or your mic only.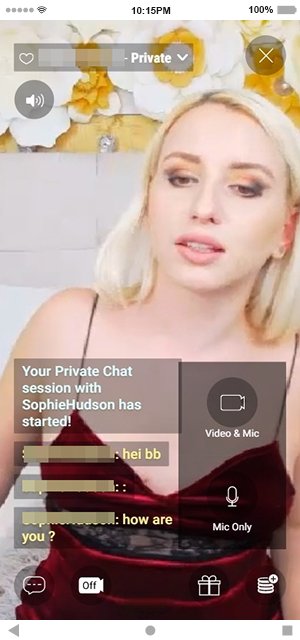 ImLive's mobile c2c apparatus does not come alone. It's a part of a recent upgrade of the site's mobile platform, which includes a highly advanced interface and awesome features promising you a brave new world of user-experience.
Side by side with all these new innovations, ImLive continues to be a highly affordable cam site. A 1 on 1 chat costs $2.50 a minute on average. The cheapest models charge a little less than $1.00 for a minute of their time. Cam2cam, whether on your desktop or mobile, doesn't require any extra payment. Moreover, the site's loyalty program, enables you to improve your membership status and enjoy significant discounts on chat rates.
---
xLoveCam.com
xLoveCam is one of the first sites to have developed mobile cam2cam capabilities. The site works amazingly well on the phone, loading faster and with better video quality than on the desktop site. xLoveCam's selection might not be very big or very varied, but the prices are quite low.
Visit xLoveCam.com
Cam2cam and two way audio are included for free during every private show on xLoveCam. However, Privates can have up to four users watching. It's only the user that initiated the chat which gets the option to c2c. To guarantee that you have cam2cam and that you are alone with the model, you will have splurge a little and pay extra or an Xclusive show.
After entering a private show, a new icon to activate your webcam will appear. Clicking it will enable your phone's microphone and camera.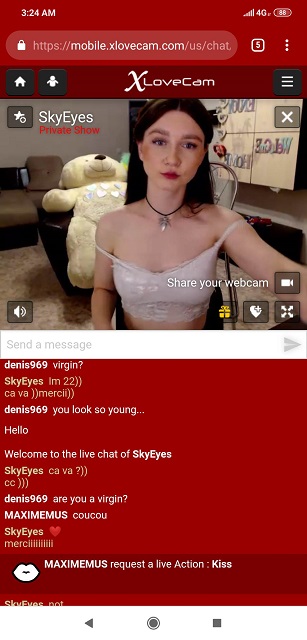 xLoveCam's user interface on mobile devices is very clean and easy to operate. The button to start cam2cam couldn't be more obvious. The keyboard and chat are very well designed, allowing you to type without disrupting your viewing experience.
Private shows on the site can be found for under €1.60 a minute, but the hotter and more professional girls charge a bit more. An Xclusive show is more expensive, though the difference in price depends on the model.
Full guide to cam2cam on xLoveCam
---
BongaCams.com
If you want to watch naked European and Russian models in abundance and free of charge, BongaCams is where you should be going as a large majority of its 800+ models you'll constantly find online are highly notorious for their hatred for clothing. As of August 2021, you can interactively chat with them on your mobile device using c2c.
Visit BongaCams.com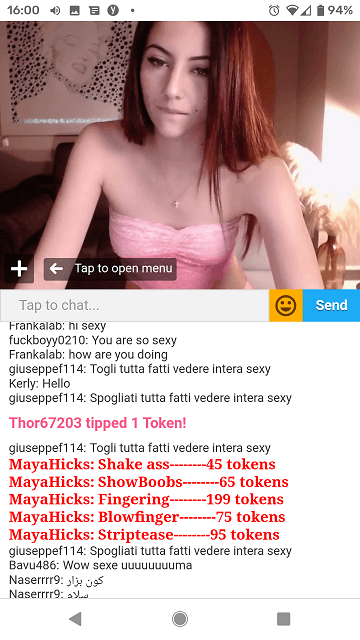 If you're a premium member (having made at least one purchase), you'll enjoy advanced cam to cam features. You can turn on your webcam for the model to see even while you're in a public chat at zero cost. When you enter a private chat, c2c and 2-way audio are included. And of course, you can activate your webcam on your mobile phone.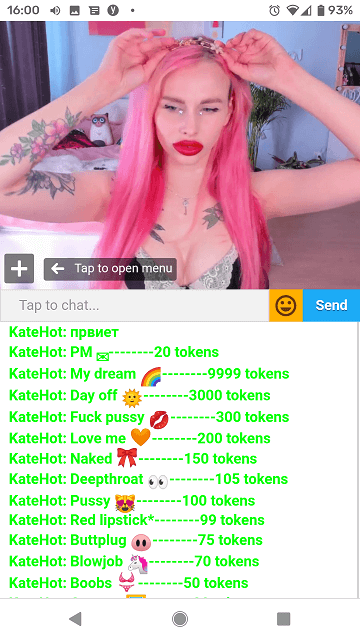 Private chat rates on BongaCams are uniform all across the site and they stand at 60 tokens a minute (around $5.00). A Full Private Chat, which prevents other users from spying on the show, is 50% more expensive. Take into account that cam2cam doesn't have a set price. Some models may charge extra; others will charge nothing.
---
Conclusion
To get mobile cam2cam chat to work on all six sites, it is recommended that you upgrade to the latest operating system on your device.
While all sex sites deliver naked girls on their webcams, each site has its own play over the other. So, it is recommend to check out each site on its own. LiveJasmin is the site to go to if you want the most polished ladies, but c2c activation is an added cost on top of the private chat rate. Flirt4Free is loaded with American babes, stellar HD streaming, and c2c over mobile is included in the private chat rate. ImLive has among the cheapest private chat rate online. xLoveCam has one really fun day a week, where all the models on the site go topless in their public chat rooms for a full 24 hours. And BongaCams delivers free sex shows by their models, that passive viewers can enjoy without limit..
If you've got time for just one site, though, then CamSoda will do you just fine. It's a perfect cam site for watching free sex shows, and for taking girls into private rooms.
Visit CamSoda.com
---