Top 10 Tranny Cam Sites That Will Accept Your Debit Card
Wisely Manage Your Budget on These 10 Tranny Cam Sites Accepting Debit Cards
Using a debit card to fund live sex chats has its own advantages. It enables you to better monitor your transactions while keeping you within the bounds of your budget as you can't spend more than what you have in your bank account. Theses are the top 10 sites where you can watch hot tranny cam girls and pay for these shows with your debit card.
CamSoda.com
CamSoda's tranny section is not big. Most hours of the day it populates around 20 models. But what it lacks in quantity, it makes up for in quality. Its models are extremely sexy, and most of them perform unclothed letting you watch live nude shows for free.
Visit CamSoda.com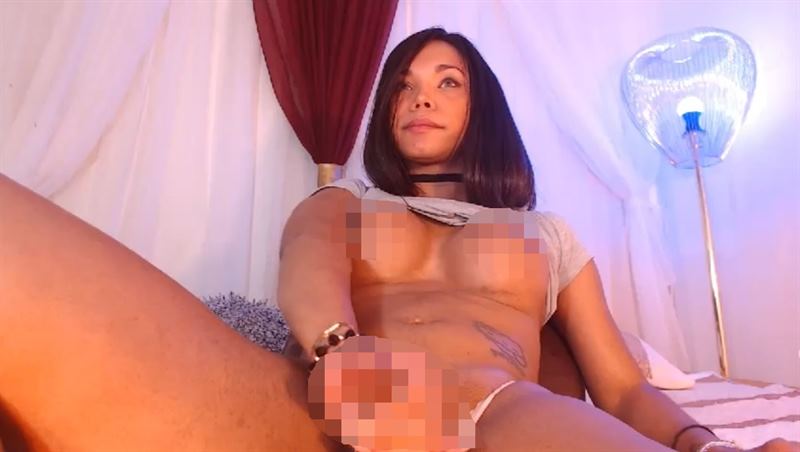 Due to its freemium nature, CamSoda concentrates much of its action in its public areas. Users choose to spend their time there enjoying the ample nudity and utilizing their tips to make the models do what they want.
That doesn't mean you can't pick one of the trans performers and take her to private chat. Such a chat paid by your debit card will cost you $1.80 a minute on average. Minimum rate on the sites stands at $0.48 a minute. These are highly affordable prices especially in light of the fact that they include cam2cam.
The debit cards you can use to pay for the site's premium services include Visa, MasterCard, Discover, Diners, JCB, Maestro. CamSoda is one of the few cam sites that will process Amex payments.
CamSoda's interface comes with a unique feature you won't find on any other cam site. The preview galleries simultaneously display on video what is currently happening inside the models' rooms giving you a bird's-eye view of the action on the site and helping you decide which room you should enter.
In Addition, the site's cam2cam apparatus works on mobile devices making it possible for you to enjoy fully interactive video chats on the go.
---
LiveJasmin.com
LiveJasmin is one of the best cam sites operating on the web today. It offers you professional cam shows with plenty of models performing live around the clock. Almost all these performances are broadcast at superior HD and HD+ quality.
Visit LiveJasmin.com
At any given time, the site hosts around 60 flirtatious transgirls available for a live chat, either public or private. You can sort them out according to a variety of parameters in case you're looking for a specific type of performer. These parameters include Show Type, Age, Language, Ethnicity, Region, Appearance, Hair, Price and Willingness, that is, the special elements the model will agree to include in her show (e.g. Close Up, Dancing, Toys or Domination/Submissive). All these parameters can be cross-referenced to refine your search.
A private chat with your favorite tranny can be funded by the following debit cards: Visa, MasterCard, Visa Electron, Visa Bleue, Maestro, Discover, JCB and Union Pay. The price you'll have to pay is $2.40 a minute on average. The cheapest models on the site will charge you $1.20 a minute. Including c2c and 2-way audio in your chat requires an additional 1-2 dollars a minute per feature.
Much like CamSoda, LiveJasmin's cam2cam is responsive to mobile devices. Practically speaking, you'll be able to open your cam on your smartphone and let the model watch you.
---
Flirt4Free.com
Around 15-20 active chat rooms with gorgeous transgenders ready to entertain you 24/7, multiple chat options, HD streaming and lucrative reward and VIP programs – all these goodies wait for you on Flirt4Free.
Visit Flirt4Free.com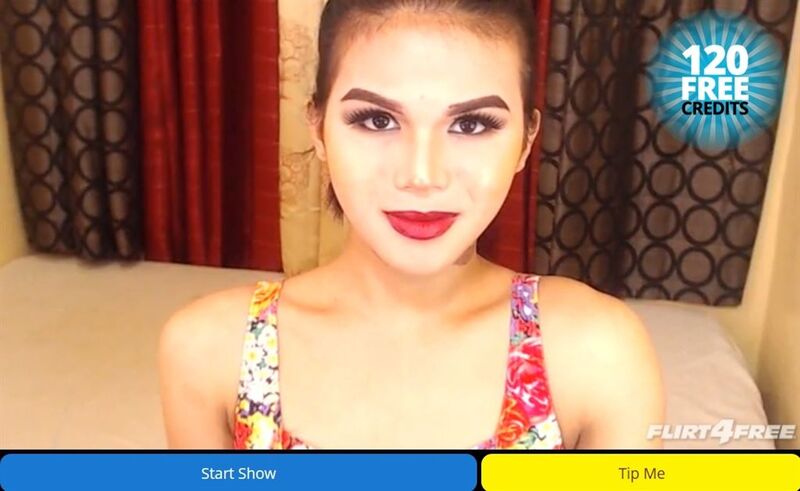 You may choose to pay with your debit card for a private chat with a trans girl and the site will gladly accept Visa, MasterCard, DirectPay, Discover and JCB. The average price of such a chat is $3.00 a minute. Minimum chat rate stands at a highly affordable sum of $0.50 a minute.
You can opt for a cheaper chat option if you choose to engage in a Multi-User show. In this show, you'll have to share the model with other like-minded users and if you're not the one who started the show, it won't be possible for you to open your webcam. However, you'll save around 30% of the money you would otherwise spend on a private chat. Unfortunately, not all of the site's trannies give this type of show.
If you visit Flirt4Free on a regular basis, you'll highly benefit from its rewards program. This program gives you points for every action you perform on the site. These points can be utilized for a variety of perks, among which are discounts on credit purchases and access to premium videos.
By paying $34.50 a month, you can upgrade your membership to VIP and enjoy awesome perks like enhanced private messaging with models, 200 free videos a day, free hour-long feature shows, unlimited access to recorded shows and 5% off on all video purchases.
---
Stripchat.com
Stripchat boasts a huge selection of 1,500+ active models during all hours of the day. These models give free nude shows broadcast in either in HD or high SD (480p). Close to 200 of them are hot trannies.
Visit Stripchat.com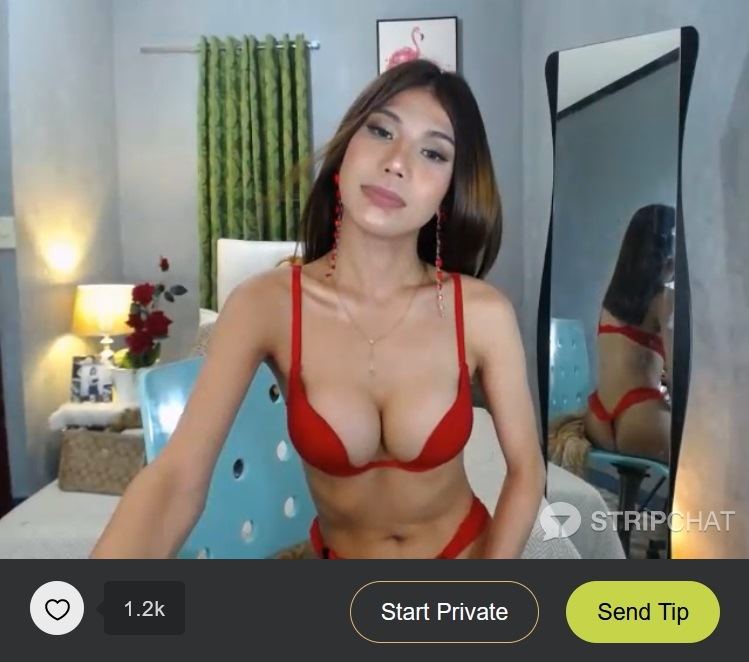 The site has plenty of porn categories you can choose from. To view all these categories in alphabetical order, tap on All Categories below the search bar. You'll come across some very interesting ones, such as Curvy if you're into BBW trannies, Ebony if you like them Black and, of course, Masturbation.
Stripchat accepts a variety of debit cards including Visa, MasterCard, Maestro, Discover, JCB and Diners. The average rate of a 1-minute private show paid with one of these cards is $2.40. The lowest rate you'll come across stands at $0.80 a minute. Pay attention, including c2c in your chat will make it 30-50 percent more expensive. A c2c chat is also exclusive, which means other users cannot access it as voyeurs.
Some of the tranny models on the site have a Fan Club you can join as a Soldier, Lord or Prince for a monthly sum of $9.99, $19.99 and $49.99 respectively. Apart from the status they invoke and their badges, which will appear with your user-name, there is no real difference between the titles in terms of benefits. All let you unlock unlimited private chat and spy on the model's private shows for free.
---
ImLive.com
ImLive offers advanced live show features, including a Multi-Viewer which lets you watch 6 performers simultaneously, an awesome Loyalty Program with abundant benefits and cheap chat rates.
Visit ImLive.com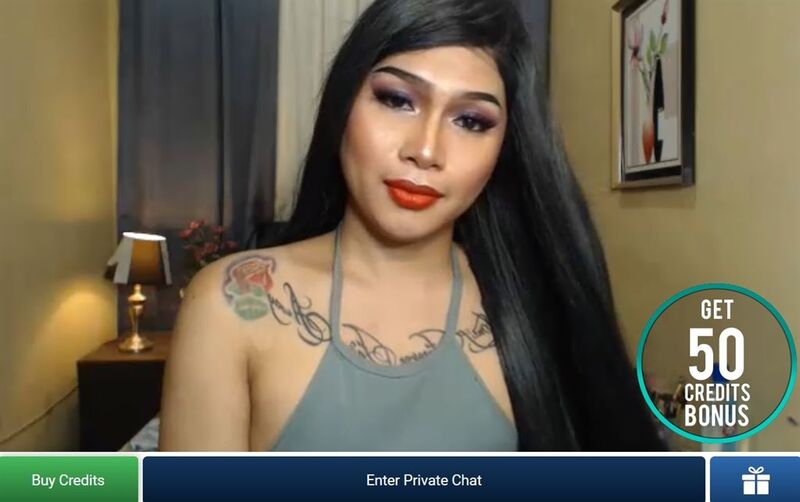 There are 2 categories for shemales on the site. One is for trans models performing alone and the other is for trans models who give couple shows. The former is bigger and contains around 50 broadcasters at any given time. The latter is smaller as it usually consists of less than 10 active chat rooms.
A private show on the site averages $2.50 a minute. Minimum rate is $1.00. You won't be required to pay extra to include c2c in your chat. Your private time with a model can be paid by the following debits card: Visa, MasterCard, Maestro, Discover, JCB, Diners and Switch.
You can reduce chat costs by joining a model's Discount Club for 16 credits a month or 30 credits for 2 months. Membership in this club lowers rates by 0.6 – 0.9 credits a minute depending on your status within the site's Loyalty Program.
ImLive's Loyalty Program gives you points for using its premium features (e.g. going on a 1 on 1 chat). The more points you accumulate, the higher your membership status becomes. High status entails all sorts of perks, among which are discounts on chat rates (as mentioned above), credit bonuses with every new purchase, access to premium shows and recorded videos.
---
BongaCams.com
On BongaCams you'll meet more than 70 shemales most hours of the day. All of them are craving for a chat partner who will spoil them with generous tips and in return watch their hot performances. Quite a few of these performances are broadcast in high definition promising you an experience you won't easily forget.
Visit BongaCams.com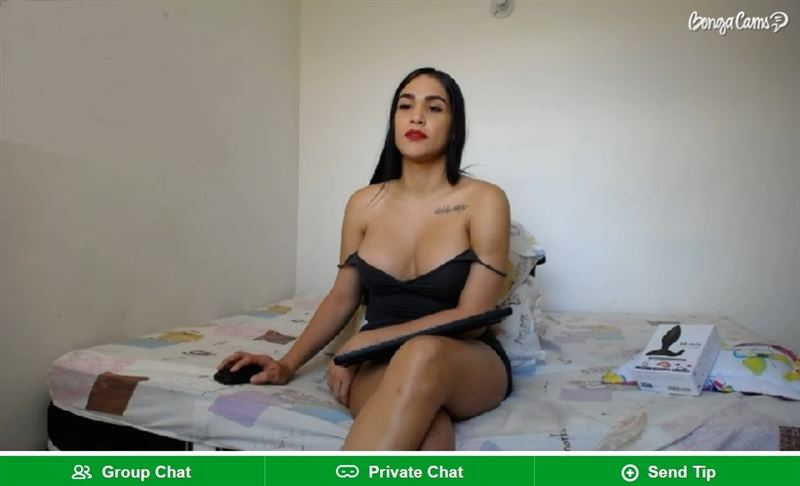 BongaCams is a freemium site. That means plenty of nudity in public rooms free of charge. If you want to take one of the tranny performers to a private c2c chat, you'll have to pay $4.50 a minute. This is a uniform price charged by all of the site's models.
Private chats can be accessed by other users who can peep into the show. If you have zero tolerance for voyeurists, you can opt for a Full Private Chat. It will promise you exclusive time with the model without intruders. Yet, the price for this chat mode climbs to $7.00 a minute. Not the cheapest rate you'll find in the live porn industry, but it's definitely worth it taking into account the beauty of the trans girls put at your disposal.
The debit cards you can use to fund you activities on the site consist of MasterCard, Maestro, MasterCard Debit, Delta, Discover, Visa, Visa Electron, Visa Bleue, Visa Debit, and JCB.
On BongaCams your membership status improves automatically with the tokens you buy. The higher your status is, the more benefits you enjoy. For example, a special chat icon, the ability to change font style, chatting in invisible mode, and gift card bonuses.
BongaCams is distinguished from its peers by the great promotion it offers its users. The moment you finish the sign up process, you get a special welcome package of 10 tokens and Gold membership for life. Accessing the site from your mobile phone for the first time will grant you a hefty bonus of 100 tokens. The Cashback Offer gives 25-200 tokens to the 5 biggest spenders in the last 24 hours.
The promotions change all the time and there are always new surprises, so you'd better keep track of these changes.
---
xLoveCam.com
If you're looking for European cam shows, you should pay xLoveCam a visit as most of the performers the site hosts – female, males and trannies – come from European countries, France and Spain in particular.
Visit xLoveCam.com
The site's online tranny models number around 20 most of the time. They appear under two categories, Transexual and the less occupied Transsexual Couples category.
A private cam2cam chat on xLoveCam averages $1.80 a minute and it can be paid with debit cards which consist of Visa, MasterCaed, Diners, JCB, CCBill and Discover.
It's important to note that private chats on xLoveCam are not fully private as other users can access them either as participants or (for a smaller fee) as voyeurists, in which case they won't be able to do anything apart from watching the model. If you want to enjoy solo time with the performer without anyone meddling in your chat, you'll have to opt for an Xclusive Show. This show is usually 30-50 percent more expensive.
xLoveCam lets you become a model's VIP member and gain unlimited access to her videos and photos. Not all models have this feature, those who do charge their own individual rates which can vary from 3 to 15 and even 20 credits a month.
---
Sexier.com
Beautiful models, multiple chat options, including exciting Candy Shows, an awesome rewards program and affordable chat rates make Sexier a cam site that is definitely worth your liesure time.
Visit Sexier.com
The site's trannies section contains around 60 chat rooms that operate around the clock. These rooms are populated by sexy performers whose sole goal in life is to entertain you. The advanced search filter will help you sort them out according to specific categories comprised of Age, Look, Ethnicity, and Features including Price, Special Webcams and Rating. You can also add to your search various kinks and quite a lot of fetish niches to make your shows a lot more interesting.
A private c2c chat with Sexier's trans models can be paid with debit cards issued by Visa, MasterCard, Maestro, Discover, JCB, Diners and Switch. It'll cost you €2 a minute on average. Minimum rate stands at €1.00 a minute.
If you become a regular user, you'll, definitely, appreciate Sexier's rewards program. The rationale behind it is simple. The more purchases you make, the higher your membership status becomes. You start with Bronze after you make the first purchase and then climb up the hierarchy to Silver, Gold and VIP. In the process, you get more and more bonuses every time you buy new credits.
---
Chaturbate.com
Chaturbate is by far the biggest cam site on the web today. Its number of broadcasters is estimated at 4,000+. Most of them perform unclothed in their public chat rooms promising you enough live nude shows to last a lifetime.
Visit Chaturbate.com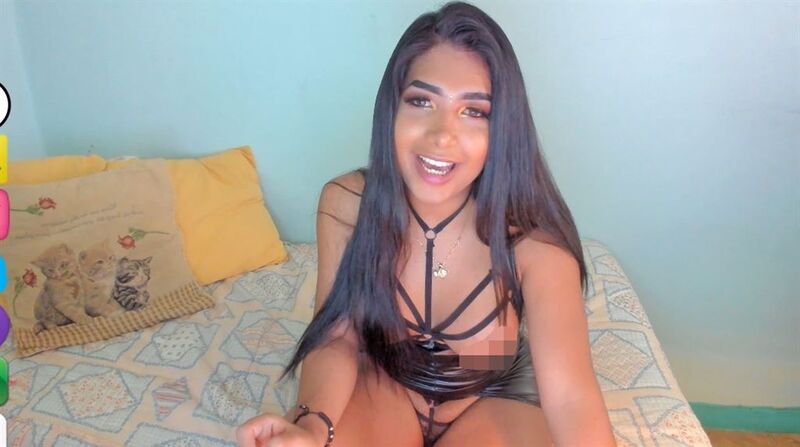 This great affluence of models also includes tranny performers. At any given time, you'll find more than 400 of them on the site available for a live chat.
Private shows are quite rare on the site due to the difficulty in launching them. To engage in a 1 on 1 session, you'll be required to establish yourself as 'broadcaster' and then invite the model you wish to chat with to your room. This is why, users tend to stay in public rooms enjoying the ample nudity they offer and using their tips to motivate the performers to do all sorts of special things for them.
If you're still undeterred by the process involved in starting a private show, the price you'll have to pay is $3.00 a minute on average. The cheapest models will charge you $0.60 a minute.
The tips you'll choose to give performers in public chats and your private shows can be funded by a debit card. The brands Chaturbate accepts are Visa, MasterCard and Discover.
The site has a VIP program called Supporting Member. For $19.95 you'll be able to use custom chat fonts and colors, send models private messages and tip them anonymously and enjoy an ad-free interface.
What sets Chaturbate apart from most other cam sites is its superior streaming quality. Many of its models employ HD+ webcams and there are also some who broadcast in 4K promising you an unparalleled viewing experience.
---
LivePrivates
More than 1,000 polished chat rooms populated by professional performers of all genders available for live shows 24/7 and impeccable HD streaming quality make LivePrivates one of the most respectable online cam to cam establishments in the camming industry.
Visit LivePrivates.com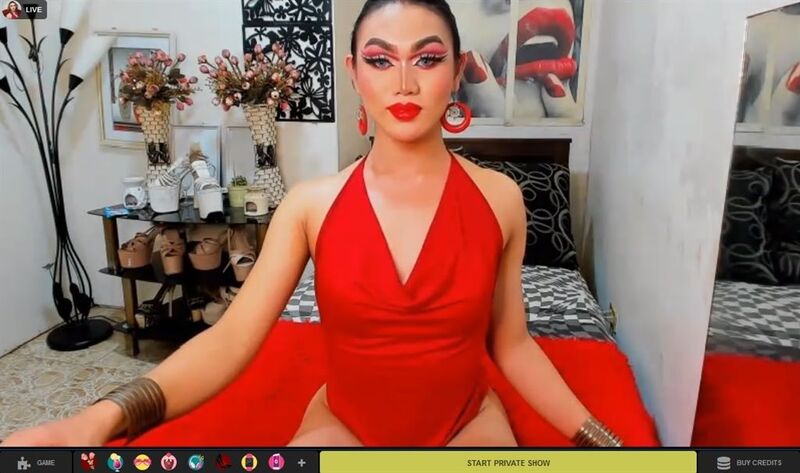 As a matter of routine, the site hosts around 80 irresistible online trans models performing live in public or in private. You can sort them out based on their age, ethnic origin, bodily appearance, the color and type of their hair and the size of their lovely bits. The filtering tool also lets you trace performers according to a Willingness parameter which means the special things they will include in their shows like Close up, Masturbation, Dildo, Live Orgasm, Love Balls and so on.
LivePrivates will gladly take your debit card if you own Visa, MasterCard, Visa Electron, Visa Bleue, Maestro, Discover or JCB. The average price of a 1 on 1 chat is $2.40 a minute. The cheapest models on the site charge $1.25 a minute. Including c2c and 2-way audio in your chat entails an additional fee of 1-2 dollars a minute for each feature.
LivePrivates enables you to open your webcam on any mobile device and enjoy exciting bidirectional video chats with your favorites model while you are outdoors.
---
Conclusion
Paying with a debit card prevents you from being carried away by setting a limit on how much you can spend helping you wisely plan your cam sex budget.
The 10 sites reviewed in this article offer you the best tranny cam shows in terms of their model selection and site features while at the same time allowing you to pay with a variety of debit cards for these shows. Thus, you enjoy the best both worlds. You can enjoy high quality live performances given by extremely sexy shemales while at the same time use a payment method that keeps you within budgetary bounds.
If we had to choose 1 site that surpasses the others, it'd be CamSoda. It doesn't host the largest number of trans models, but it offers you free nudity, excellent interface and, most importantly, the ability to engage in interactive video chats on the go thanks to its mobile cam2cam technology.
Visit CamSoda.com
---